Members of St Mary's Football Club, which was formed by parents from the Glengormley area in 1996, are to hold discussions with Antrim and Newtownabbey Council representatives about securing a permanent home in the borough.
Since its early days, the club has expanded to cater for boys and girls, as well as junior and senior setups and now fields over 35 teams, primarily made up of players from the Newtownabbey and north Belfast areas.
Although St Mary's, which has helped develop the talents of current Danske Bank Irish Premier League players Paul Heatley (Crusaders), Sean Moore (Cliftonville) and Niall Quinn (Linfield), has been performing well on the pitch and attracting members from across the community, it does not have a ground of its own.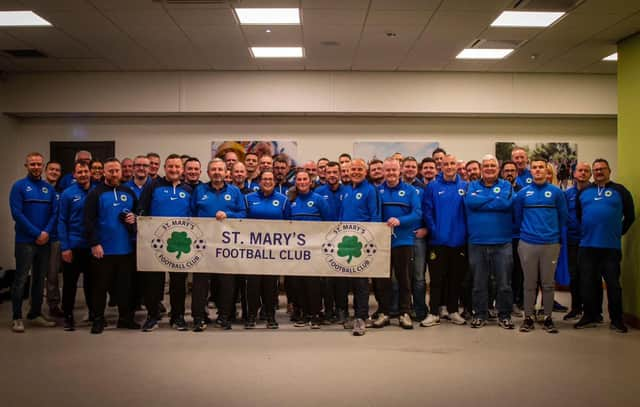 Over recent seasons the teams have been training and playing out of a number of locations across Newtownabbey and north Belfast.
Speaking to the Newtownabbey Times, Dominic McAtamney, a committee member and youth development officer, explained: "Parents are travelling miles to training at a number of locations including St Malachy's pitch, Trinity pitch, Valley Leisure Centre, the odd times at Girdwood, Glengormley Integrated, City of Belfast Playing Fields in Mallusk, Ulster University Jordanstown, Edmund Rice College and St Gerard's Hall, which is now not available.
"Given the number of players involved in the club, the St Mary's committee reluctantly had to take the decision to curtail the number of teams representing the club as there are insufficient facilities in the area to provide effective training and coaching.
"St Mary's, similar to the other clubs in the local area, are competing for a very limited amount of training and playing facilities, particularly for training in the dark nights. This is a real disadvantage to the community as the club is not able to promote the physical, social and mental health for all that it wants to.
"We are having to place players on a waiting list until a position becomes available as we don't have the space for them at present. This is frustrating as we are wanting to support the local community and provide opportunities for the young people to develop, both on the pitch, as well learning life-skills off it.
"I know that in some cases, parents have taken their children to other clubs where there is not a waiting list, so we have lost out on some children coming to St Mary's because we do not have our own dedicated pitch.
"The club's priority is to develop a home pitch and facilities that will support the hundreds of kids that participate in our teams and anchor the club in the communities of Glengormley and north Belfast."
Mr McAtamney added: "If we were to get our own pitch and facilities, we would transform it into a community hub. It would be for much more than just football.
"Volunteering is at the heart of the club's ethos, with over 80 volunteers giving up their time to promote a healthier lifestyle for the community. The club does so much more than just knocking a ball about.
"The club has boys and girls participating in cross-community workshops every Friday night for the next 19 weeks. We work closely with the Northern Ireland Children's Hospice and other charitable organisations.
"The club recently launched their own mental health lead who has a wealth of experience in that field. The plan is to create a mental health team of champions to provide the club with the tools to deal with the major problem around mental health."
Outlining some of the challenges St Mary's is facing, Dominic continued: "We are spending over £85,000 per season on training and match facilities across all teams. We are only able to hold one training session each week due to these costs and lack of facilities and ask the players to do training at home and upload videos of them doing it. This funding could be put to better use helping to nurture young footballing talent from across the greater-Newtownabbey area.
"Our senior teams have been doing well, but if our men's first team gains another two promotions, they will not be able to go any higher in the league pyramid as we do not have the required facilities.
"We have looked at clubs such as Greenisland FC in east Antrim and Ballymacash Rangers in Lisburn. They have secured their own pitches and club facilities and have been success stories, with Ballymacash sitting top of the NIFL Premier Intermediate League, having only gained promotion last season.
"We are hopeful that outside funding can be secured and we can push on with finding a home. Our 30th anniversary is approaching. We were not able to mark our 25th anniversary due to the coronavirus restrictions. We are hopeful we can celebrate having a place to call home when the next big anniversary is being marked in 2026."
Commenting ahead of the meeting, a spokesperson for Antrim and Newtownabbey Borough Council said: "The council has developed a new pitch strategy which is part of the agenda for the next Operations Committee Meeting on Monday, February 6.
"As part of the new pitch strategy, the council will explore potential options for a home pitch for St Mary's FC on a sale, lease, or partnership basis and progress thereafter."
For more information about the club, check out the St Mary's Football Club Facebook page or follow them on Twitter.