American businessman Michael Smith acquires majority shareholding in Carrick Rangers
Carrick Rangers have announced that American businessman Michael Smith has acquired a majority shareholding in the club.
Watch more of our videos on Shots! 
and live on Freeview channel 276
Visit Shots! now
Currently the Chief Information Officer of The Estée Lauder Companies, Smith has 22 years experience across multiple business ventures and will travel to Belfast this weekend to watch Carrick's Sports Direct Premiership clash with Linfield at Windsor Park.
"I am thrilled to join the Carrick Rangers organization and be a part of the Club's continued ascension," said Smith. "Becoming a steward of a Club has been a dream of mine since the age of 13.
"I am so blessed to realize that dream with a Club like Carrick Rangers and alongside a gentleman and leader like Peter (Clarke).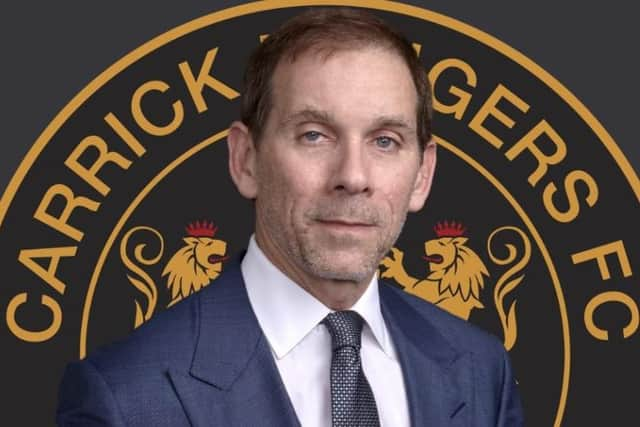 "The club belongs to the supporters and the community. Peter and I are merely stewards of the Club.
"The commitment to the community is a big part of what attracted me to Carrick Rangers. It is such a symbiotic relationship between Club and community.
"I want the Club to be one of the greatest assets of Carrickfergus and the County but we can only do that with the support of the community.
"We need more fans in the stands, we need more volunteers in all aspects of the Club but particularly our community engagement, more youth in the academy, and certainly the continued tremendous support of the local council. This is how we create a virtuous circle.
"I have been an underdog my entire life and often been counted out.
"I relish the underdog role because it motivates me and I believe it makes achievement even more joyful.
"So many people have counted Carrick out but, make no mistake, it is a Club on the ascent.
"Peter and the Board have been building a strong foundation on and off the pitch and Stuart has shown he can get the most out of a team on the pitch.
"The welcome here is truly humbling and it validates the decision my family and I have made to invest our lives into the Club, Carrickfergus, and Northern Ireland.
"I am looking forward to partnering with Peter, Stuart and the Board on this journey to build a Club that is the pride of the community."
Chairman Peter Clarke says Smith's long-term ambitions aligns with the club's and believes "exciting times are ahead" for Carrick Rangers.
"I am delighted to welcome Michael to Carrick Rangers, he is a gentleman who has worked in an executive role in many of the top companies in the world for over thirty years," he said. "His business acumen is second to none and his credentials speak for themselves.
"When the Club was acquired just over five years we set short, medium and long term objectives:
"Short term: a return to the Premiership which was achieved that year.
"Medium term: to enhance the quality of the squad and the general infrastructure of the Club.
"On the field last season, we achieved the most points and highest position in our top flight history. Looking at the infrastructure, significant investment has been made to improve our pitch and upgrade many areas of the ground.
"Coupled with the council's strong commitment to replace the stand, which is really at its expiry, we clearly have met our medium term goals.
"I thought our long term goals would have taken a couple more years to achieve but having met with Michael around six months ago and after many conversations it was clear that his goals and aspirations were very much aligned to ours.
"As we talked it was clear we could accelerate the long term plans we have for the Club.
"With his extensive knowledge of business and marketing we hope to open up revenue streams and develop marketing plans that were never even considered before.
"This partnership differs from other models in the league in that we will have a long term business plan which will ensure sustainable growth over several years.
"The Club under my leadership has always been sustainable and our plan is to ensure the long term success of the Club!
"However, we also share the same passion regarding the Club. Carrick Rangers is, always has been and always will be at the heart of the community.
"Michael's desire is to further deepen our ties with the community and this shared vision made it very easy for us to agree a deal.
"This is not a short term project, this is a long term project where we will improve incrementally each year. Michael's passion, desire and drive will push us all, but to improve we all need to be pushed.
"The benefits if we as a Club and community work even closer together are immense and I would invite everyone to come and meet Michael and myself between 6:45pm-7:30pm on Friday 1st September, just before kick-off in our game against Dungannon Swifts, where we will be happy to answer questions and generally chat with everyone.
"Exciting times are ahead, join us on the journey!"