Ben Doherty admits roller coaster of emotions after penalty shootout win
Ben Doherty admitted the thought of hitting a penalty in Coleraine's Europa League first round qualifier against NK Maribor was weighing on his mind as the game entered the dying minutes of extra time in Slovenia.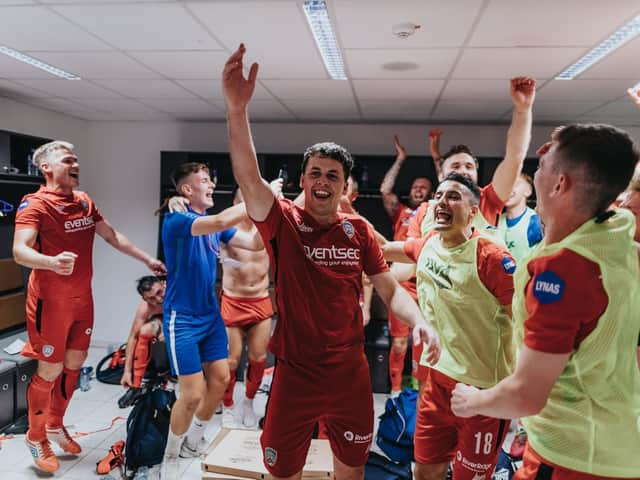 Ben Doherty and the Coleraine players celebrate the win in Maribor. PICTURE: David Cavan
The Bannsiders top scorer last season had missed the crucial spot kick in the Irish Cup semi-final defeat against Ballymena United last month.
But the midfielder should not have been worried as he proved the old adage of class is permanent as he fired Coleraine into dream land with their first European away win in 50 years!
"Since the Irish Cup semi-final the penalty miss has been playing on my mind a bit," he explained.
"As the game was wearing on I did start to think about the shoot-out and whether or not I should shy away from it or stand up and do my bit for the team.
"I told Oran to stick me down for the fifth. I had said to Stevie Lowry that I was going down the middle no matter what and thankfully it worked out for me.
"There was such a release of emotions once that went in, I think a lot of it was because of my miss in the semi-final, so it was great to make amends for that.
"The celebrations were fantastic. I think there were about 40 people on my back!"
It was just reward for the Bannsiders who were magnificent on the night showing their work ethic and quality over the 120 minutes.
Doherty though said he's still trying to comprehend the scale of their achievement.
"I don't think it has sank in even yet, the size of the feat is unbelievable," he said.
"Someone shared a graphic last night detailing the teams Maribor have played in Europe and the results they have got and it puts it all into perspective.
"They have played in some massive games and have real pedigree, so for us to go and do what we did is fantastic.
"We had a few scares but no real sustained spells of pressure. I think we set the tone from the off with that chance in the first minute.
"That gave us the belief that we could give it a go and take it to them. We stuck to our plan and it worked for us.
"To a man every one of us was fantastic."
With the likes of Spurs and Rangers in the hat as possible opponents Coleraine look set for another memorable tie in the next round.
"We will wait and see what happens with the draw, for us it's amazing to be in there," said Doherty.
"Will we get another team that we can go and compete and do a job on or will it be one of the big names of European football?
"Whatever happens we will go and give our all again. We have to be realistic though there are some massive teams in the draw."