Fan Terence Pentland remembered as 'backbone' of Portadown club
There may be no right or wrong way to support your club but few embraced the calling with greater zeal than Terence Pentland.
Watch more of our videos on Shots! 
and live on Freeview channel 276
Visit Shots! now
The scale of sympathy in the aftermath of his passing last October served as tribute to a Portadown fan who embodied the very definition of the word supporter.
Terence measured a player's value as much by spirit as skill and many could count on a quiet word of encouragement if the effort level matched that expectation, irrespective of ability.
Players across decades would view Terence as a tried-and-trusted confidant, the rare fan who could be counted on to hear a gripe or gossip in the knowledge confession counted as the end of any conversation.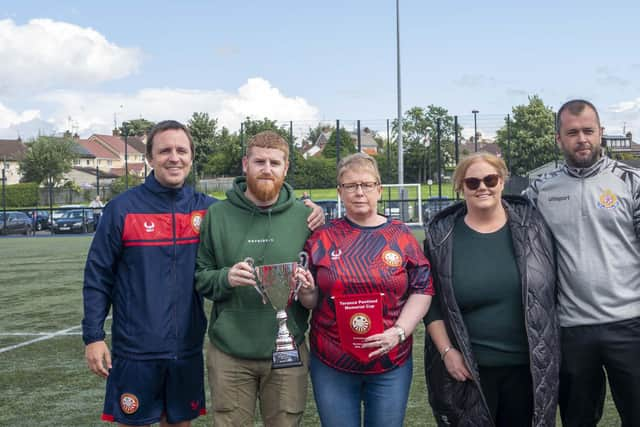 He won the respect of players, supporters and club personnel for his unwavering commitment and passion for the Ports.
For Terence it was about full support within 90-plus minutes between first and final whistle then a post-match reflection designed always to seek positives in performance.
It was in honour of that spirit family and friends met in Brownstown Park on Saturday morning for the inaugural Terence Pentland Memorial Cup – a charity fund-raiser between Portadown under 20s and Rectory Rangers to celebrate the man and fan.
Terence's son Bryan started out with Portadown then finished playing in the Mid-Ulster Football League at Rectory Rangers, with the latter social club standing in the shadow of the senior side's Shamrock Park pitch divided only by a wall.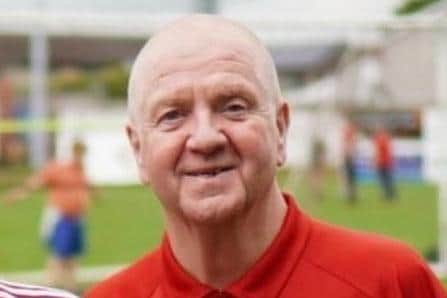 "I wasn't expecting anything like this and we really appreciate the support from everyone," he said. "Dad always said his proudest moment was watching me play for Portadown.
"Then the time I spent at the end of my career with Rectory led to most Saturdays after each game we would be together talking about the football in the social club, which meant a lot.
"We had lots of family members here today and everyone felt a lot of pride I'm sure in watching so many turn out in Dad's memory."
Kim Pentland, Terence's wife of over two decades, highlighted the lasting support of those institutions which meant so much to her late husband.
"I was shocked, pleased and really touched that they wanted to do it for Terence," she said. "The friendships we shared together as Portadown fans and with those in the Rectory social club have meant so much.
"Chris and Gary have both been great friends to Terence and myself, so it means a lot to have them involved.
"For Terence it was a case of family first followed by Portadown Football Club and Portadown Defenders Flute Band.
"To start everything off with such support from the band playing 'Abide With Me' on the pitch was very moving.
"Portadown Football Club, Rectory Rangers Football Club and Portadown Defenders have all been so thoughtful since Terence's passing.
"Terence was always a giver who never asked anything for himself but it has been wonderful to see again today how highly people thought of him.
Chris Wright, Portadown's head of NIFL phase, described Terence as 'the backbone of a community club'.
"People like Terence are the backbone of a community club like Portadown and it was an honour to play some part in introducing this trophy that is going to stand as a testament to his support," he said. "It would have meant a lot to Terence that today shared a date with Portadown firsts' latest match in memory of two people he admired so much as good friends and club legends in Geordie and Nat Richardson.
"Being able to honour the contribution of those we've lost who devoted so much to our town and football is part of what makes Portadown so special to us all."
Gary Magee remembered lasting support from Terence down the decades.
"I'm proud to have been connected in the initial stages of something that is going to be a fixture for years to come now every summer between the Portadown and Rectory Rangers clubs," he said. "Terence's passion for Portadown went way beyond the first team and from my days coaching the youth sides he would always take a genuine interest.
"He just loved to see people from the town do well and especially any side with a Portadown badge on the shirt.
"I always appreciated that support and, hopefully, this annual charity fund-raiser helps go some small way towards acknowledging someone who meant so much to so many."
All proceeds will go to ICU Royal Victoria Hospital.