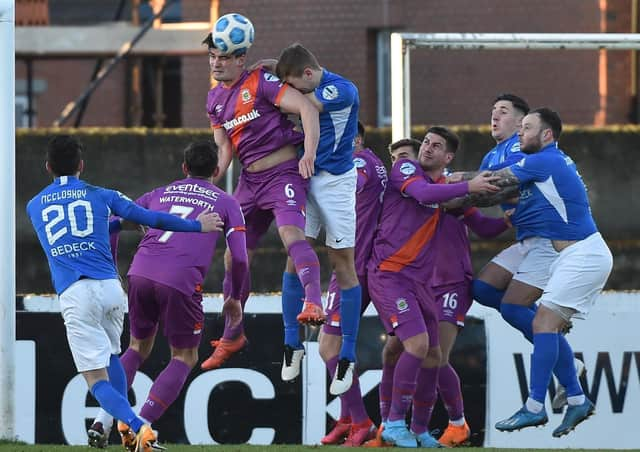 @dp_ni
Pick it out!! Jordan Stewart, go on wee man. There's genius in those boots. #Linfield

@HaskinsIvor
A self inflicted loss for Glenavon, at least two, probably three sitters missed, then undone by a great goal by Stewart. Still, pretty encouraging against league champions.
@PaulReidcfc
How did we win that match?

@g2mcc
Frustrating that. The better team for large parts of the game and missed a multitude of chances but if you don't take chances against the likes of Linfield then you get beat and Stewart scored a stunner. Tbh they created virtually nothing. Disappointing. #ghbawa

@PaulLinfield
Ridiculous strike well worthy of winning a match. Bonus was Larne dropping points, get in

@SinnyG17
Hard one to take that today @Glenavon_FC but can't afford to miss chances like that against a team like Linfield.

@Doug_1886
Linfield have been so poor defensively all season, Glenavon should be winning here

@Gareth_Savage
Don't take your chances against Linfield and you don't pick up anything unfortunately, no matter how well you play

@Eastendblues2
@Glenavon_FC I'm housebound follow twitter every week I'm a linfield fan but have to say your coverage is really fair and great coverage of game

@scalv81LFC
very unlucky today! Current points total doesn't reflect some of the football I've seen this season! Play some very decent stuff!