The Inver Park deal is the high profile company's first football sponsorship deal in Northern Ireland
Larne have confirmed BoyleSports as the club's new sponsor for the 2020/21 season.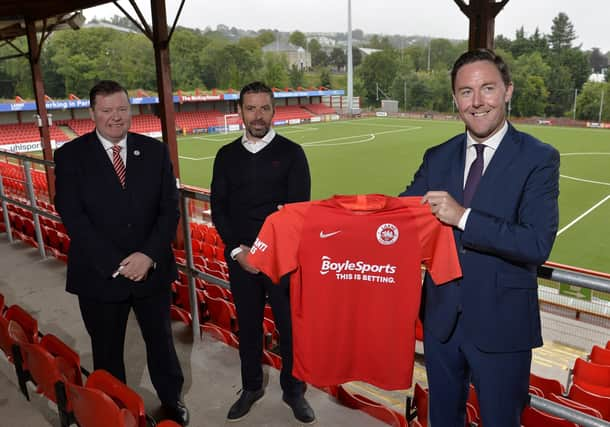 The high profile agreement will see the BoyleSports logo adorn the front of the playing kit for both senior men and ladies' side.
In what are exciting times for both BoyleSports and Larne Football Club this is the company's first football sponsorship deal in Northern Ireland.
Established by John Boyle when he opened his first shop in Markethill, County Armagh in 1982, BoyleSports is Ireland's largest owned bookmaker and boasts over 300 shops across the UK and Ireland.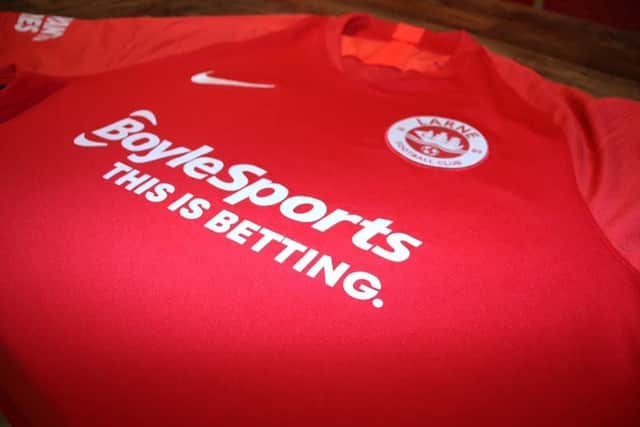 The family-owned firm realised a long-held ambition earlier this year by bolstering its presence in Northern Ireland with the acquisition of 33 shops.
Welcoming the new deal today, CEO for BoyleSports Conor Gray said: "We now have an extensive network of 39 shops throughout Northern Ireland and we are thrilled to team up with Larne FC for our first football sponsorship here.
"We believe they are a team whose recent progress and ambitions match those of our own and we are confident this partnership will lead to a very successful season for both Larne and BoyleSports."
Head of Communications, Leon Blanche speaking on behalf of BoyleSports added: "It's very exciting times for BoyleSports and everyone at Larne Football Club - two companies that have huge ambitions.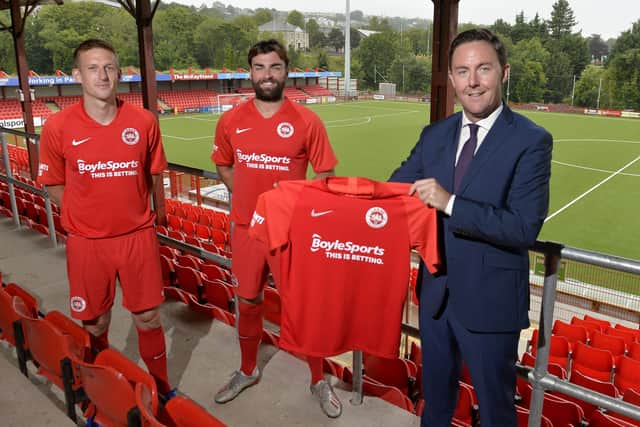 "I think that's one of the reasons we were drawn to Larne Football Club was the ambition first and foremost from the owner Kenny (Bruce) , an impressive man who has huge thoughts and desires for this club.
"He obviously wants European football for this club and I think what Kenny wants he's probably going to get."
Chairman of the club Gareth Clements is also delighted with today's announcement, hailing it as an exciting day for the club: "We are delighted and thrilled to be welcoming BoyleSports as the Club's new Principal Shirt Partner.
"This is a very exciting day in the history of our club, and another milestone on our current journey.
"To be attracting a blue-chip company as a commercial partner, speaks volumes for the strides we continue to make, in building Larne Football Club as a recognised brand, both on and off the pitch.
"The business models of both partners are very much aligned, in that both are growth and success driven.
"Throughout our discussions it was clear that BoyleSports identified the club as the perfect partner to support their growth ambitions in the UK and Ireland market.
"In turn I believe the collaboration can help us deliver also on the aspirations we have for the incoming season.
"We are also extremely impressed with the way they want to give back to the fans, so we can look forward to some unique activations coming down the line in this area."
Club owner Kenny Bruce tweeted: "We couldn't be happier to have BoyleSports on this journey with us.
"Building a brand is key to our long term success so being associated with BoyleSports is fabulous news for our club."