The 32 boys are part of the U12 squad in the Lisburn Castlereagh Junior League.
The Blackpool Cup is an international football tournament for young people from under 9s to under 17s.
Speaking about the trip Chris Budd, Director of the Lisburn Castlereagh Junior Football League, said: "This league is made up of incredible young people who have broken through barriers, both on and off the pitch. They are, and will continue to be, an inspiration to people of all ages right across the country.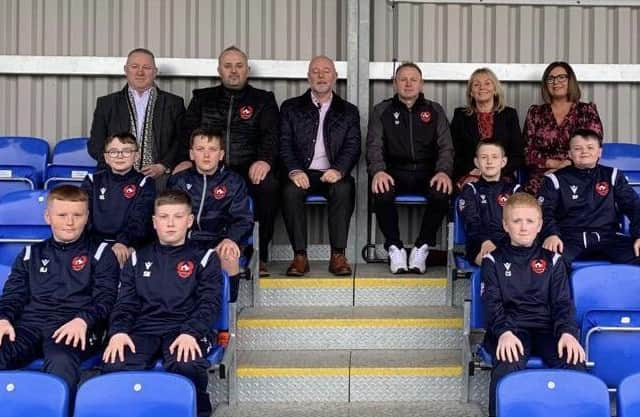 "Not only will the players enjoy a trip of a lifetime to the Blackpool cup, but they will then travel to Bolton Wanderers International Football Programme, where they will receive coaching sessions and play against Bolton Wanderers youth teams.
"The trip is only possible because of the support from local businesses, who have agreed to sponsor the young players. It is so important that these young kids have the opportunity to make memories and enjoy sport through football.
"We would like to thank the following businesses, Boomer Industries, Inspire Business Centre, Assa Abloy and Lisburn & Castlereagh City Council Good Relations Fund. This initiative is also supported by Choice Housing, through The TBUC Housing For All - Shared Housing Programme.
"A special mention must go to Amanda Grehan, Alliance Councillor for Lisburn South, who has been a keen supporter of the local league and has worked tirelessly in the background over the last few months to benefit all the kids within the league. Amanda has played a key role in introducing the businesses to us and helping to get the sponsorship.
"Football for young kids is a core focus within our LCJL Strategy. Partnerships and relationships like this are exactly what will help us grow the local game and ensure opportunities for younger generations to come and indeed, to persuade more young people to get involved in the game – be it as coaches, administrators or players."