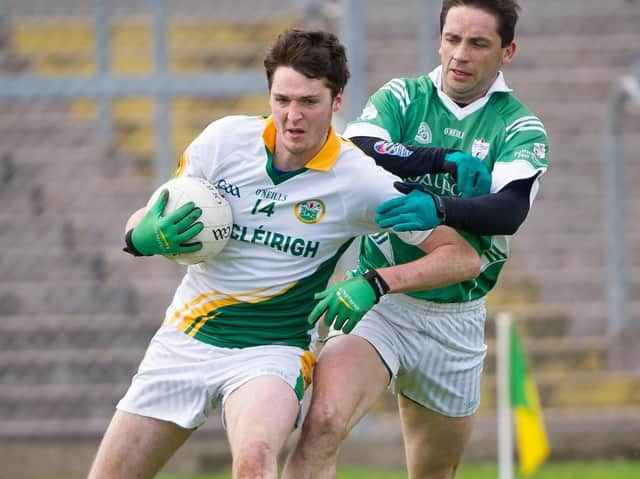 Patrick Quinn hit 1-02 for Dungannon in Saturday's victory.
Dungannon 2-23, Loughmacrory 2-13 (After Extra Time)
A superb venue, glorious sunshine and two totally committed teams meant the LCC Tyrone senior championship really delivered on Saturday afternoon at Galbally as Dungannon and Loughmacrory produced a cracker of a game that will live long in the memory.
Right from the off the pace was frantic and even with the intense heat, neither team let up over the course of the hour and the two periods of extra time. It was good old fashioned championship football played the way championship football should be played.
Dungannon began brightly with three excellent points from the impressive Paul Donaghy who finished with nine points to his name. Loughmacrory replied with fine scores off the boot of Cathal Donaghy to leave a point between the teams after five minutes.
The Clarkes were finding spaces in the Loch rearguard and by the 13th minute they were 0-7 to 0-3 ahead following scores from Donaghy, Lorcan Mallon and Matthew Walsh.
However Loughmacrory refused to panic and their intensity in the tackle was beginning to pay off as they forced turnovers and missed opportunities for Dungannon. Cathaoir Gallagher was causing all sorts of problems for the Clarkes defence with his pace and movement and it was no surprise when he tore through the opposition back line and fired to the net on 14 minutes.
That goal reduced the gap to one but Dungannon responded well adding the next two points through Patrick Molloy and Oran Mallon. Points from Colm Logue and Cathal Donaghy tied the game nearing half time before a superb effort from Lorcan Mallon edged Dungannon ahead again.
The Loughmacrory attack however created one last chance of the half and punished slack defending in the Dungannon defence as Gallagher broke through to claim his and his team's second goal of the contest leaving it Loughmacrory 2-5, Dungannon 0-10 at the break.
Dungannon levelled the game with a Matthew Walsh point straight from the throw in but Loughmacrory substitute, Diarmuid Gallagher had his team in front again with a lovely finish a minute later.
The game continued to be played at a serious pace as both teams went at it hell for leather. Lorcan Mallon pointed to level in the 34th minute but Cathaoir Gallagher replied almost immediately with the lead score for his team again.
Donaghy and the impressive Pauric Meenagh swapped scores before points from Paddy Quinn and Ciaran Barker edged the Clarkes one in front.
Back came Loughmacrory with another fine Cathaoir Gallagher score to tie the game once more and as the game entered the final 10 minutes it looked that extra time was a real possibility. Both teams continued to push for the win and just when it mattered most it was the Loch who looked most likely.
Paul Donaghy put Dungannon one in front with a fine score before subs Leo Meenan and Ciaran Ward edged the Loch in front again as the second half clock reached 30 minutes. Paul Donaghy struck his seventh point of the game to reduce the deficit to one.
Loughmacrory had a chance to seal the win when a great team move found Diarmuid Gallagher through on goal but the pacy attacker settled for a point when pressured by Dungannon keeper Daire Martin.
With the clock ticking away it seemed a two point lead might be enough to secure the win but once again there was another twist as Donaghy hit his eighth point of the game to leave a single point between the teams.
Dungannon went for broke and former county midfielder, Paidi Mc Nulty hit a superb individual score to take this enthralling game to extra time with the sides locked at 2-13 to 0-19 after 60 minutes.
Both sets of players looked more than a little jaded after a real titanic battle. Two periods of 10 minutes extra time were sure to test the mental and physical reserves of both panels even further.
As so often happens the team that had victory snatched from them in normal time struggled to find the energy for the battle in extra time. Dungannon opened the scoring with a point from Lorcan Mallon. A fantastic diving block from Loughmacrory corner back Dara Curran denied Patrick Quinn what looked a certain goal.
Unfortunately for Loughmacrory that goal did come and arrived two minutes later when Keifer Morgan created space where there was none and finished to the net to put his team 1-20 to 2-13 in front.
Loughmacrory looked shell-shocked and struggled to create chances for the remainder of the game. Dungannon were able to keep them at arm's length and added further points through Dalaigh Jones, Paul Donaghy and Kiefer Morgan before Patrick Quinn rounded off a superb finish to the game for Dungannon with a goal to leave the final score Dungannon 2-23, Loughmacrory 2-13.
Very few would have predicted a 10 point Dungannon win with 62 minutes on the clock when Loughmacrory led by two. But such is the nature of championship football and Saturday's game was a great example of the unpredictability of club football in Tyrone.
Dungannon scorers - Paul Donaghy 0-9, Patrick Quinn 1-2, Kiefer Morgan 1-1, Lorcan Mallon 0-4, Mathew Walsh 0-2, Patrick Molloy 0-1, Oran Mallon 0-1, Ciaran Barker 0-1, Paidi Mc Nulty 0-1, Dalaigh Jones 0-1
Loughmacrory scorers: Cathaoir Gallagher 2-2, Cathal Donaghy 0-4, Colm Logue 0-1, Diarmuid Gallagher 0-3, Pauric Meenagh 0-1, Leo Meenan 0-1, Ciaran Ward 0-1,