Magherafelt defeat Lavey to set up Swatragh Quarter-final
O'Neill's Derry Senior Football Championship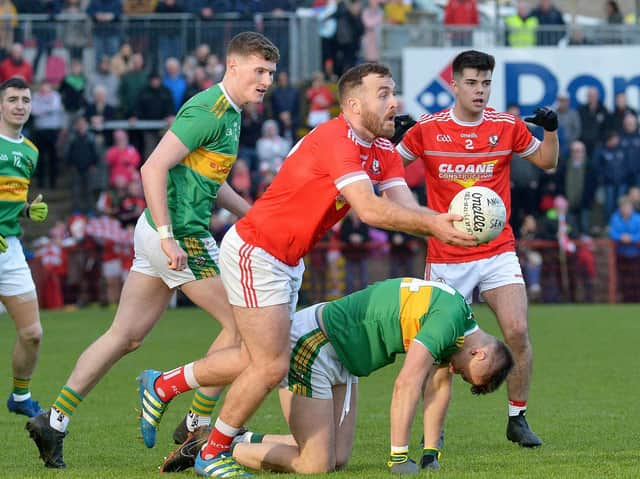 Magherafelt's Emmet McGuckin.
Magherafelt 1-08, Lavey 0-09
Reigning champions Magherafelt advanced to an O'Neill's Derry Senior Football Championship quarter-final meeting with Swatragh after a hard fought victory over Lavey in Celtic Park on Sunday evening.
Never pretty, there wasn't a lot between the sides in a game where the one moment of class, Ryan Ferris' superb goal in first half injury time, proved the decisive score.
It arrived with only one point between the teams and Lavey ahead coming up to the short whistle.Fergal Duffin instigated the move, patiently holding on to possession just inside the Lavey half before finding a lovely pass inside to release Shane Heavron. A point was on but Heavron had eyes for a bigger prize, advancing forward before squaring to Ferris, who turned and fired a fierce shot high into the Lavey net to send his team into half-time two points ahead.
It was a move that deserved the finish and the third time in the half Magherafelt had opened up Lavey but this one proved defining after missed goal chances for both Emmett McGuckin and John Young.
The match improved immensely after the break with Cailean O'Boyle and Niall Toner, who was excellent throughout, keeping Erin's Own in touch but Magherafelt always had that bit extra, substitute Cormac Murphy and a lovely Patrick McLarnon solo point putting the seal on the win.
The opening half was a dour affair, Ferris' superb goal the one bright spot in an attritional 30 odd minutes. Both sides were sizing each other up, always mindful about over committing men forward too early in the game. Effective it may have been in a defensive sense but the two similar styles did not add up to the spectacle most fans would have been hoping for from the weekend's big game.
Both teams lined up with two of one of their most potent attacking threats at midfield, O'Boyle for Lavey and McGuckin for the defending champions and there was precious little to get excited about in the opening minutes.
Indeed it took until the eighth minute for O'Boyle to start the scoring when he converted a free after Toner was fouled but it would be another 15 minutes before the game's second point. In between though Magherafelt should've had two goals.
The architect of the first opportunity was Conor Kearns whose brilliant ball inside found Shane Heavron and he in turn teed up McGuckin but the big forward pulled his shot inches wide of the post. Not long after the Rossas were in again. More patient play in front of the Lavey defence eventually opened Lavey up with John Young manufacturing himself space to cut in from the left, only to drag his shot wide from six yards after an excellent run.
McGuckin eventually levelled before Shane Heavron edged his side in front from a free, only to see O'Boyle reply in kind before the same player won himself a mark and shot Lavey in front.
All that took the best part of 34 minutes with the half meandering toward a forgettable finale until Ferris' goal lit things up.
The second half was much better, Lavey fighting back to level things on two separate occasions but ultimately lacking the enough scoring threat outside O'Boyle and Toner who accounted for all but one of their points on the night.
O'Boyle, from a free and from play, tied the game up at 1-02 to 0-5 two minutes after the restart before Toner won himself a mark and shot Lavy ahead.
No sign of panic from the champions though, Danny Heavron equalising from a free before substitute Cormac Murphy scored with his first involvement to put his team ahead at 1-03 to 0-06.
A Niall Higgins score stretched the lead before the one real scare Magherafelt siffered arrived on 45 minutes when Shane mcGill watched his thunderous shot rattle the Magherafelt cross bar after a high Conor Mulholland ball had been broken down to him.
Lavey heads didn't drop though, O'Boyle and Toner again bringing their team level with seven left to play but when the questions were asked, Magherafelt found the answers.
Shane Heavron and Anthony McGurk swapped scores but just when everyone was expecting a grandstand finale, Murphy worked his way into a match-winning shooting position and pulled the trigger.
It put Magherafelt into a lead they never looked like giving up with Patrick McLarnon's lovely solo run and point putting the seal on a deserved victory.
Magherafelt scorers: Ryan Ferris (1-0), Emmet McGuckin (0-1), Shane Heavron (0-2, 2f), Danny Heavron (0-1, 1f), Cormac Murphy (0-2), Niall Higgins (0-1), Patrick McLarnon (0-1),
Lavey scorers: Cailean O'Boyle (0-6, 4f, 1m), Niall Toner, (0-2, 1m), Anthony McGurk (0-1)
Magherafelt: Odhran Lynch, Peter Quinn, Darren O'Neill, Fergal Duffin, Conor McCluskey, Ryan Ferris, Conor Kearns, Jared Monaghan, Daniel Heavron, Patrick McLarnon, Shane Heavron, John Young, Niall Higgins, Emmett McGuckin, Dara McPeake. (Subs) Cormac Murphy for J Young, 38mins; Simon McErlain for F Duffin, 55mins; Guiseppe Lupari for P Quinn, 55mins; Ronan Young for N Higgins, 59mins
Yellow cards: D Heavron, 24mins; J Young, HT; Anton McElhone for R Ferris, 51mins;
Lavey: Ciaron O'Boyle, Aidan Toner, Conor Mulholland, Colm Murphy, Chrissy Henry, Eamon McGill, Ryan Mulholland, Fintan Bradley, Kevin O'Neill, Shane McGill, Shea Downey, Hugh McGurk, Liam Murphy, Cailean O'Boyle, Niall Toner. (Subs) Damien Shivers for K O'Neill,(inj), 24mins; Oran Downey for R Mulholland, 28mins; James McGurk for C Murphy, HT; Anthony McGurk for F Bradley, 49mins; Peter Rafferty for S McGill, 55mins;
Yellow cards: C Henry, HT; C O'Boyle, 36mins; O Downey, 39mins; Eamon McGill, 43mins; Shea Downey, 43mins;
Referee: Dan Mullan (Glenullin)