Belfast Giants up for defence of their Challenge Cup title
The Belfast Giants will begin their quest to retain the Challenge Cup begins in earnest tomorrow when they play the new look Dundee Stars at the SSE Arena in the first competitive domestic game now that pre-season has been concluded.
Watch more of our videos on Shots! 
and live on Freeview channel 276
Visit Shots! now
Indeed the Giants will be eager to defend all three trophies which they won during last season's glorious grand slam.
Making sure that all the trophies stay in Belfast was one of the deciding factors of the Giants' goaltending talisman Tyler Beskorowany choosing to return to Northern Ireland during the closed season.
With the defence of all three trophies very much in the minds of the Giants squad, Beskorowany admits that they are relishing the start of the domestic season.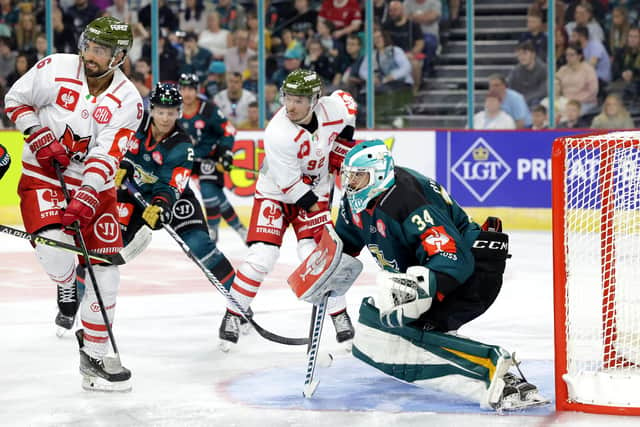 "It is only going to be a good thing for us to have that target on our backs," he said. "Getting the best out of every team on every night is what you want.
"We know, because we are the reigning champs, every team will be gunning for us and looking to take points off us.
"They will want to win trophies this year but equally so do we, we want to keep all the trophies in Belfast."
Beskorowany added: "We are going to step our game that little bit higher. I am looking forward to what lies ahead for the Giants this season and the competition."
He revealed the 'winning culture' at the Giants was one of the reasons why he is back in Belfast.
"It is one of the reasons why I am back. I love the winning culture that is here in Belfast. People expect to win," Beskorowany said.
"I enjoy being part of this environment, so I want to help, I want to keep this team winning. I think we have the right personnel in place and I look forward to hoisting a couple more trophies this year."
Now that pre-season, and the start of the CHL campaign, is out of the way Beskorowany believes there are opportunities for the team to learn and improve.
"First when I saw the games I was a little sceptical," he said. "But now that they we have had a chance to play a couple of games in the pre-season and the CHL, we can now take a step back and have a look at our game.
"Things have been so hectic right from the start, what with the CHL games in Finland and also Austria; we haven't had a opportunity to step back, do video and learn from our mistakes.
"We have made some mistakes, we need to step back, adjust and fix a few things; whether that's our five-on-five, our systems – our powerplay hasn't been clicking the way that we want it to be."
He continued: "There is also some things we can clean up on our penalty kills. Even small things like taking penalties and the discipline needs to be addressed.
"We need to learn how not to retaliate to some of the stuff other teams do, we can't be drawing those penalties.
"The refs are calling quite a few penalties, so we are going to need to learn to be disciplined and play the proper way."
And while Beskorowany didn't get to play in the two pre-season games against the Glasgow Clan, with Jackson Whistle between the pipes in both games, Beskorowany says that he's looking forward to playing against the new-look Clan.
He said: "I look forward to playing them. They have made a lot of good moves during the closed season.
"They have brought in a lot of on ice talent, I have seen a few of the players they have brought in play.
"They have done a really good job bringing in a solid mix of players with skill and size for this season, it will be interesting to see what they bring to the table."
He added: "I have no doubt that they are going to be tough opponents this year, they should certainly be looking at a top-five finish in the league."
Beskorowany is satisfied with how the Giants have fared in their campaign to date.
"It got very hectic, very quickly," he said. "Unfortunately we didn't get the results that we had wanted in Finland and Austria, the road trip wasn't as easy as we had hoped for.
"I feel we should have taken a couple of points from those games, certainly in the game against Lukko Rauma and HC Innsbruck. We have shown that were are going to be competitive this campaign.
"There is going to be tough competition in the CHL and if we can be equal to that we have nothing to complain about," he added.
"Some of these teams have been playing together for months, so I think we have answered the bell properly."
He added: "It was great to get the win against HC Bolzano, not only for ourselves as a team but also to be able to do it in front of the fans at the SSE. They were tough team who played us hard.
"I feel we are doing a good job for sure and have adapted quickly.
"Hopefully we can keep going the way that we have and look at taking more points in the remaining CHL games, which will be at home."
The Giants will be in action in the Challenge Cup against the Dundee Stars at the SSE Arena tomorrow with face-off at 7pm.
Meanwhile , the following evening the the rematch of the fixture will be played in Dundee with a face-off time of 7pm.