If they lose to the Flames, the Giants will travel to the Dundee Stars on Sunday needing to win their last regular season game.
No matter the outcome, this weekend is going to be both an exciting and a nervy one for Belfast Giants fans.
Speaking to the News Letter, Giants captain David Goodwin, he said: "We have had a good week in build up to Saturday, Keefer has got us to refocus on what is at hand this weekend.
"The boys are feeling good and there is a good buzz in the locker-room. I think that everybody is pretty excited with the weekend ahead."
Looking ahead to this weekend's first game against the Flames, Goodwin says he is expecting a very competitive game.
He remarked: "We are expecting the Flames to throw their best at us this weekend and no doubt they will be expecting us to do the same. As always the crowd will be super loud and the atmosphere will be electric.
"This season we have had some good battles with Guildford, so we can expect nothing but a very competitive game. They will throw the kitchen sink at us and we will be doing the same."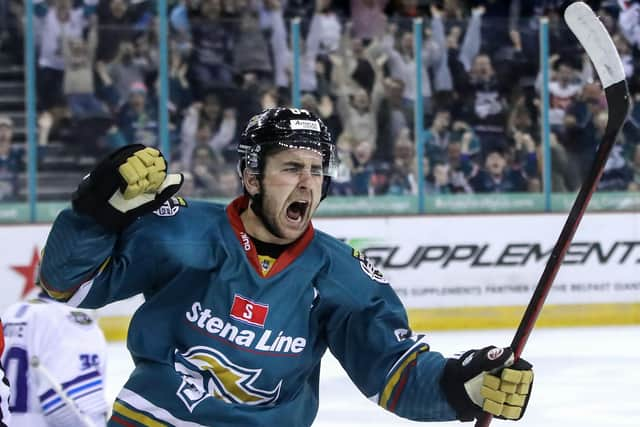 He added that it's important that the Giants don't get lost in the magnitude of the game and keep to their gameplan.
He explained: "There is a lot on the line, not least both teams' championship campaigns.
"As players we can't let ourselves get too wrapped up in the magnitude of a game. We get a little lost in the moment and not be able to focus on the game at hand.
"The reality is that it is just another game and that's how we need to treat it. We have done well when we have taken each game as it came, we will go into the game on an even keel."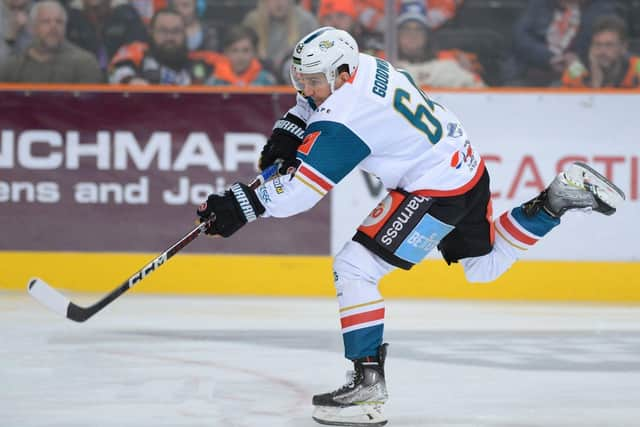 He added: "We will focus on playing our style of hockey and stop the Flames playing theirs. If we do that I am confident that we will get the result that we want."
Some months back Goodwin spoke of the fact that there could be no shortcuts to success.
That remains very much the case and the Giants have had to battle for important points, he explained: "This league is all about consistency and hard work.
"When you put that along with good habits and good team mates, they all contribute to success."
Goodwin continued: "This league will test every aspect of an organisation and of a team. We feel in Belfast that you need to be clicking on all cylinders to have success.
"Thankfully we have good coaches and management, who give the players good resources.
He concluded: "The support myself and the other captains get allows us to ensure we can steer the ship to another championship."