"Tonight was a full 60 minutes from the entire squad," said Keefe. "I thought it was important that we started that game on time, and that's what the guys did tonight."
He continued: "To get that goal in the first shift after 30 seconds was important. It was a great goal from Conway and great play from Owre. That goal put us up and set us up well for the rest of the game."
The Giants had expected a physical game from the Sheffield Steelers – they always are – with plenty of big hits, from both sides.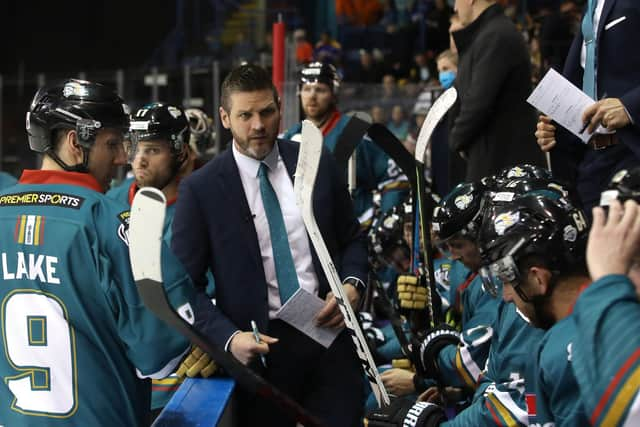 Keefe remarked: "I realise that it can be frustrating to lose in hopes left of winning the league. That frustration can boil over and that is what I thought we saw tonight.
"I thought out guys handled that physical side of the game from Sheffield well. They stuck together and got the job done, I couldn't have asked for more from them."
There was disappointment in the game when the Giants lost Matt McLeod in the first period, then Grant Cooper went down the tunnel with an injury before Matt Foley suffered a nasty hit from Steelers defenseman Sam Jones with just nine minutes left in the game.
All three players weren't on the Giants' lineup for the following night's game against the Manchester Storm.
Keefe said: "It's part of the game, we are in playoff games right now. Every game is intense and there are going to be bumps and bruises along the way.
"We are going to need to shake them as quick as possible and get back to it. But we have great confidence in our depth in the team."
Injuries aside, the Giants welcomed back both Ben Lake and Jeff Baum to the lineup for the game against Sheffield.
"It was huge to have both guys back on the lineup," remarked Keefe. "I thought that both of them had a good game tonight.
"They are both very key players in the Giants' lineup and key to last year's success and just as key to this year's success.
"I had full confidence in both those guys being able to jump into a big game like that after time out with injuries."