Keefe hails 'unique' Tedesco as Belfast Giants clinch 'gutsy' CHL win
Belfast Giants head coach Adam Keefe described his squad's 1-0 overtime victory over Red Bull Salzburg at the SSE Arena as "a gutsy performance".
Watch more of our videos on Shots! 
and live on Freeview channel 276
Visit Shots! now
With four seconds remaining in the overtime and the two sides rapidly headed for a shoot-out to determine if the points stayed in Belfast or went to the Austrian, up stepped the dynamic duo Daniel Tedesco and Quinn Preston, for Tedesco to knock the puck into the back of the net to decide the game.
"That was a heck of a gutsy performance from the squad to get that win against Red Bull Salzburg," said Keefe.
"I wasn't sure just how fatigued that we might be after that busy roadtrip at the weekend, we had looked quite fatigued in Cardiff.
"I thought getting home and a day off yesterday, would help us re-energise. I knew that if the crowd turned up, like the did, we would be able to feed of them and we did."
He added: "Salzburg played well tonight and didn't give up to many chances to us, so we really had to work for everything.
"Both teams' penalty kill was great as were the goaltenders too, which made for a very exciting game."
Keefe admitted that he felt that it was going to be one of those nights were just one goal would separate the two sides.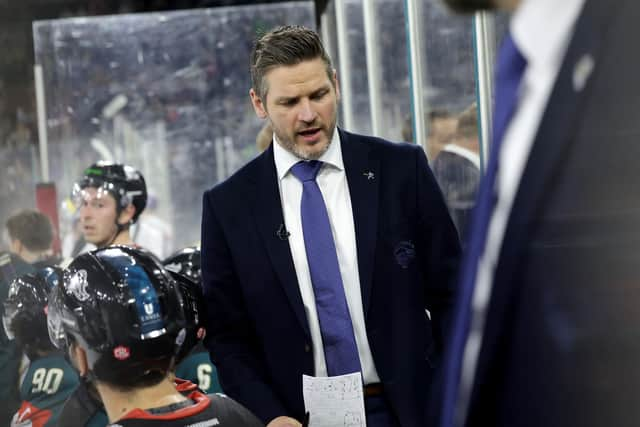 He said: "I had thought it would be a one goal game and I wanted that goal to fall one our stick.
"It could have been one bounce the other way and they would have been heading home with the points."
Earlier Salzburg's head coach Oliver David had alluded to the fact that the Giants' defence had frustrated the Austrian's chances in front of goaltender Tyler Beskorowany.
That is something that Keefe takes as a compliment, he said: "I thought Salzburg were very aggressive in front of goal. We had to get out of our own zone to limit their chances.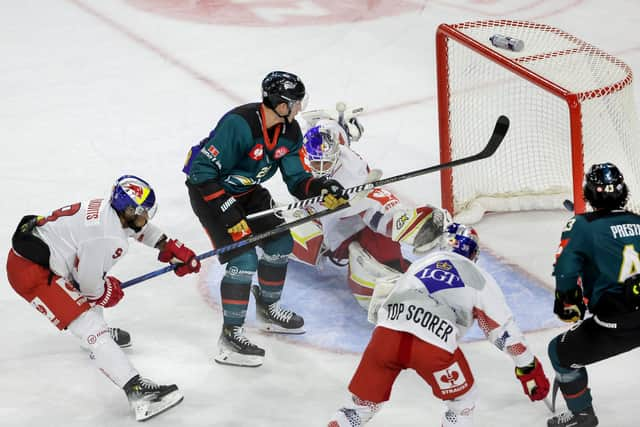 "Defensively I did like what I saw tonight, we were tracking back hard and making sure that we weren't giving up any clear cut chances of the rush."
Keefe praised the effort from goal scorer Tedesco, he said: "We aren't surprised by Teddy scoring in the manner that he has.
"We saw him last year when he was with the Flames, so we knew what he is capable off. He is unique player with an excellent skill set.
"Any time he is given time and space he will make you pay.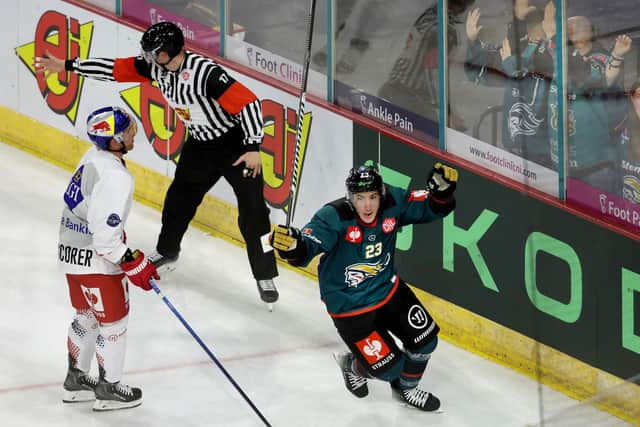 "Getting him out there in overtime with Quinn is something that we have been looking to do a little more off.
"We like the chemistry on our lines, so to get him and Q out there together they will give us our best chances."
The win means that next week's match against Czech side Dynamo Pardubice will be decisive one, should the Giants defeat Dynamo they should clinch a slot in the CHL playoffs.
"Every year that we have a little success in the CHL that our standards rise. That is something that we want to see."
He added: "We want to be the best that we can be, the Champions League is a tough challenge but its a great opportunity for the players, the staff and the fans, we get to see the best of European hockey here in Belfast.
"We want meaningful games, we know that Dynamo a great team who have had a lot of success in the CHL so far.
"We will need to be good but we had success last year against Czech opposition when we beat Třinec."