Mark Cooper is eager to get back with the Belfast Giants
Mark Cooper admits that he had given some thought to hanging up his skates during the closed season but he says that his eager to get back to Belfast to see what lies ahead for the 2023/4 season.
Watch more of our videos on Shots! 
and live on Freeview channel 276
Visit Shots! now
Speaking from his home in Canada to the News Letter he explained how after after returning to North America he had some time for reflection on whether not it was time to call it a day with his professional hockey career.
He said he took time to chat the matter over with his partner and family, and then after reaching out the Belfast Giants organisation back in Northern Ireland, Cooper came to the decision that now was not the time to call it a day on his professional ice hockey career, and thus he is back for a third season in Teal.
"I can't wait to get back to Belfast. When I left to head home I was unsure whether or not I wanted to retire from hockey and look at other options," he said.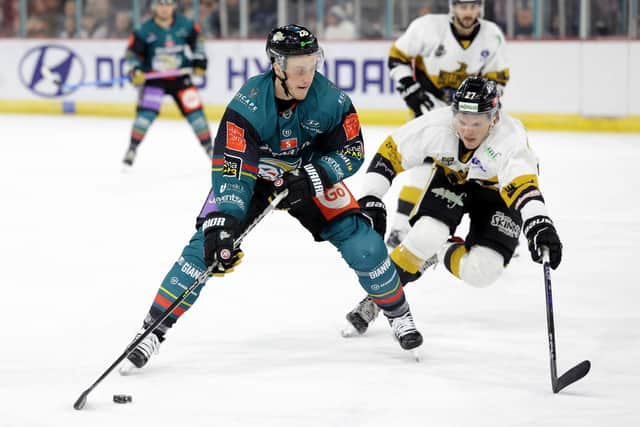 "After the incredible treble winning season that I had had with the Giants last year and I wasn't sure how that could be beaten. Ultimately Belfast has felt like home to my girlfriend and I over the last two seasons, we really like it over there.
"We want to come back and see build on the last two years in Northern Ireland. The team has down so well over the last two season, it just feels right to re-sign for another season and see where we go with that."
Mark says that he has had a busy time back home in Canada since the end of the 2022/3 season with the Giants.
He remarked: "It has been good. I have been busy. When you are only home for three months of the year, you have a lot of cram in. Its even better that those months are the warmer months here in Canada without the snow and ice which we are better known for.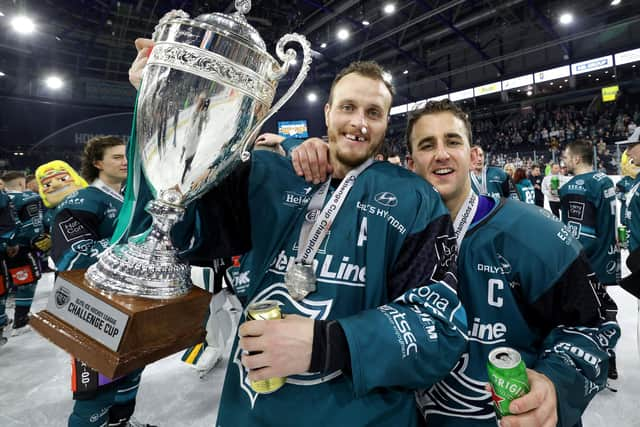 "The weekends have been but I have kept up my training regime ahead of the 2023/4 season. I have also been playing with my buddies in a men's hockey league which has been a lot of fun.
"I am taking in as much time as I can to relax, when its the hockey season it can get quite intense, so to have these months to decompress is always good before the grind of the season kicks in."
Cooper concedes that the life of an ice hockey player can be very different from most people.
He remarks: "Life is very different to normal life. Split my life between Canada and Northern Ireland is fun. I have been living away from home since I turned professional, so I am pretty used to living in two places. But one of things that we want to do, is to make Belfast potentially more of a permanent place. That is what our plan is and we will see what happens over the next season and more."
Mark explained that over the closed season that he has kept in touch with the Giants organisation in Belfast.
"I kept in touch with them after I returned home," he said. "I was in touch with Steve and Keefer.
"Like I say, I wasn't sure what I wanted to do, but when I realised that I wasn't quite ready to retire I reached out to them to see what could be done.
"We then agreed on some terms and the deal was done. I really couldn't be more excited to be coming back in August and starting off again in the CHL and we will be focussed on another treble."
Cooper is convinced that the Giants can do the treble again.
He said: "We have a good core group coming back this season, Longer, Laker, Besko and Whis and Garside. That group brings so much experience from past campaigns.
"The Giants have set the bar high since post-Covid. Winning is what we do."
He added: "We have lost some offense with Conway moving to Slovakia and Owre moving to Austria, but were are bringing in some very exciting players like Elijiah Barriga and Kohei Sato, and of course Matt McLeod is back for a full season too.
"Losing players each season is part of life in hockey, last year we lost Piccinich and then Owre stepped in and he did great.
"The team that Keefer and Thornts has put together so far looks really exciting indeed and I am looking forward to meeting the guys come August and then hitting the ice against Cardiff in the first pre-season game before we move into the CHL games."
Cooper agrees that next season there will be teams in the EIHL who will be eager to pinch a trophy or two from the Giants.
"We had a target on our back last season to be honest," remarked Cooper. "We had a bit of a slow start last season, what with the CHL, but I honestly believe those European games were beneficial to us at the end of the season. It is a privilege to have target on our back and I have no doubt that the likes of Sheffield, Cardiff and Nottingham will be itching to give us problems. We are used to having other teams sniping at us. We will be ready for anyone who wants to come and challenge us and we love those rivalries. It should be an exciting season with lots to look forward too."