Odyssey Trust confirms final donation sum to Ukrainian Hockey Dream
The Odyssey Trust has announced that it has made a final donation of £65,000 to charity Ukrainian Hockey Dream following a special one-off international ice hockey game hosted at The SSE Arena in Belfast in April.
Watch more of our videos on Shots! 
and live on Freeview channel 276
Visit Shots! now
After the game took place, a cheque for £50,000 – the total sum raised from ticket sales for the event – was presented by representatives from The Odyssey Trust to Georgii Zubko, president of the Ice Hockey Federation of Ukraine and director of the Ukrainian Hockey Dream. A further £15,000 was contributed to the final donation amount from additional fundraising activities.
The sold-out game, which featured as part of the Ice Hockey Federation of Ukraine's 'Hockey Can't Stop' tour, was contested between a purpose-built Belfast Giants All Stars and Ukrainian National Championship side, Dnipro Kherson.
The All Stars roster was made up of members of the Giants 2022/23 treble-winning roster and a few familiar faces, including current head coach Adam Keefe, previous fan favourites Steve Saviano and JJ Piccinich, and Premier League Hall of Fame goalkeeper and current Chelmsford Chieftains netminder Petr Cech.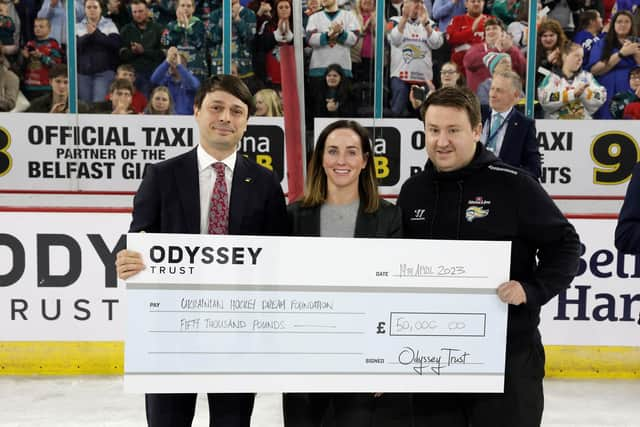 In a thrilling game of ice hockey, the evening displayed true spirit and support, and was a testament to the power of sport in bringing people together for a united cause. The atmosphere at The SSE Arena was electric with fans and supporters cheering on both teams on the ice. To mark the occasion, before the game began, an exclusive performance resounded throughout the arena from Ryan McMullan – who sings the ever-popular Belfast City, a renowned song within the Belfast Giants' fanbase.
Reflecting on the event, Steve Thornton, group head of commercial and hockey at The Odyssey Trust, said: "The Odyssey Trust are thrilled with the success of The Hockey Can't Stop tour last month, and proud to have raised £65,000 in aid of The Ukrainian Hockey Dream. The game was a great experience for everyone involved, from the teams on the ice to the fans who came to watch."
With approximately 60% of young ice hockey players in Ukraine forced to abandon their homes and relocate, and 40% of all ice arenas in Ukraine either seized or destroyed, Ukrainian Hockey Dream's main fundraising aims are to provide young people across Ukraine with opportunities to get back on the ice through the supply of equipment, coaching, and infrastructure.
Georgii Zubko, president of the Ice Hockey Federation of Ukraine and director of the Ukrainian Hockey Dream Foundation said: "We would like to express our deepest gratitude to the team at The Odyssey Trust and the Belfast Giants for hosting such an incredible event.
"It was amazing how it came to life in such a short period of time, bringing everyone together against all odds.
"The true meaning of this event goes beyond the game itself, as it demonstrates the genuine kindness and support of The Odyssey Trust."