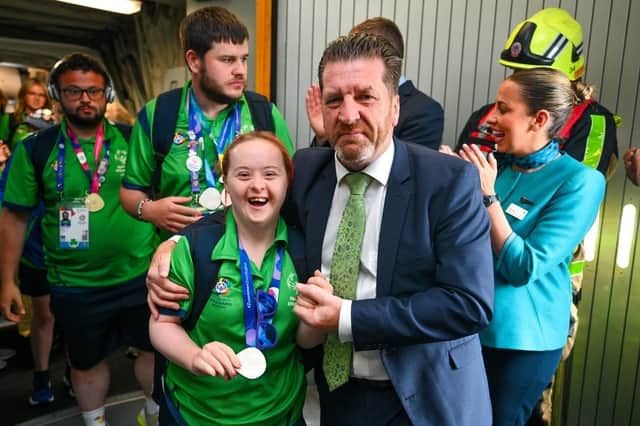 17 photos of Ulster athletes after Special Olympics World Summer Games success
Sixteen Ulster athletes have made a triumphant return home after securing 22 medals at the 2023 World Summer Games in Berlin, Germany.
Published 11th Jul 2023, 17:22 GMT
Updated 11th Jul 2023, 18:38 GMT
They were part of a 73-strong Team Ireland, which won a total of 75 medals in a range of sports including badminton, basketball, equestrian, golf and gymnastics. Team Ulster's medals were won across nine sports and consisted of nine gold, six silver and seven bronze titles.
Springing to success in gymnastics, Johnny McCartney and Aaron Lenzi, both Co Antrim, and Haleigh Miskimmin, from Prostar Gymnastics, Newtownards, secured the highest volume of medals with 17 podium finishes including six gold, five silver and six bronze.
Newry All Stars club had multiple medal winners with Leah Fagan securing two bronze medals in equestrian and Dearbhail Savage and Chloe Hillen both winning a silver medal each in golf. Claire O'Neill made the Lisburn2gether club proud after winning a bronze medal in badminton and James Meenan, from Newry City Special Olympics Club, scored a gold medal in football for Team Ireland.
Three athletes from Co Tyrone brought home four gold medals for Team Ireland. Sammy Jo Sweeney from Starbreakers Special Olympics Club won two gold medals in Bocce and Eamon Quinn and Raymond Singleton, from Eagles Special Olympics Club, scored a gold medal each in football.
Berlin welcomed more than 7,000 Special Olympics Athletes and Unified Partners from 190 nations to the World Summer Games.