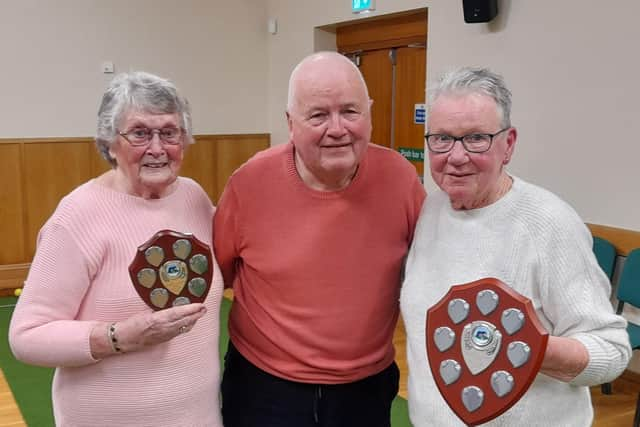 8 photos of Bushmills and District Triples bowling competitions
Bushmills and District Bowls Triples finals were played off on Tuesday night in Ballywatt Presbyterian Hall between Armoy and Dunluce Parish teams.
Published 20th Mar 2023, 10:41 BST
Updated 20th Mar 2023, 10:41 BST
Armoy's S Gage, B Jamieson and J McCurdy and Dunluce Parish's P Pentland, M Pentland and G Caskey competed in the final, with Armoy taking the first few ends to give them a lead which they kept to win this year's triples.
The trophies were presented by the umpire Jack McCurdy. The Open and Ladies singles were held in Dunluce Parish on Wednesday with all competitors evenly matched and the markers getting plenty of exercise chalking up the numerous touchers.The games were mainly decided on the sixth or seventh end, with an opening split shot either ending up favourable or not. Eventual finalists and runners-up were Trinity's M Kerr in the ladies singles and Armoy's S Gage in the open, with Ballywatt's P Calvin winning the Ladies singles and Trinity's I Kerr winning the Open singles.
The Trophies on this evening were presented by Roy Calvin. Next week's competition is the charity final between Dunluce Parish and Trinity in Armoy's Hall.
Undefined: readMore