Athletics: Busy week of events in the sunshine for Springwell Running Club
To quote the Undertones: "The summer's really here and it's time to come out, time to discover what fun is about."
Watch more of our videos on Shots!
and live on Freeview channel 276
Visit Shots! now
A very sunny week saw the purple Springwell Running Club vests in action on mountain, trail and road and having fun doing it!
Springwell RC was in action at two mountain races this week. On Thursday, Club Captain Ryan Galway ran race 7 of the Hill & Dale series and a challenging 4.5 miles of running and over 1400 feet of elevation around Millstone in the Mourne Mountains, finishing in 43:31 for 22nd place. The second mountain race of the week was the Cairncastle Fell Race on Saturday.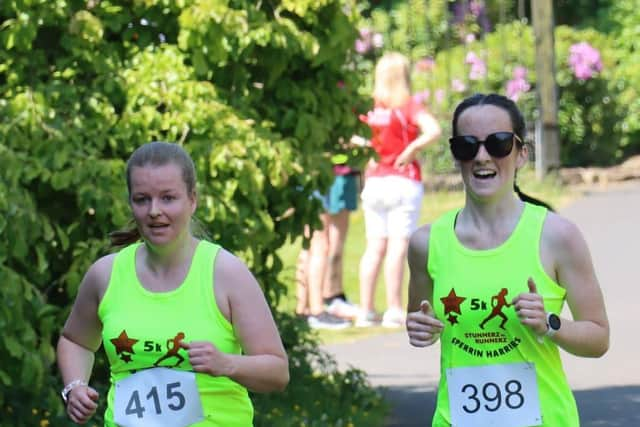 Bernadette O'Kane had another impressive run to finish 31st overall (4th lady and 1st FO) in a time of 1:37:39. Shirhaan Hameed wasn't far behind, finishing 40th in 1:43:08 with Adele Tomb 68th (2nd FV50) in 2:02:41.
The Foyle Valley Athletics Club 5 Mile Classic is a popular road race, along the Foyle Road beside the river. Christopher McNickle ran an impressive 27:34 to finish in 9th place, while a personal best 29:34 saw Stephen McLaughlin cross the line in 29th.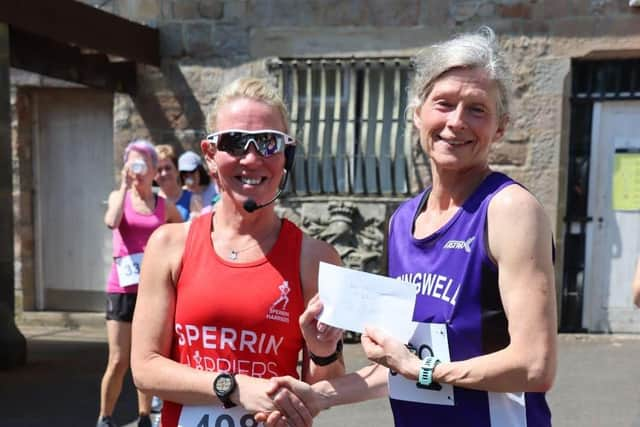 Stunnerz & Runners is a ladies only 5k race hosted by Sperrin Harriers in the very scenic surroundings of Drum Manor Forest Park outside Cookstown. Jane Talbot lead the Springwell RC contingent home as she finished eighth overall and first for her age group with a time of 24:27.
Springwell RC - 8th Jane Talbot 24:27 (1st 50+), 13th Leisa McKenna 26:07, 20th Sinead Graham 28:38, 29th Antoinette Conway 31:09, 36th Heather McLaughlin 32:12, 37th Alison Duncan 32:12, 50th Ingrid Hamilton 34:37, 52nd Sarah Swanson 34:55, 53rd Hannah McCaw 34:55, 54th Linda McMichael 35:32, 55th Angeline Platt 35:50, 70th Katrina Adams 38:46, 79th Sharon Byrne 41:25.
A very sunny Saturday morning saw 59 'Springers' doing their parkruns at eleven different venues with seven personal bests recorded.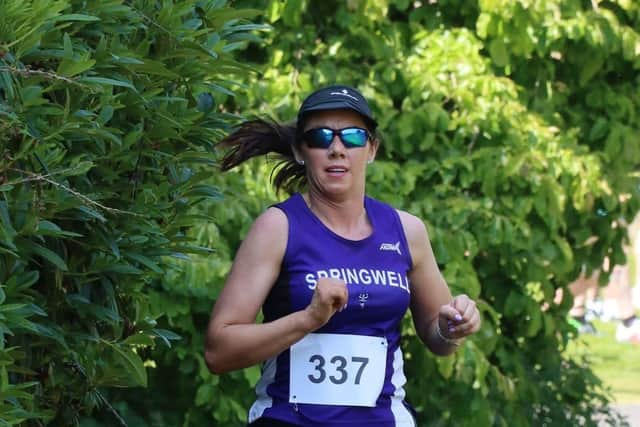 Camperdown - Elaine MONTGOMERY 39:35; Portrush - David O'NEILL 19:04, Andy WHITEFORD 19:36, Maurice WALKER 19:43, Rhys WALKER 20:27, Catherine PINKERTON 22:45, George BRIEN 23:19, Fergus THOMPSON 23:59, Reid JACK 24:23, Gary MOORE 25:00, Mervyn THOMPSON 26:11, Patricia CRAIG 26:24, Maria QUINN 27:08, Andrew WILMOT 27:34, Heather SPENCE 27:42 PB, Barry MCBRIDE 28:33, Andrew WILSON 28:48, Roisin WALKER 29:41, Alanna MILLAR 30:08, Gemma WRAY 33:24, Kate MCNICHOLL 34:33, Fergal MACKLE 34:34, Caitriona MACKLE 36:49, Caoimhe QUINN 36:58, Iris WILSON 39:06, Deborah PURDY 39:48.
Enniskillen - James HUGHES 23:43, Jim BREEN 28:29; Ormeau - Lara WALSH 36:33; Bangor - David MCGAFFIN 21:20; Limavady - Chris DENTON 17:14, David SHIELS 19:35, Peter TEES 20:51, Fiona PRUE 21:16, Kevin MCLEAN 21:37, Pauline MULLAN 22:27 PB, Sinead RIVERS, 23:13 PB, Sinead GRAHAM 25:08 PB, Janet PATRICK 25:18, Alan STEEN 26:47, Alan WHITE 27:26, Gael BUTCHER 27:42, Heather MCLAUGHLIN 28:25, Alison C DUNCAN 28:26, Nicola WHITE 30:26, Linda MC MICHAEL 30:27, John MCMICHAEL 58:28.
Darndale - Lorraine ABERNETHY 29:53, Emer THOMPSON 30:28, Catherine BYERS 33:15; Blyth Links - Alan PLATT 27:24; Agnew - Colin CONNOLLY 27:38; Garvagh Forest - Majella MCATEER 24:28, Michael MCKEOWN 25:45, Elizabeth DEIGHAN 25:49, Gary KENDALL 25:53, Kay HACK 28:39 PB, Bernie HANNIGAN 30:29 PB. Limepark Playing Fields - Jonathan MCNABB 20:37, Patrick MAGEE 25:35 PB.