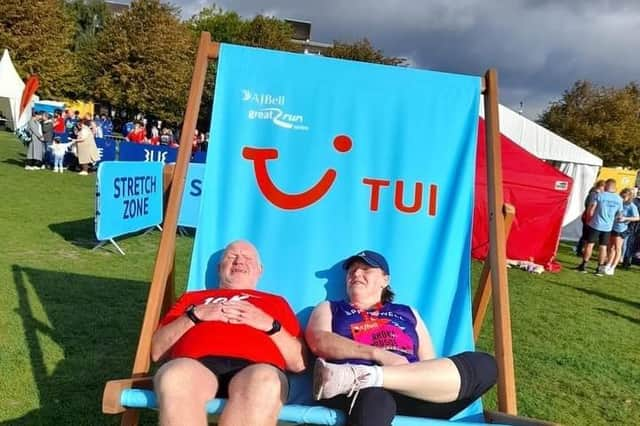 Athletics: Springwell Running Club members off on their travels
This week saw Springwell Running Club on their travels to the Monaghan Phoenix Marathon, the East Donegal¾ Marathon and Half Marathon, and the Great Scottish Run in Glasgow with 10k and half marathon distances.
Published 2nd Oct 2023, 10:17 GMT
Updated 2nd Oct 2023, 14:06 GMT
Sunday's Monaghan Phoenix Marathon saw Chris Denton add another sub-3-hour marathon to his already impressive CV. Chris dominated the race, finishing with a time of 2:52:02, almost 32 minutes ahead of his nearest challenger, to claim first place.
Donegal East Running - 3/4 and Half Marathon
There was a field of 'Springers' in Ballybofey on Sunday for the Excel Sports 3/4, half and mini half marathons. The favourable running conditions produced some excellent times with Rodney McPhee and Helena Dornan winning their age categories in the 3/4 event.
3/4 Marathon - 10th Rodney McPhee 2:13:57 (1st M40), 60th Jeff Young 2:35:39, 66th Timmy Bacon 2:38:39, 79th Jonathan Huddlestone 2:43:05, 100th Helena Dornan 2:48:38 (1st F50), 101st Adrian Finlay 2:48:38, 110th Deborah McPhee 2:51:02, 133rd Pauline Mullan 2:57:47, 162nd Majella McAteer 3:08:19, 181st Karen Campbell 3:16:57, 214th Alison Duncan 4:06:14, 215th Bernie Drain 4:06:14.
Half Marathon - 37th Gael Butcher 1:45:55, 81st Leanne Quigley 1:57:43, 106th Sinead Graham 2:02:42, 119th Kathryn Campbell 2:08:10, 124th Amanda Kershaw 2:09:56, 161st Ivan Goldsworthy 2:34:50 Mini Half - 87th Linda McMichael 1:28:55.
Sunday's Great Scottish Run saw four Springwell RC members make the trip to Glasgow. In the Half Marathon Paul Laverty finished 1730th with a time of 1:42:43 while in the 10k Adam Henderson was the first Springer home, finishing 2108th in 56:58, Rhonda Laverty was 6086th in 1:09:56 and Kenneth Bacon was 6086th in 1:27:24.