This played off to a final between Kilraughts' Reuben Kelly and Emma Pinkerton. With the lead changing throughout the game, it was Reuben who claimed the Junior title in the final end and the League's Stirling Shield.
A league spokesperson said: "It is good for clubs to have younger players coming in, as these are the future of the club and also it does help to lower the average age of the club, potentially making that club the youngest club in the League. "
The Bushmills and District League Championship Winner 2023 was Trinity, awarded the Northern Bank Cup, with Armoy claiming the runner-up William Craig Cup. The Club of the Year title, where the clubs are compared to their last three years, also went to Trinity with 299% and Dunluce Parish with 181%.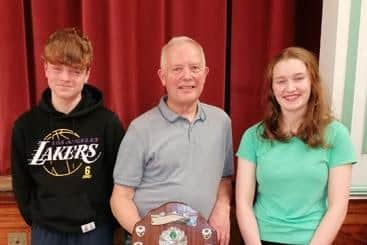 The spokesperson added: "So this was a good restart year for the Bushmills and District league and we would encourage new bowlers and previous bowlers to come and try out the bowls.
"Contact any of our clubs' representatives and they will be glad to put a mat down for a game. Tthere is also practice in Trinity over the summer on the first Thursday evening of each month at 7.30pm starting on Thursday, May 4.
"Come along or contact us on 07809050326 for more details. Any clubs interested in joining the Bushmills and District League can also ring the same number."