Hosts Trinity played Dunluce Parish in a well matched first round with the lead swapping every other end, then Trinity got a lift in the sixth end and, although Dunluce Parish won the remaining ends, Trinity held onto this lead to put them through to the semi with Armoy.
This again was a very competitive and evenly match game, with it five-all in the third, seven-all in the fifth, eight-all in the seventh, then Armoy held it in the last two ends, getting single shots in each to put them through to the final.
The other semi turned out to be a game of three thirds with Ballywatt starting off strongly in the first third of the game, only for Kilraughts to pull it back in the second third, to be one shot behind, 7-6, in the sixth.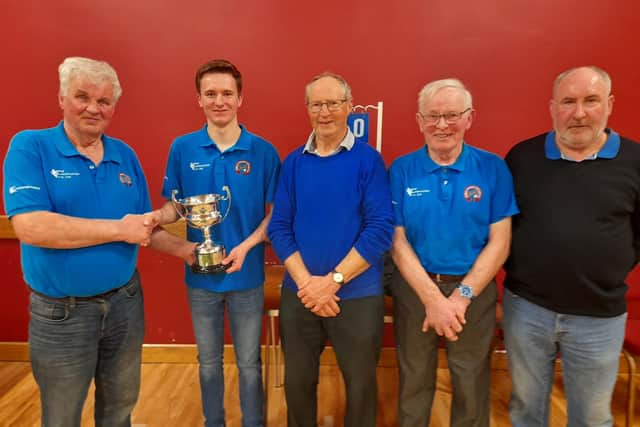 Ballywatt started to pull away again getting a shot in the seventh and then in the penultimate eighth end, building up a five shot head, round the jack. Then Kilraughts, who had the last bowl of the end, made it a case of "if you can't draw shot, draw second" to hold the game going into the final end, in which they took the lead and the game 10-9, putting them through to the rinks final with Armoy.
After the tea interval, President James Elliott thanked Trinity for hosting the evening and started the final between Armoy and Kilraughts. Armoy once again settled in quickly, creating a lead in the first three ends and although Kilraughts came back again in the fourth and fifth ends, it was this lead which Armoy carried through to claim the 2023 Rinks' winners Mosside Cup 1980.
Bushmills and District President James Elliott then presented the cups and afterwards highlighted and welcomed everyone with their families and friends to the "End of Season Service" which will be held in Armoy Presbyterian Church on Sunday, April 23 at 7.30pm.
The service will be led by the Rev. Gary Glasgow, with the praise for the evening being provided by the Route Singers accompanied by organist Margaret Gillan and the offering will be taken up for the Children's Hospice.