Carrickfergus Junior Darts Academy players qualify for virtual world championships
Members of Carrickfergus Junior Darts Academy have qualified for the virtual world championships in Gibraltar next year.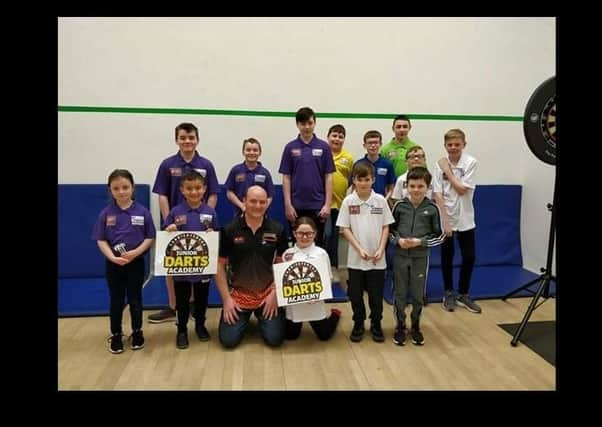 The only Junior Darts Corporation (JDC) academy in Northern Ireland, the club was founded by coach, Gregg Fowles in January of this year.
"We quickly gained interest and membership; we have members who come from all over the country, some with a four-hour round trip just to be part of our club," Gregg said.
"The JDC have academies all over the world. They give kids from age 6/7 to 18 a safe and appropriate means to play darts, learn new skills, make new friends, increase confidence and help numeracy skills.
"We had been running a weekly session and the JDC have a routine the kids do every week, scoring different points to produce a weekly total. This total is averaged out over eight weeks to obtain a grading. Similar to judo, the grading starts with white shirts and hopefully working towards a top grade of a black shirt.
"Things were really going well for our club; after eight weeks we had upgraded to blue, green, yellow and five purple shirts. But after 12 weeks, Covid hit and everything shut down, including all JDC activity."
Luckily, the JDC team rose to the occasion and came up with the idea of setting up JDC Virtual. "This would be the same routine as the kids would do every week, but with the extra incentive of qualifying for the JDC Virtual world championships," Gregg added.
"To gain this achievement, each competitor had to obtain six virtual passports. To gain one, they had to get an average score of 700 points over a six day period. So the minimum time taken to gain six passports would be 36 days - this was no easy task.
"The original date for the championships was to be in November; with Covid everything moved, including the qualifying period for the championship."
With the qualifying period now finished, members Jake Sproule and Jack Campbell, both 15, and Callum MacDougall, 14, have made it through to the Junior tournament, while Gregg will take part in the adult tournament.
The JDC Virtual World Championships are to held next year in Gibraltar from April 7-13.
"This event will be a fantastic opportunity for myself and the boys. They will visit a place none of them have been to before, they will also get to experience other cultures as this is a world wide event, with competitors coming from the USA, China and New Zealand," said their coach.
"We all hope that this event will take place in a Covid-free world as the boys are very much looking forward to showing their darting talents on the world stage.
"We are small in numbers, but to get four members to a world championship is a tremendous achievement."