With Saintfield ever improving and results between the side during the season mixed, the Ports knew a tough game lay ahead. A cagey first half saw Saintfield edge proceedings with Bennett called into action on a few occasions, while at the other end, the usually lethal John Dillon could only find the side netting after rounding the keeper.
The Ports struggled to find their rhythm in the first half and were content to make it to the break level, knowing much improvement was needed in the second half.
After a half-time dressing down, the Ports began the half much sharper, putting immediate pressure on the Saints. Eventually the pressure tolled as Brent Smith slapped home after his initial drag effort from the short corner was blocked.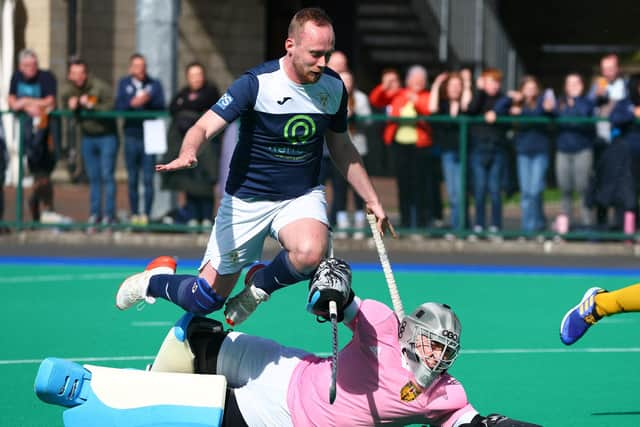 Shortly after, the Ports doubled their lead when Brent Smith turned provider, squaring to brother Leon, who made no mistake from close range. The second goal definitely settled the nerves and the Ports continued to move the ball around nicely.
However, Saintfield continued to push forward, creating a number of chances but could not pass Bennett and if they did, the Portrush stopper was backed up by James McElderry and Andy Christie with goal line clearances, the latter denying a fine drag flick effort bound for the top corner.
In the final quarter, the Ports sealed the game, adding a third when John Dillon picked the ball up on the right, travelled left and his fine reverse pass found Mickey Conway, whose first-time effort trickled over the line after the keeper made a fine effort to save. Saintfield tried one last roll of the dice by taking off their goalkeeper for an extra outfield
player, but it proved to be in vain as the Ports added a fourth when Ally Reilly had time for a touch and rolled into the empty goal from Philip Linton's through ball.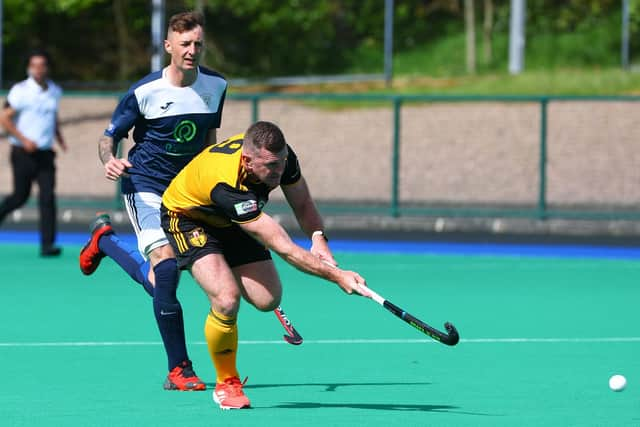 Scenes at full time saw the Portrush players jubilant, as the Club followed up their 2020 win with the trophy once again.
A Portrush Hockey Club spokesperson said: "Commiserations to Saintfield Men's Hockey Club who played a great game and, in truth, the score line doesn't reflect how tight the game was. Portrush Hockey Club wishes to thank Hockey Ireland for yet another fantastically run event and to Banbridge Hockey Club for hosting an unbelievable set-up down at Havelock Park."
Portrush squad: Marc Bennett (GK), Andy Christie (c), Brent Smith, James McElderry, Philip Linton, Andy Morrison, Aaron Kerr, Michael Conway, Adam Scott, Barry McMullan, Leon Smith, Sean McMullan (GK) Ryan Smith, Clive Fulton, Craig Henry, Ally Reilly, John Dillon, Callum McKeeman. Management: Jason McIntyre, Graeme Christie, Craig Hogg.
Final score Irish Hockey Challenge Championship: Portrush 4-0 Saintfield. Scorers for Portrush: Brent Smith, Leon Smith, Mickey Conway and Ally Reilly.
Man of the Match: Portrush captain Andy Christie. Huge congratulations to the Portrush Hockey Club team!