The work to ensure that this race took place began several months ago but Wednesday saw a flurry of activity as Race Director Kenneth Bacon and his team worked to bring all the strands together for a very successful evening of running.
Grainne Kearns (Foyle Valley AC) took an early lead and led the race out of the leisure centre grounds and into the town, closely followed by Nicola Sargent (Tafelta AC) and Paula Worthington (Ballymena Runners).
In a closely contested race only nine seconds separated these three runners at the finish with Nicola first in a time of 19:51, Grainne second in 19:56 and Paula third in 20:00.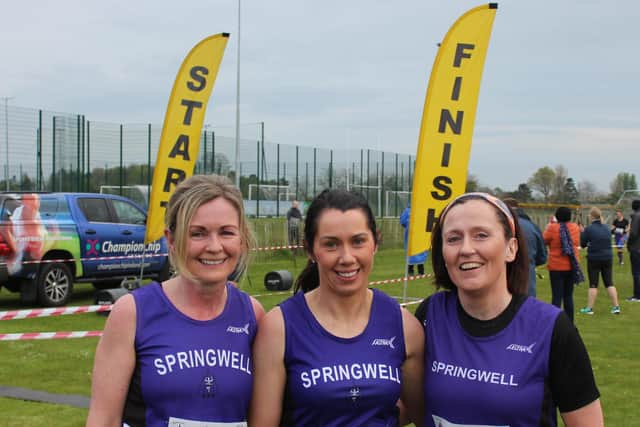 Wednesday was also the "graduation" of Springwell's Couch to 5k (C25k) course, and the club is delighted to announce that 18 of the class were able to take part in their first
Springwell RC would like to thank sponsors, Grant Electrical Services, for their continued support, as well as Basaltsix, Fitpink Fitness and Spar NI for their generous donations of prizes and refreshments. Thanks also to Causeway Coast and Glens Council and their staff for their help in organising this event.
Springwell RC Results - 13th Jenny Chartres 20:56, 18th Fiona Martin 21:57, 20th Jane Talbot 22:26, 28th Deborah McPhee 23:09, 31st Leisa McKenna 23:22, 41st Cathy Adams 23:47, 54th Patricia Craig 25:03, 55th Helena Dornan 25:05, 60th Janet Patrick 25:43, 77th Antoinette Conway 26:58, 87th Sinead Graham 27:08, 89th Kathryn Campbell 27:08, 90th Karen Campbell 27:10, 94th Alanna Millar 27:26, 123rd Karen Garvin 28:54, 124th Laura Fisher 28:54, 134th Karen Taggart 29:11, 140th Anne Marie McKenna 29:40, 145th Gemma Wray 29:48, 147th Pauline Duke 30:05, 160th Caroline Gibson 30:11, 164th Sarah Swanson 30:25, 173rd Hannah McCaw 30:43, 179th Paula Chartres 30:57, 186th Lynn Stewart-Johnston 31:06, 190th Linda McMichael 31:25, 204th Dearbhle McLaughlin 32:16, 202nd Shelia McConnell 32:10, 208th Julie Armour 32:36, 218th Lara Walsh 33:27, 222nd Angeline Platt 33:46, 224th Megan Timms 33:47, 227th Karen Armstrong 33:52, 228th Iris Wilson 34:10, 231st Rhona Laverty 34:25, 232nd Claire Patton 34:33, 239th Karen Dougan 35:22, 240th Paula Carson 35:23, 242nd Roisin Walker 35:48, 243rd Noleen McKillop 35:51, 258th Sharon Byrne 37:59, 262nd Michelle Leighton 38:11, 263rd Valerie Young 38:11, 264th Caoimhe Quinn 38:51, 265th Noeleen Cairns 38:44, 270th Allisa McElheran 39:14, 272nd Joanne Coyle 39:20, 275th Lou-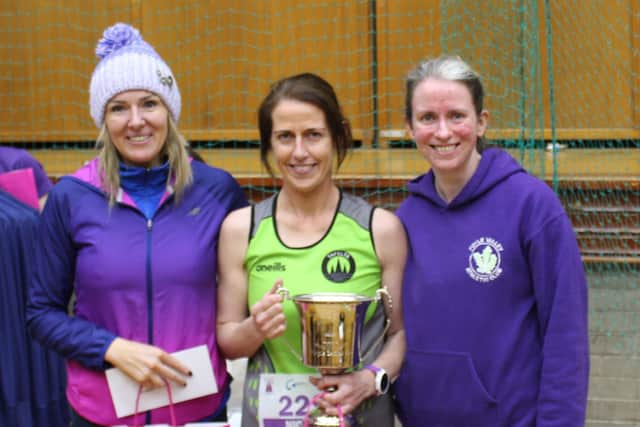 Ellen Campbell 39:31, 276th Elizabeth McLaughlin 39:44, 277th Ingrid Hamilton 39:42, 278th Heather Mclaughlin 39:43, 279th Alison Duncan 39:42, 283rd Donna Caldwell 44:20, 284th Katrina Adams 44:20, 285th Michaela Doherty 46:45, 286th Nicola White 46:46.
Hill & Dale Race 3 – Slieve Martin
Thursday night is Hill & Dale night and Thursday (April 27) saw Race 3 of the series, hosted by Newcastle AC, take place at Kilbroney Forest Park in Rostrevor. A steep, two-mile ascent of Slieve Martin through the forest park was followed by a just as challenging steep two - mile descent to the finish.
This week saw two Springwell RC members make the trip to County Down for the race with Peter Tees 71st in 47:59 and Carolyn Crawford 165th in 59:13.