Thursday saw the second of this year's Hill & Dale series, hosted by Newcastle AC take place at Tollymore Forest Park as 295 runners put their toe to the start line in cool, calm weather for a challenging event. The first gentle downhill mile may have lulled some into a false confidence but the second uphill mile though the forest and out onto open mountainside quickly shattered any such thoughts.
The broken, uneven terrain threatened to trip anyone who allowed their concentration to lapse, even for just a moment and with over 1,000 feet of elevation on the four-
mile course the descents were just as challenging as the ascents. This week three Springwell RC members made the trip to County Down with Barry Mullan once again the first to finish with 37:33 for 37th. Shirhaan Hameed was 126th in 44:13 and David McGaffin 168th in 47:47.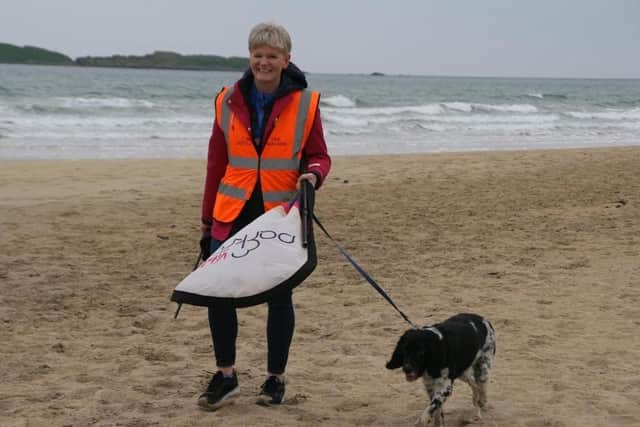 Saturday, April 22 was not a good day for the Annalong Horseshoe race. It was a day when the weather forced the organisers to shorten the course to just 12 miles with just under 4,000 feet of elevation, competitors had to have safety kit for their safety kit, and streams were so swollen that assistance had to be given to ensure safe passage. Despite all this, four Springwell RC members stepped up to take on the challenge.
The persistent downpours of Friday night and Saturday not only filled the streams of the Mourne Mountains, but they also reduced already poor visibility further and forced the organisers of the event to think long and hard as to whether it should go ahead. However, this is mountain running and if it were easy everyone would be doing it. A comprehensive risk assessment and an army of volunteers and marshals ensured that the event went ahead and that everyone got round safely.
He picked a good one for his return to racing, but it was great to see Colin Brennan back on the mountains with an impressive 3:14:32 for 50th (2nd M60), Shirhaan Hameed wasn't far behind in 56th with 3:16:42, with Carolyn Crawford 78th in 4:39:24 and Nicola Frizzelle 79th in 4:39:26.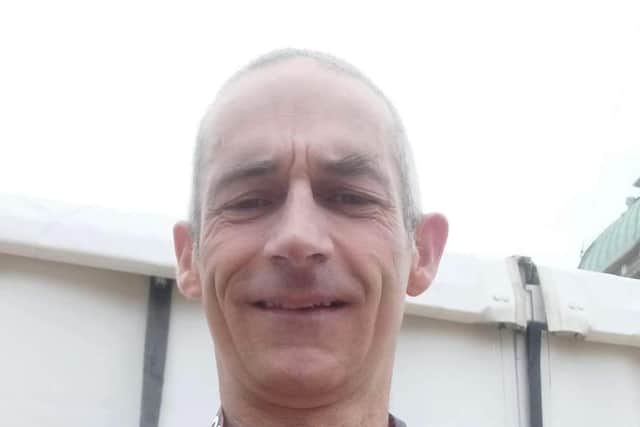 Sunday was the 43rd London Marathon and a contingent of ten Springwell RC members travelled to London for the event. All the arduous work over the winter months paid dividends on the day with six personal bests recorded and two first timers started their marathon career at a Worlds Major.
Chris Denton led the club home with an impressive personal best of 2:36:39. Sub three hour personal bests were also recorded by Christopher McNickle with 2:43:39 and Andy Whiteford with 2:59:04, and the personal bests just kept coming with Stephen Fillis in 3:01:04 and John Butcher in 3:16:35. Michael Johnson finished with 3:28:07 and Pauline Mullan with 4:16:48. On their first marathon, running for Foyle Hospice Gael Butcher and Amanda Kershaw crossed the line in 4:33:01 and 4:33:02 respectively, and running for Ovarian Cancer Action, Holly Neill finished with a personal best of 4:37:58.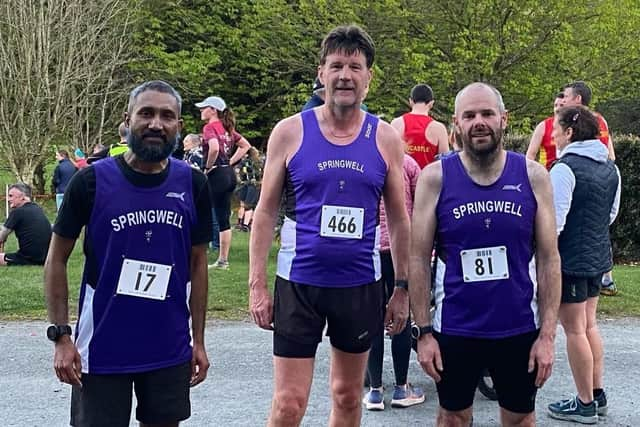 Sunday saw Aidan Mooney on his travels as he added yet another half marathon to his growing CV with a trip to Connemara, where hr finished in 869th place with a time of 2:35:21.
Northern Ireland Selection for Bernadette O'Kane
Springwell are delighted to announce that Bernadette O'Kane has been selected for the Northern Ireland squad to compete at the British-Inter Counties Championship. This race, which takes place on May 7 will be held in Sedbergh, Cumbria, over a two-lap course on the Howgills, totalling 14 km with 760 metres of elevation.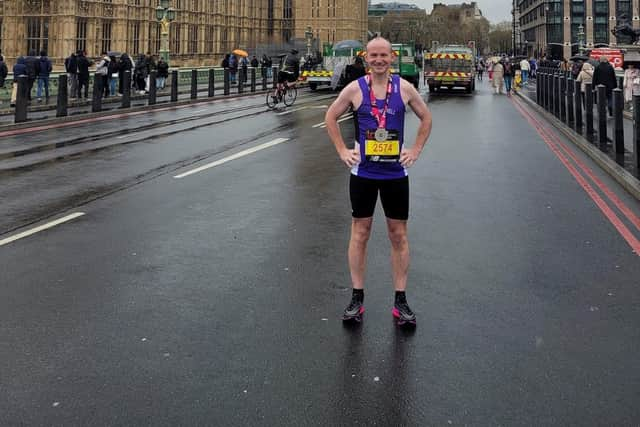 It was a busy and well-travelled Saturday morning for the Springers as 57 of them visited 14 venues, with a magnificent seven personal bests recorded. David O'Neill hit his at Brueton, with the Rodney and Deborah McPhee double act collecting theirs at ECOS. Naomi Thorogood ran her personal best at Limavady while Gary Kendall and Reid Jack, both found theirs in the forests of Garvagh. That's consecutive weeks for Reid! Rhona Laverty completed the group with her run at the Limepark Playing Fields.
As always, thank you to all the volunteers and event directors who make the parkrun magic happen.
Bushy - Peter JACK 23:11; Rostrevor - James HUGHES 25:18, Jim BREEN 30:49; Bradford - Liz DOWEY 28:34; Brueton - David O'NEILL 18:16 PB; Derry City - Patricia CRAIG 25:15.
Ecos - Rodney MC PHEE 18:01, Deborah MC PHEE 23:11, Kenneth BACON 41:25; Portrush - Maurice WALKER 23:19, Rhys WALKER 23:39, Stephen BEGGS 23:46, Fiona MARTIN 25:24, George BRIEN 27:01, Gary MOORE 27:46,Mervyn THOMPSON 28:31, Andrew WILMOT 31:20, Alanna MILLAR 32:50, Cathy ADAMS 32:50, Mervyn ADAMS 32:51, Andrew WILSON 33:06, Aisling HYNES 34:59, Iris WILSON 39:52, Deborah PURDY 54:04, Caoimhe QUINN 54:05, Lorraine ABERNETHY 56:37.
Larne - Patrick MAGEE 29:46; Limavady - David SHIELS 20:19, Naomi THOROGOOD 21:26 PB, Kevin MCLEAN 22:01, Peter TEES 22:05, Adrian FINLAY 23:22, Leanne QUIGLEY 25:12, Janet PATRICK 25:54, Sinead GRAHAM 27:43, John MCMICHAEL 30:05, Linda McMICHAEL 30:06, Ingrid HAMILTON 30:07, Alison C DUNCAN 30:08, Lara WALSH 39:47, Heather MCLAUGHLIN 52:35; Babbs Mill - Catherine BYERS 50:30, Elaine MONTGOMERY 50:31.
Garvagh Forest - Gary KENDALL 21:46 PB, Shaun CARTON 24:04, Reid JACK 24:31 PB, Sinead RIVERS 25:07, Jim BRADLEY 25:07, Michael MCKEOWN 26:15, Kay HACK 29:59, Fergal MACKLE 33:39; Sutcliffe - Pauline MULLAN 24:08, Jonno JOHNSON 24:09; Holyrood - Ryan CAMPBELL 29:56, Kathryn CAMPBELL 29:56; Limepark Playing Fields - Jonathan MCNABB 20:39, Roisin WALKER 28:47, Rhona LAVERTY 33:57 PB.