​McGuigan's score home win against Dromintee A
PREMIER DIVISION​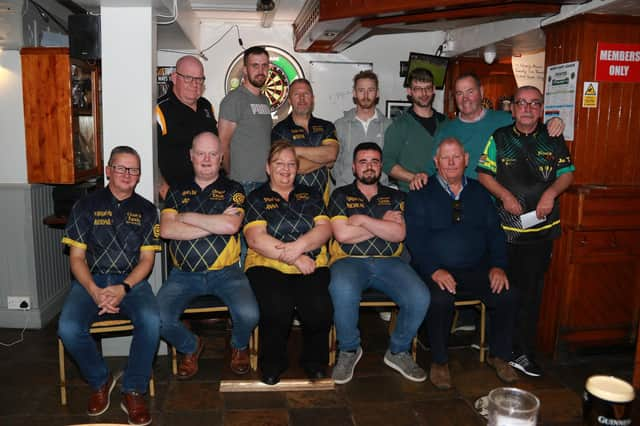 McGuigan's A had a good evening on the road when they travelled to Three Steps and came home with a 7-1 victory.
They led 2-1 with Sean McMurry and Paul Irwin winning the first two legs. Mickey Morgan won the third for Three Steps but that was as good as it got for the hosts, as McGuigan's won the remaining five games.
Meanwhile back in Newry, Rostrevor side Cloughmor Inn enjoyed a 6-2 win against Magee's A. The hosts won the first of the night and the last, but Cloughmor won all six in-between to take the spoils.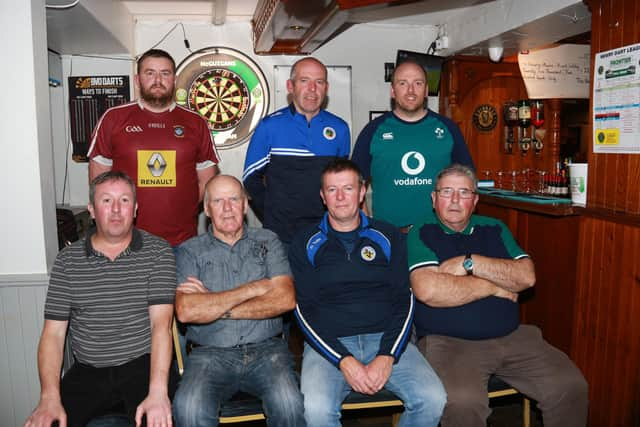 It was the same result for Working Mans A in Ballyholland but this time the winning team had to come back from a 2-1 deficit to clean up in the next five courtesy of Conor McArdle, Jerome Magee, Napier Boyce, Darren Ludlow and Alan Dullaghan.
In Division 1, there were wins for Working Man's, Trainor's A and Cloughmor Inn, while Windmill Bar and CWC A played out a draw. Working Man's welcomed Seasiders B to Newry but beat them 6-2. This match was finely balanced at 2-2 before Niall McVerry, Tommy Mooney, Steven Galbraith and Liam Bradley won the last four to secure the home win.
It was an even better result for Trainor's A who beat Carrickcruppen 7-1. David Doran won the first of the night for home side Trainor's and Sean McAlinden, Paddy McKeown, Tommy Loughran, Michael McKeown and Austin Thomas followed suit to give them an unassailable 6-0 lead. Paul McAteer won the next for Cruppen to avoid a whitewash, but David Keenan secured the 7-1 Trainor's victory with the last.
Meanwhile, Cloughmor Inn beat Mayobridge 6-2 in Rostrevor. They lead 4-1 when the Bridge pulled another back to give them hopes of a draw. But Cloughmor took the last two for the win.
At the same time in Windmill Bar CWC A salvaged a draw when they came back from a 4-2 deficit with wins in the last two legs by Ali McKay and Seamus Tierney.
Friday night saw 6-2 wins for both Boyd's and Mayobridge B in their Division 2 fixtures against Magee's and Lumpers respectively.
Boyd's led 4-2 giving Magee's the chance of a draw until they secured the last two games and the win. While in the Bridge, the home side came back from a 2-1 deficit with five in a row to win 6-2. Bosco enjoyed a 5-2 home win against Ti Chulainn with wins for
Martin Holland, Chris Kelly, Karl Feenan, Adrian McParland and Pete McGovern. Meanwhile O'Hanlon's came from 3-1 down to secure a draw with Boyd's Bar in Whitecross.
In Division 3, Welcome Inn had a welcome 6-2 victory away to CWC C. This match hung in the balance early on, with the sides level twice, before the visitors pulled away with Aidie McArdle, Davy Keenan, Thomas McDowell and Mark McArdle winning the remaining four.
CWC B didn't fare much better with a 5-3 defeat to Killeavy who had the match sewn up before the nights end with wins in the first five games. It was the same winning result for McGuigan's at home to Dromintee A, with wins in the last four games to secure the victory. And Doyle's Bar enjoyed a 6-2 win against Howes in Camlough, after they raced into a 4-0 lead and shared the remaining four games.
All three matches played in Division 4 on Friday night, ended with 5-3 wins for Newry City, Three Steps B and Dromintee B in their respective matches.
Newry beat Seasiders B with wins for Brian Jones, Carena Gallagher, Kayleigh Campbell, Matthew Jones and Gerard Magee.
Meanwhile Three Steps were level three times against Phoenix Bar before Joe Martin and John Gallagher secured the win.
Dromintee B trailed Trainor's Bar 3-2 but they fought back through Brian Fearon, Gareth Martin and Kieran Fearon for victory.