Sunday, April 30 was a day of personal bests and personal achievements at the Belfast City Marathon. The marathon is always a challenge whether you have experienced it before or are putting your toe to the start line for the first time, so it was tremendous to see eight personal bests and four first time marathoners. Club Captains, Ryan Galway and Deborah McPhee played their roles as they led by example to record personal bests.
Ryan was hampered by severe cramps towards the end of the race but showed great determination to push forward to achieve a personal best by two seconds. Rodney McPhee and Catherine Pinkerton showed great determination having worked through recent injury problems to significantly reduce their personal bests.
Four Springwell RC members, Michael Johnson, Pauline Mullan, Gael Butcher, and Holly Neill completed their second marathon in a week having finished the TCS London Marathon the previous Sunday.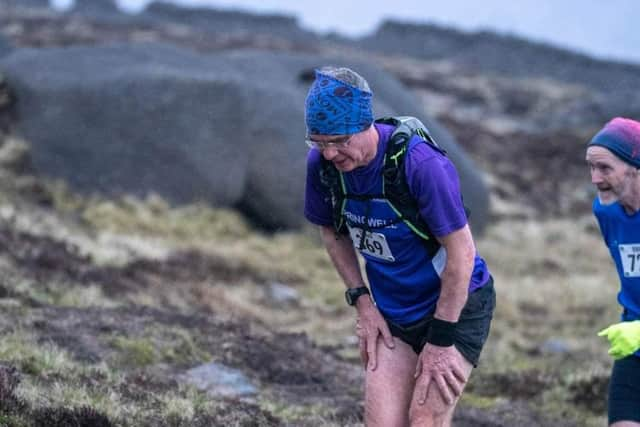 Springwell RC - 52nd Ryan Galway 2.53.09 PB, 92nd Rodney McPhee 2.57.08 PB, 259th James Weir 3.13.01, 360th Aaron Steele 3.21.29, 482nd Michael Johnson 3.27.29, 577th Timmy Bacon 3.31.21, 716th Catherine Pinkerton 3.38.24 PB, 1056th Adrian Finlay 3.50.05, 1084th Mark Henderson 3.50.46, 1104th Jeff Young 3.51.32, 1111th Shaun Carton 3.51.55, 1217th Helena Dornan 3.55.18, 1257th Conall Doherty 3.56.30 PB, 1390thWill Colvin 3.59.15 PB, 1392nd Pauline Mullan 3.59.17, 1414th David McGaffin 3.59.54, 1437th Sinead Rivers 4.00.30 FT, 1443rd Deborah McPhee 4.00.40 PB, 1529th Geoff Allen 4.04.23, 1537th Leisa McKenna 4.04.44 FT, 1721st Gael Butcher 4.10.49 PB, 2341st Jim Bradley 4.34.48, 2393rd Leanne Quigley 4.36.42 FT, 2462nd Holly Neill 4.39.41, 2992nd Gemma Craig 5.08.29 PB, 3131stAlison Duncan 5.27.13 FT, 3132nd Heather Mclaughlin 5.27.14 FT, 3195th Sarah Milligan 5.36.06.
Sunday's event also saw five Springwell RC members out helping their respective relay teams round the streets of Belfast: 230th Limavady GS1 (Lara Walsh & Rozzy Skuce) 3.46.47; 256th Fighting Words (Jonathan Beck) 3.49.00; 453rd KPHNW Admin (Lynne Young) 3.59.08; 870th NIA Hillbilly's (Paddy Magee) 4.16.29; 1678th Innovate A (Katrina Adams) 4.56.31.
Hill & Dale Series - Race 4 - Slieve Binnian
May 4 saw Race 4 of the Hill & Dale series and a race up the steep slopes of Slieve Binnian across open mountainside. The weather in the Mourne Mountains can change quickly and Thursday was one of those times when a sudden change in the conditions saw the temperature and visibility drop dramatically.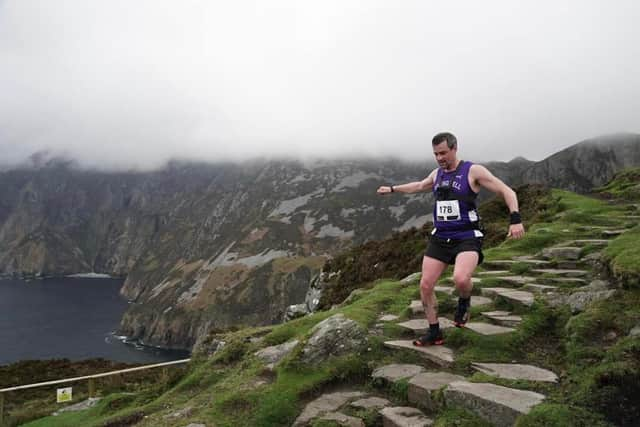 The mark of any good event organiser isn't how they behave when things are going well, it's how they behave when things don't, and Newcastle Athletic Club were not found to be wanting. Contingency plans, risk assessments and a lot of experience swung into action with all competitors ordered off the mountain with club marshals ensuring that everyone was accounted for.
Springwell RC - 98th Bernadette O'Kane 35:39, 107th Colin Brennan 35:54 (3 rd MV60),193rd Shirhaan Hameed 39:18,228th Carolyn Crawford 42:06,244th Sarah Milligan 45:01.
Excel Sports Sliabh Liag Challenge
The Sliabh Liag Challenge in Donegal on May 6 offered competitors a 5km, 13km, 25km or 25km around the slopes of Sliabh Liag. Springwell RC had one member at the event and on a challenging 13km loop of Sliabh Liag, with 530m of elevation Peter Tees produced an impressive performance to finish seventh in a time of 1:17:44.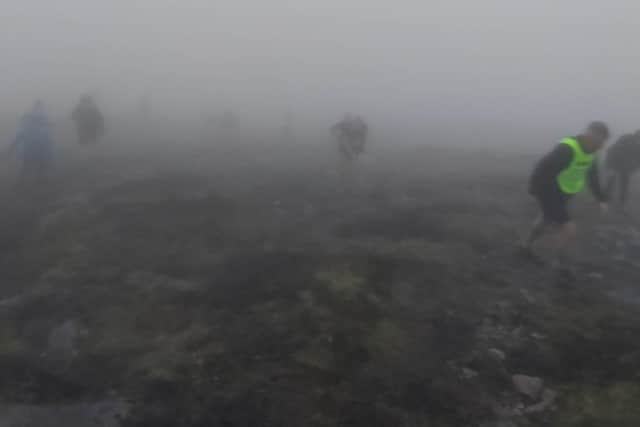 Low cloud and fog reduced visibility on the higher ground to just ten metres, but a well organised event ensured that everyone finished safely.
Sunday saw over 5,000 runners on the street of Prague for the marathon with two Springwell RC members among the crowd. Just six weeks after her medal winning run in the Caracas marathon Mekita Aznar went even faster with an impressive negative split to finish 440th in 3:10:35 (2 nd F45), while Simon Stewart made his return to marathon running and "eased" himself back with an evenly paced 2:47:35 to finish 113th.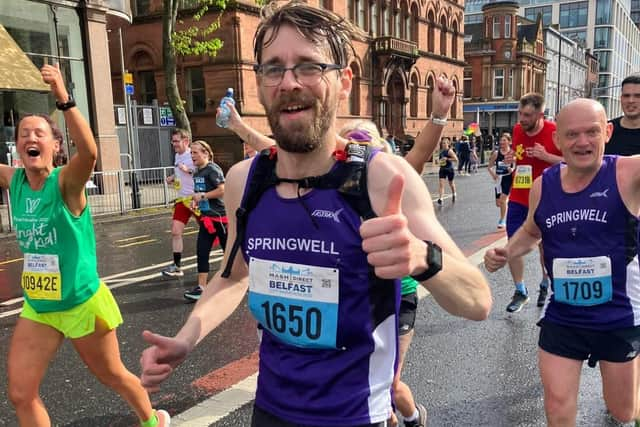 What a weekend of parkrunning, with 54 Springers doing their thing at twelve different venues. It may not be a proper milestone but Elaine Montgomery's 300th event at
Fountains Abbey is impressive none the less.
At the ECOs event Liz McLaughlin, one of the recent C25k graduates continued her studies and was rewarded with a personal best, while at the Limepark Playing Fields Fiona Prue marked her first outing as a Springwell RC member with a personal best, with Patrick Magee completing the triumvirate of personal bests for the weekend at the same event.
Knowsley - Roisin WALKER 29:13; Derry City - Pauline MULLAN 23:31; Ecos - Rodney MC PHEE 18:35, Deborah MC PHEE 23:35, Liz MCLAUGHLIN 39:24 PB, Kenneth BACON 40:42.
Portrush - David O'NEILL 19:48, Rhys WALKER 20:03, Maurice WALKER 20:43, Fiona MARTIN 23:24, Mervyn ADAMS 24:55, Cathy ADAMS 24:58, James HUGHES 25:02, Paul LAVERTY 25:16, Reid JACK 25:17, George BRIEN 25:22, Mervyn THOMPSON 26:31, Patricia CRAIG 26:48, Andrew WILMOT 28:29, Jim BREEN 30:14, Alanna MILLAR 30:52, Pauline DUKE 32:12, Andrew WILSON 32:36, Emer THOMPSON 42:00, Caoimhe QUINN 45:26, Deborah PURDY 46:49.
Ormeau -Conor SHIELDS 22:34; Fountains Abbey - Elaine MONTGOMERY 43:04, Catherine BYERS 43:05; Limavady - John BUTCHER 18:51, Kevin MCLEAN 21:02, Peter JACK 23:35, Leanne QUIGLEY 24:09, Elizabeth DEIGHAN 25:17, Janet PATRICK 25:20, Alan WHITE 26:50, Sinead GRAHAM 27:02, Alan STEEN 28:59, Alison C DUNCAN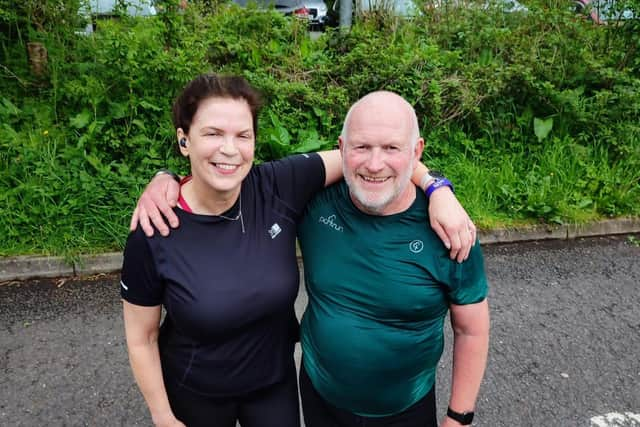 29:00, Andrew GAULT 29:02, Linda MC MICHAEL 30:19, Ingrid HAMILTON 31:31, Nicola WHITE 31:31, Barbara FERGUSON 37:15.
Buncrana - Chris DENTON 17:33; Killarney House - Bridgeen CANNING 28:42; Agnew - Rhona LAVERTY 33:38; Garvagh Forest - Gary KENDALL 22:03, Shaun CARTON 24:38, Alan PLATT 27:19, Kay HACK 29:36; Limepark Playing Fields - Jonathan MCNABB 20:53, Fiona PRUE 21:55 PB, Patrick MAGEE 25:45 PB.