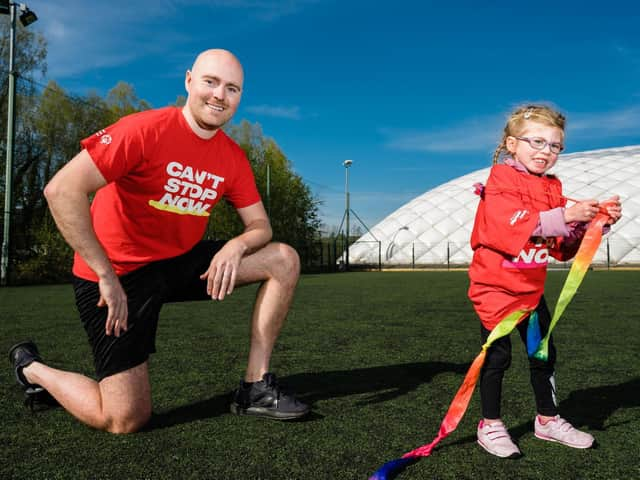 Sophia Sloan, aged 6, from Belfast is pictured with NI comedian Paddy Raff at the recent launch of the Special Olympics Collection Day fundraising appeal
The vital fundraising target is needed to enable the charity to continue its support of the 1,811 children and adults living with an intellectual disability across Northern Ireland.
For the second year running, Special Olympics annual Collection Day campaign, which culminates on May 28, will go virtual in response to COVID-19. People from across Northern Ireland are being encouraged to donate £4 by texting Athlete to 70085 or to visit cantstopnow.ie to make a donation or organise a virtual fundraising event.
With all 59 of the charity's clubs across Northern Ireland closed due to the pandemic, Special Olympics has worked diligently to develop new ways to keep its athletes physically and emotionally fit including operating virtual clubs and developing healthy eating recipes, live workouts, and mindfulness techniques and for the first time ever virtual competition opportunities.
Sophia Sloan, aged 6, is pictured with her father Chris at the recent launch of the Special Olympics Collection Day fundraising appeal, with comedian Paddy Rafferty
Collection Day is the charity's biggest annual fundraising event.
The amount raised will enable Special Olympics to support its clubs and create additional material to keep its athletes connected, until is safe for them to meet in person again.
Commenting on the fundraising initiative, comedian Paddy Rafferty said:
''I'm really pleased to help launch Annual Collection Day for Special Olympics. This is the charity's biggest annual fundraising event and for the second year running, it's going completely virtual due to the pandemic.
NI Comedian Paddy Raff is calling on the public to lend their support and help raise thirty thousand pounds in vital funding for Special Olympics athletes across Northern Ireland
''The Special Olympics athletes are truly inspirational so, I'd like to ask the public to get on board and support the appeal – whether that's by making a text or an online donation or organising a virtual fundraiser. All the money raised will go to the Special Olympics clubs so they can continue to do a fantastic job and offer a social and health lifeline to their athletes.''
The Sloan family know first-hand the lifeline that Special Olympics Clubs provide. Their daughter, Sophia, aged 6 is an athlete at Titanic Tigers, where both parents Chris and Joanna volunteer.
Chris commented: ''Our family became involved with Titanic Tigers over two years ago and since then, we haven't looked back. Sophia absolutely loves it – she's learned fundamental skills like being able to catch and throw, and has also made some great friends, which has helped to develop her social skills.
''With the various virtual events running regularly to keep everyone connected, a real sense of community has been maintained during what's been an incredibly challenging year.''
Special Olympic athlete Sophia Sloan, aged 6, is pictured recent launch of the Special Olympics Collection Day fundraising appeal
Shaun Cassidy, Special Olympics regional director for Ulster added:
''Last year was the first time we went fully-virtual with our annual collection day and we were overwhelmed by the selfless support we received across Northern Ireland. People rallied behind the charity and came up with some fantastic fundraising ideas – from lengthy bike rides to marathons in their garden. It was wonderful to see.
''We really hope that we can welcome our athletes back to the clubs very soon, but now more than ever we need the support of the public, to make a donation or set up an online fundraiser, so we can continue to support our athletes in reaching their full potential and prepare them for the eagerly anticipated return to clubs.''
For more information, or to get involved visit www.cantstopnow.ie or follow the organisation on Twitter @SO_Ulster, Facebook, www.facebook.com/SpecialOlympicsUlster and Instagram @SpecialOlympicsUlster.
NI Comedian Paddy Raff is pictured with his sister Sarah at the recent launch of the Special Olympics Collection Day fundraising appeal
Sophia Sloan, aged 6, from Belfast is pictured with NI comedian Paddy Raff and his sister Sarah