About 150 young 'equestrians', plus their ponies and supporters from all over the Ulster Region, attended on a lovely spring day.
The group was pleased to invite the Mayor of Causeway Coast & Glens Borough Council, Councillor Ivor Wallace, to attend the event.
Honorary Secretary Albert Clyde said Cllr Wallace had been a strong supporter of RDA Causeway Coast & Glens throughout his year in office and invited him to present the winners' prizes and Coronation rosettes to the riders in one of the Pony Jumping classes.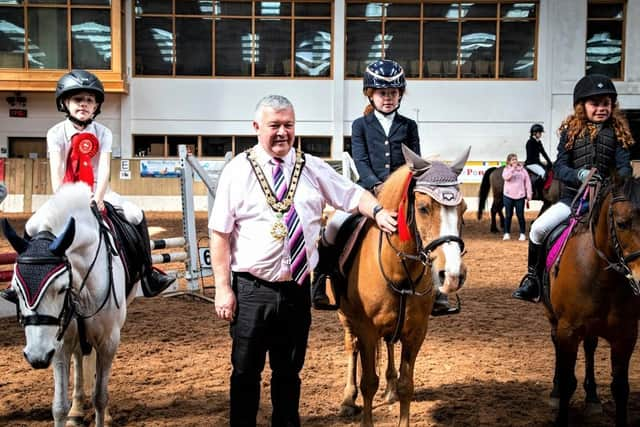 The Mayor said that he was delighted to attend to see the 'buzz' of activity at the centre. He congratulated the young riders on their achievements and congratulated the RDA board and volunteers on their successful operation of the Centre, and the provision they made for some 150 young people with a disability throughout the year. He added that he had been privileged to attend during the Disabled Riding sessions and see the rides in operation.
On behalf of RDA, Albert Clyde thanked the Mayor for his kind words and support and presented him with a 'Rosette'. He also thanked the members and volunteers at RDA for their efforts in mounting the Show on such a good day.
In particular he referred to the support RDA had been given by Janet and Lithgow Currie in organising and operating the show – Janet as Show Organiser and Lithgow as Safety Officer.