In only his first year of racing, Doherty has been a welcome surprise to the series this year. Already beating and battling with seasoned racers, the 20-year-old has shown great pace and speed this year so far.
While a top sim racer, the transition to the real thing has been effortless. In the opening round in Kirkistown, he was already battling for the win in the next class up from his own, only for a mistake to cost him the chance of a double victory.
Qualifying on pole this time for the combined B/C race he looked to make amends for that and made a great start leading the fields into turn one. Leading fellow northern driver Sean McCallion, who is in contention for the VW Spares championship, Doherty got his head down straight away setting the pace for the rest to catch. McCallion tried hard to hang on to Doherty but was also having to defend his position from Ger Byrne and Robert Fleming.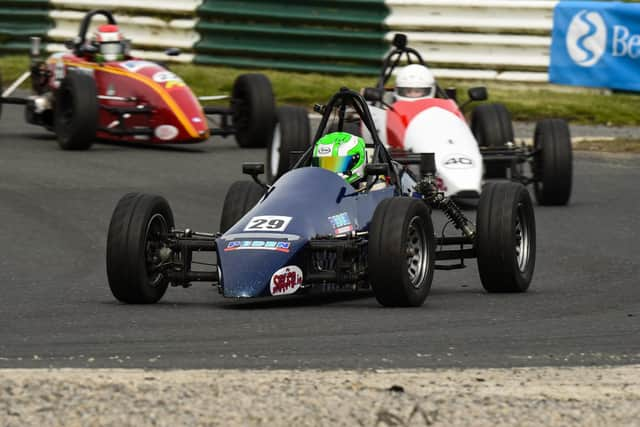 Doherty was lapping a second quicker by the third lap. Then further down the field a nasty collision between Brendan Ellis and Colm O'Loughlen brought out the safety car.
Thankfully both drivers were unhurt, but it would take a couple of laps to clear their cars. Doherty had to control the pace before the restart and try and build back up his hard worked lead.
He duly did, immediately opening a gap to McCallion who himself broke clear of those behind. Doherty commanded the race and reeled of the final laps to take his first victory in a VW Spares B race and also victory in the LOH Motorsport rookie championship.
Ronan said: "I got a good start, but the clutch started slipping and I tried to let the team know as I went by them on the opening laps but thankfully during the safety car it seemed to fix itself and I got away again when it went in. I am delighted to get another win towards the championship."