Mourne Marauder Mountain Race
The Springwell Mountain Goats were out in force on Saturday (March 25) to take part in the Mourne Marauder, which is the Northern Ireland Mountain Running Association British Championship race for 2023, held in memory of the airmen who lost their lives in plane crashes during World War II around the race route.
The race started at Donard Park taking runners on a steep, rough north easterly ascent up to the summit of Slieve Donard followed by a technical descent down to the Donard bog, before a slightly easier run over and back to the summit of Chimney Rock and onto the famous Brandy Pad to the foot of Slieve Commedagh.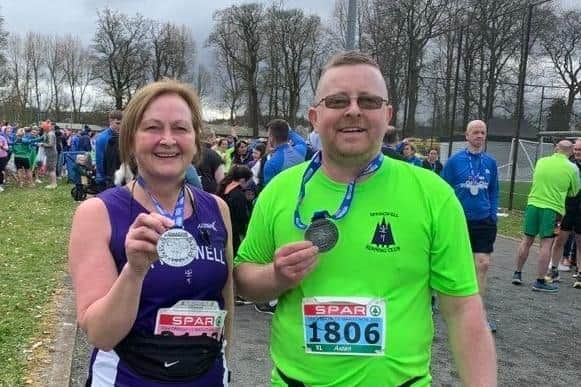 Thankfully the weather was kind resulting in favourable running conditions, allowing the Mournes to show off their epic beauty. However, there was little time for the mountain goats to enjoy the views because, as they well know, one small lapse in concentration in the mountains can have unfortunate consequences.
Well done to Peter Tees, Bernadette O'Kane, Adele Tomb, and Carolyn Crawford who successfully completed the course which covered 16km and 1,200 m of climbing. 125th Bernadette O'Kane 2:24:11, 136th Peter Tees 2:28:24, 194th Adele Tomb 2:59:06, 214th Carolyn Crawford 3:33:08.
Thanks to NIMRA for hosting this fantastic race and to all the volunteers for making this event happen. A special mention to the team from our neighbouring club BRAC who stood on top of a very windy and cold Slieve Donard and cheered runners on!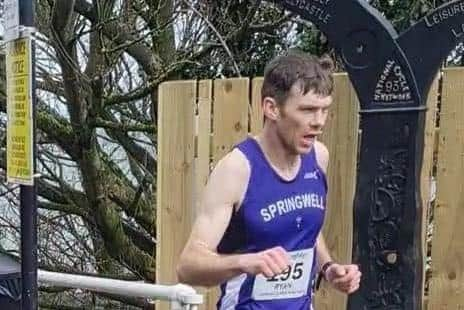 Saturday also saw the 10 Miler Coast Road Race, hosted by Larne AC take place on an out and back course along the coast road from Larne to Ballygalley and back again. The fast, flat course always provides the opportunity for fast times and personal bests and Saturday was no exception as the cool, calm weather made for perfect running conditions.
Springwell RC had two members at the event with Ryan Galway running 58:33 to finish 12th and Andy Whiteford not far behind with a time of 1:01:08 for 30th place.
Sunday (March 26) saw almost 3,000 runners descend on Omagh for the 33rd running of the Spar Omagh Half Marathon hosted by Omagh Harriers. This has always been a popular event and Sunday was no exception as 31 Springwell RC members took to the start line.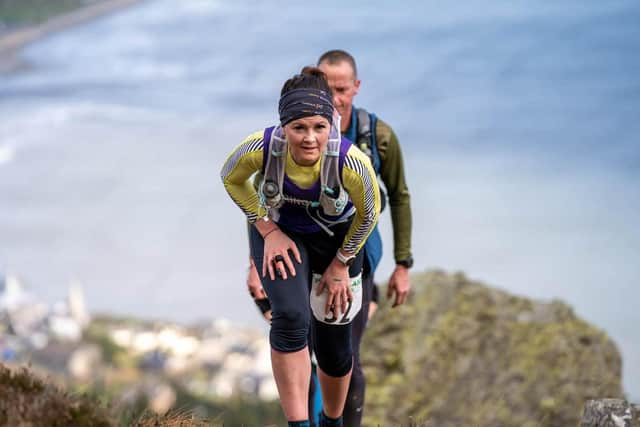 Chris Denton was the first Springwell RC member home as he crossed the line in 26th place with a time of 1:15:13 to claim third place in his age category. There were also personal best times for Jonathan Huddlestone, Jim Bradley, Emer Thompson and Megan Timms.
Springwell RC - 26th Chris Denton 1:15:13 (3 rd M45), 55 th Christopher McNickle 1:19:51, 113 th Ryan Kennedy 1:24:52, 143rd James Weir 1:26:19, 158th John Butcher
1:27:01, 350 th Timothy Bacon 1:33:54, 391st David McGaffin 1:35:08, 438th Michael Johnston 1:36:43, 475 th Ryan Gray 1:37:45, 476th Mandy Stewart 1:37:31, 588th Jonathan Huddlestone 1:39:42 PB, 627 th Adrian Finlay 1:41:42, 690th Shane McLaughlin 1:42:26, 802nd Leisa McKenna 1:45:09, 835 th Lynne Young 1:46:39, 971st Helena Dornan 1:49:16, 991st Michael Mulvenna 1:49:54, 1116th Jim Bradley 1:52:57 PB, 1160 th Majella McAteer 1:53:50, 1268 th Seamus McAteer 1:54:58, 1734th Pauline Duke 2:07:12, 1894 th Andrew Wilmot 2:13:24, 1909 th Fiona Walker 2:13:21, 1916th Aidan Mooney 2:14:26, 1936th Deborah Archibald 2:15:26, 1954th Emer Thompson 2:16:54 PB, 2036th Gemma Craig 2:22:45, 2057th Amanda Scott 2:24:22, 2111th Hayley Neely 2:28:18, 2125th Lorraine Abernethy 2:30:07, 2172nd Megan Timms 2:41:27 PB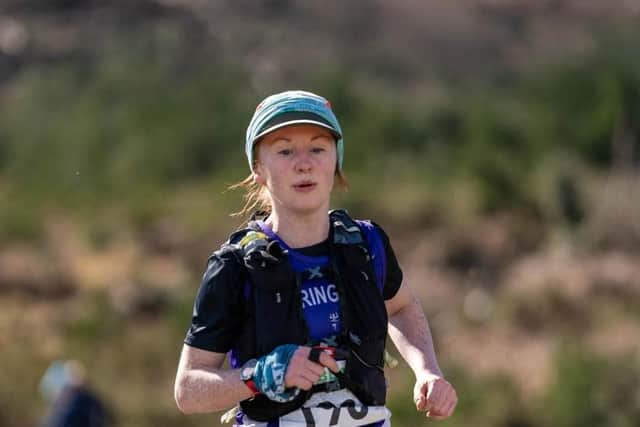 A 5k race is not that unusual, there are quite a few of them about, but a 5k race in a zoo, well that is something special! Sunday saw the inaugural running of the Belfast Zoo 5k hosted by Monkstown Spartans. The layout of Belfast Zoological Gardens makes for a very challenging course with a steep climb to the top of the estate and then a fast descent. Patrick Magee represented Springwell RC at this event and ran a 30:09 to finish 128th.
Saturday saw 51 Springers 'parkrunning' at nine different venues with just the one personal best recorded by Pauline Mullan at the Derry City event. Congratulations to the Limavady team who celebrated eight years of parkruns. At the Lower Drummans event Alan Platt and Roy Buchanan added another dimension to their talents as they undertook the role of guide runner.
Alan and Roy have recently participated in training that enables them to run with visually impaired runners to guide them around race course and, in this instance, enjoy the experience of parkrunning.
Derry City - Ryan GRAY 20:58, Pauline MULLAN 22:50 PB; Portrush - Rhys WALKER 21:41, George BRIEN 25:38, Paul MOORE 26:22, Mervyn THOMPSON 26:50, Pamela HOWE 27:52, Gemma WRAY 31:01, Jonathan HUDDLESTON 32:03, Maurice WALKER 38:34, Grainne MOORE 40:14, Caitriona MACKLE 40:14, Fergal MACKLE 40:15, Julie CORBETT 50:50, Emer THOMPSON 56:39.
Antrim - Monica MCCLENAGHAN 34:19; Castlewellan - Gary KENDALL 24:13; Waterstown - Catherine BYERS 37:21, Elaine MONTGOMERY 37:22. Limavady - John BUTCHER 19:47, Kevin MCLEAN 21:20, Adrian FINLAY 21:55, Elizabeth DEIGHAN 25:38, Sinead GRAHAM 25:40, Janet PATRICK 25:41, Linda MC MICHAEL 29:56, John MCMICHAEL 29:57, Ingrid HAMILTON 30:35, Heather MCLAUGHLIN 31:39, Alison C DUNCAN 31:55, Alan STEEN 34:14, Karen ROBINSON 39:33.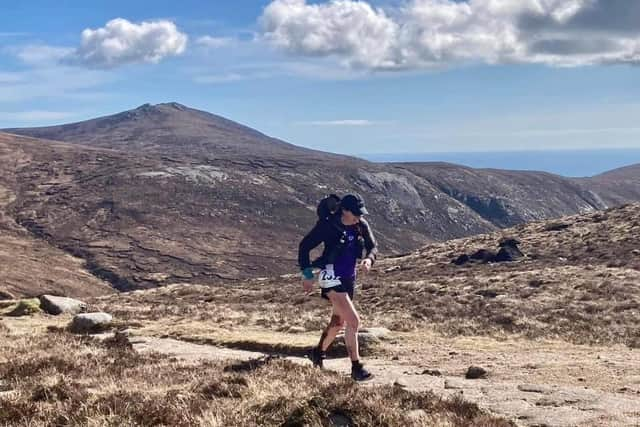 Lower Drummans - Fergus THOMPSON 22:56, Colin CONNOLLY 26:38, Roisin WALKER 29:21, Aisling HYNES 30:10, Pauline DUKE 30:15, Alan PLATT 30:28, Amanda SCOTT 30:30, Lorraine ABERNETHY 31:35, Roy BUCHANAN 32:58, Kenneth BACON 41:52. Garvagh Forest - Alan NEVIN 18:51, Stephen BEGGS 20:56, Cathy ADAMS 25:10, Mervyn ADAMS 26:20, Shaun CARTON 27:50.
Limepark Playing Fields - Jonathan MCNABB 21:15, Deborah MC PHEE 26:03, Patrick MAGEE 28:30, Rhona LAVERTY 35:50.