Springwell runner takes on the Big Apple while colleagues tackle parkruns
This weekend, one member of Springwell Running Club took part in a world major marathon while the other members had to content themselves with parkruns, thanks to Storm Ciaran.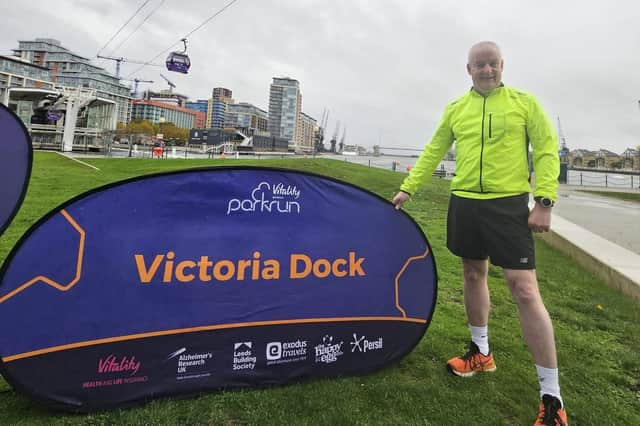 November 5 saw over 50,000 runners take to the streets of the 'Big Apple' for the TCS New York Marathon. The iconic 26.2-mile course takes the competitors through all the city's five boroughs and among the vast field was Springwell RC's Paul Thompson.
Paul is an experienced runner and no stranger to the marathon, but this event had a special significance for him as he was running in memory of his father who recently passed away. The perfect weather provided good running conditions and Paul started at his usual fast pace which he maintained until a slight dip just after the 20-mile mark, but he only brushed "the wall" and quickly recovered to finish in an impressive 3:12:19 for 2645th place.
This weekend saw 53 Springers doing their parkrun thing at 13 different venues with two personal bests recorded. Sonya Colville ran hers at the Ecos parkrun, while Andy Whiteford collected his on a trip to Queen's parkrun, Glasgow.
Derry City - Ryan GRAY 20:51; Ecos - Reggie COLVILLE 20:32, Alan WHITE 25:48, Patricia CRAIG 27:14, Karen GARVIN 29:05, Sonya COLVILLE 30:48, Nicola WHITE 31:04, Julie CORBETT 37:23, Kenneth BACON 40:27; Portrush - David O'NEILL 20:55, Rhys WALKER 21:16, Fiona PRUE 22:31, Sylvia POLLOCK 25:00, Reid JACK 25:55, Mervyn THOMPSON 26:40, Alan PLATT 27:11, Heather SPENCE 27:48, Maurice WALKER 28:19, Barry MCBRIDE 29:47, Alanna MILLAR 30:44, Jonathan HUDDLESTON 31:01, Shaun CARTON 31:01, Anne JACK 32:27, Bernie HANNIGAN 33:05, Emer THOMPSON 37:36, Fergal MACKLE 37:45, Iris WILSON 38:15, Caitriona MACKLE 49:47.
Ormeau - Conor SHIELDS 23:20, Lorraine ABERNETHY 31:23, Amanda SCOTT 34:11, Ali SHAW 44:47; Castlewellan - Gary KENDALL 24:36; Fountains Abbey - Sarah SWANSON 30:52; Limavady - Chris DENTON 17:36, Peter TEES 18:21, John BUTCHER 21:53, Kevin MCLEAN 22:27, Pauline MULLAN 23:08, Fergus THOMPSON 24:02, Janet PATRICK 25:29, John MCMICHAEL 29:54, Peter JACK 44:18.
Falcarragh - Aisling HYNES 29:33; Victoria Dock - Colin CONNOLLY 31:29; Queen's Glasgow - Andy WHITEFORD 19:28; Wallaceneuk - Elaine MONTGOMERY 37:36, Catherine BYERS 37:37; Garvagh Forest - Bernadette O'KANE 21:34, Paul LAVERTY 23:31, Michael MCKEOWN 27:07, Rhona LAVERTY 34:13; Limepark Playing Fields - Jonathan MCNABB 21:17.