Springwell Runners take to the roads this week
It was a week of road running for Springwell Running Club with the purple vests in action at the GR8 Dundrum Run, Marty's 5k in Derry, the Armagh 10 Mile Road Race, and even an international outing to Canada.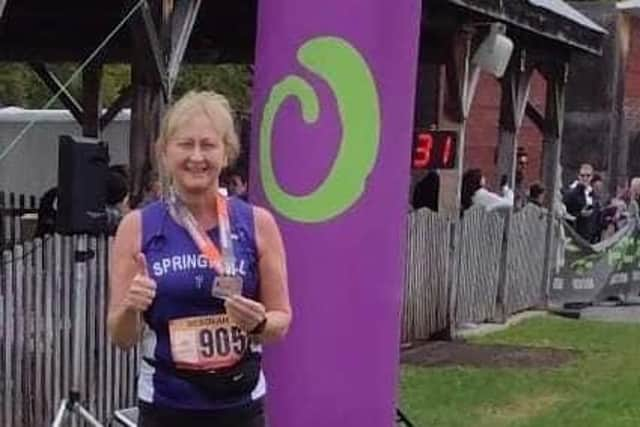 The 12th Annual GR8 Dundrum Run took place on Saturday. Hosted by Murlough AC in association with the National Trust, this popular race attracted almost 900 runners to County Down. The 8.4-mile course provided a stunning mix of road, beach and boardwalk incorporating Murlough's Nature Reserve, where the Mountains of Mourne sweep down to the sea. Five Springwell members made the trip to County Down.
Springwell RC - 124th Michael Johnson 1:02:11, 209th Pauline Mullan 1:06:02, 403rd Patricia Craig 1:12:13, 477th Andrew Wilmot 1:14:34, 733rd Karen Garvin 1:27:31.
Hosted by Foyle Valley AC, Marty's Run 5K took place on Sunday, on the Glengalliagh Road in Derry with Christopher McNickle and Catherine Pinkerton in attendance to represent Springwell. The course and the weather provided the opportunity for a fast run and both runners did not disappoint as they each finished with a new personal best. Christopher finished in 6th with a time of 16:38 while Catherine won her age category with her time of 20:29 to finish 56th (1st F40).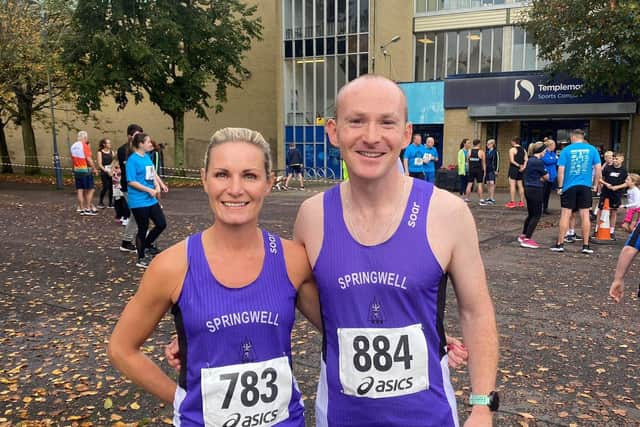 Sunday also saw the Armagh 10 Mile Road Run take place in perfect running conditions of cool temperatures and light breezes. The downhill start saw the field move off at a fast pace before the undulations of the remaining nine miles tested the runners' stamina on the rolling hills of the roads surrounding Armagh's famous Navan Centre.
A strong run from Fiona Prue saw her finish 52nd (3rd lady) in a personal best time of 1:11:41 with David McGaffin 63rd in 1:13:54.
Springwell RC members never miss the chance of a race and going on holiday is no reason not to have the running vest close at hand! On her trip to Canada Deborah Archibald found time to run the Ottawa Fall Colours 10k, finishing 163rd with a time of 1:04:45.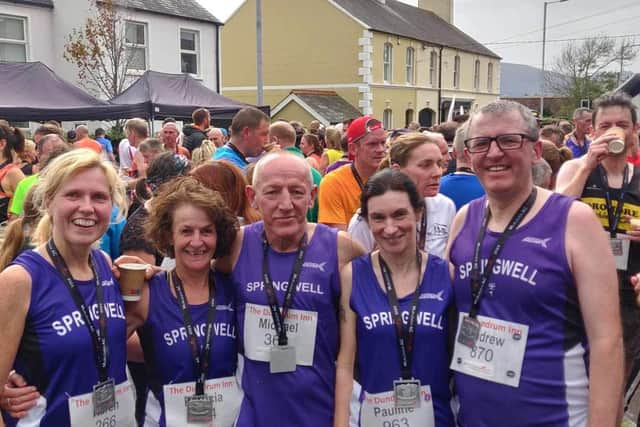 This weekend saw 48 Springers parkrunning at eight different venues. Two personal bests were recorded, James Hughes at Derry City parkrun, and Deborah
McPhee at Ecos parkrun. Thanks to all the volunteers who make parkrun happen.
Derry City - James HUGHES 24:21 PB; Ecos - Rodney MC PHEE 18:49, Reggie COLVILLE 21:00, Deborah MC PHEE 22:41 PB, Alan WHITE 25:38, Ashley MC PHEE 26:30, Nicola WHITE 30:07, Sonya COLVILLE 31:21.
Portrush - Maurice WALKER 20:05, Rhys WALKER 21:29, Shaun CARTON 22:40, Fiona MARTIN 24:15, Paul LAVERTY 24:24, Cathy ADAMS 24:36, Sylvia POLLOCK 24:46, Reid JACK 25:02, Mervyn THOMPSON 25:42, Anne JACK 28:45, Andrew WILSON 29:14, Alanna MILLAR 29:15, Bernie HANNIGAN 29:53, Aisling HYNES 30:22, Pauline DUKE 30:39, Jonathan HUDDLESTON 30:40, Amanda SCOTT 33:08, Rhona LAVERTY 34:15, Iris WILSON 35:28, Lorraine ABERNETHY 35:58, Emer THOMPSON 39:05, Julie CORBETT 52:53.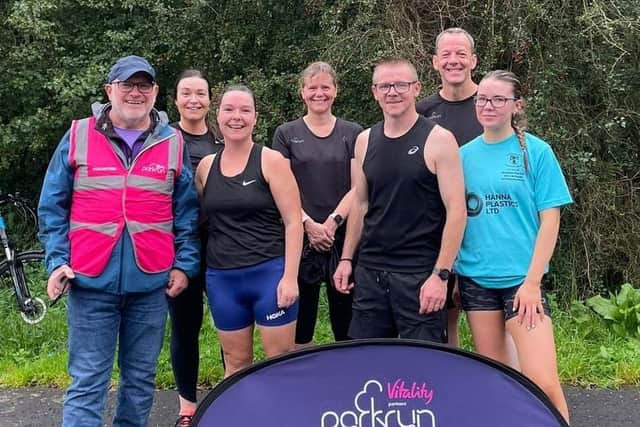 Castlewellan - Gary KENDALL 23:13; Limavady - Chris DENTON 17:55, David MCGAFFIN 21:40, Aaron STEELE 22:15, Adrian FINLAY 22:36, Fergus THOMPSON 23:07, Janet PATRICK 25:04, Peter TEES 25:35, Leanne QUIGLEY 31:42, Alison C DUNCAN 31:43, Karen CAMPBELL 31:44, Gael BUTCHER 31:45, Sinead GRAHAM 32:14, Linda MC MICHAEL 32:14, Heather MCLAUGHLIN 49:02.
Shanganagh - Elaine MONTGOMERY 32:56; Dunfermline - Catherine BYERS 36:04; Garvagh Forest - Bernadette O'KANE 21:43.