The wind strengthened during the day to gale force making conditions difficult. The first two races got away with no rain, but the downpour arrived halfway through the Ladies Masters and persisted throughout the men's race.
The course was 5/6 of a mile so three laps for the ladies and six for the men. The course was flat and in good condition and didn't cut up too much over the four races. Athletes were fighting a strong headwind on one half and enjoying a following wind on the other.
The Club performed well with four teams representing the purple vests. Well done to Springwell ladies in the Masters Woman race, their team finished fourth. Although this was a team event, there were some fantastic individual performances showing the experience and talent within the club.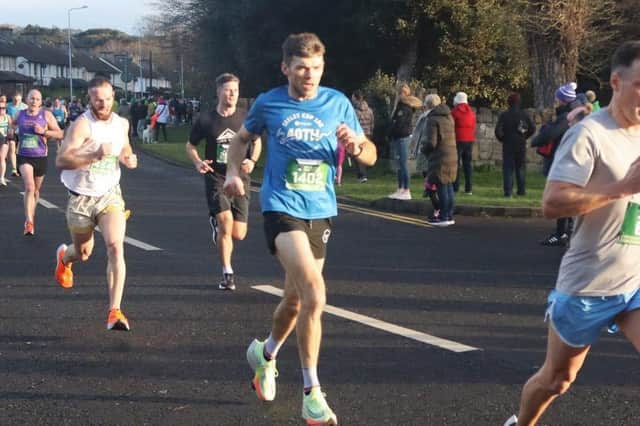 Runners were encouraged and supported by fellow members showing a real sense of teamwork and pride, being part of a club. This year Springwell will be targeting more team events under the leadership of club captains.
Masters Men - 18th Barry Mullan 31:19, 21st Stephen McLaughlin 31:36, 26th Aaron Steele 32:13, 39th David McGaffin 36:25, 43rd Shaun Carton 37:48, 46th Laurence Blair 40:42. Masters Men 65+- 5th George Brien 19:37. Intermediate Men - 23rd Rhys Walker 32:02, 24th Rodney McPhee 32:39, 25th Maurice Walker 32:53, 27th Ciaran McErlain 34:21.
Masters Women - 6th Bernadette O'Kane 17:26, 13th Judith Buchanan 18:28, 19th Pauline Mullan 20:21, 23rd Rozzy Skuce 21:00, 24th Deborah McPhee 21:03.
39th AXA Raheny 5 Mile Road Race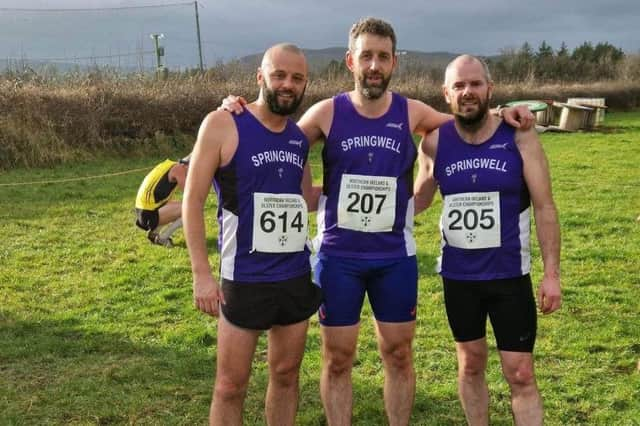 On Sunday (January 29), Male Club Captain Ryan Galway was on his travels this weekend to Dublin taking on the Raheny 5 Mile Road Race. This popular event attracts a large field of runners, this year 3871 athletes toed the line. The race starts at 3pm giving runners and spectators the chance to travel to the event. The large crowds and gathering of such a large field of runners creates a great atmosphere.
The flat course and support from crowds gives athletes the chance to push for personal bests. Although this race attracts a pool of talented runners from across the country it is suitable for all abilities. Ryan had a fantastic performance finishing the 5 miles below the 30 minutes. 356th Ryan Galway 29:56
Springwell Running Club are very excited to announce the launch of their upcoming C25K programme. Commencing Monday, February 27, Mondays and Thursdays at 6:30pm at Ulster University, Coleraine. This is a ladies' programme with the goal of working towards the upcoming, "GES Group Purple Ladies 5k".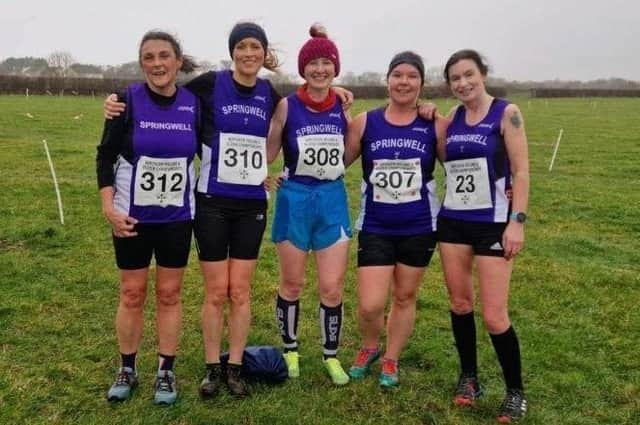 parkrun results Saturday, January 28
With many venues cancelling last weekend, it was back to business on Saturday. 56 members got their weekly parkrun in at eight different venues with six personal bests recorded. Roisin Walker and Emer Thompson recorded personal bests at Antrim parkrun before attending the Born 2 Run Antrim Castle Gardens 10k. Conor Shields recorded another personal best at Ormeau parkrun, Jonathan McNabb battled the sand at Portrush parkrun achieving a personal best, Sylvia Pollock and Gemma Wray also recording personal bests at Portrush.
There was one milestone this weekend from Gemma Craig who ticked off her 50th parkrun at Limavady. Thanks to those who volunteered this weekend, without this parkrun would not be possible.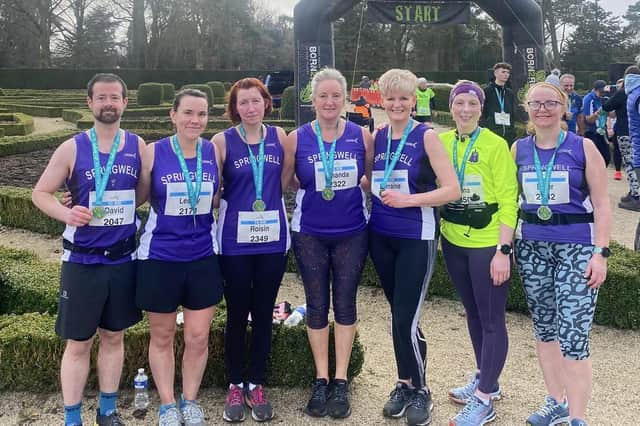 Mile End - Peter JACK 31:20; Ormeau - Conor SHIELDS 22:28 PB; Castlewellan - Gary KENDALL 24:12; Antrim - Amanda SCOTT 32:21, Roisin WALKER 32:24 PB, Lorraine ABERNETHY 32:47, Emer THOMPSON 34:39 PB, Caroline OWEN 42:52, Kenneth BACON 42:59.
Victoria Dock - Majella MCATEER 23:11; Garvagh Forest - Bernadette O'KANE 22:23, Shaun CARTON 24:32, Michael MCKEOWN 25:27, Jim BRADLEY 29:08, Deborah MC PHEE 57:53; Limavady - Chris DENTON 17:27, Darren WALSH 21:58, Fergus THOMPSON 22:20, Adrian FINLAY 23:01, Kevin MCLEAN 23:10, Peter TEES 23:34, Leanne QUIGLEY 25:13, Alan WHITE 27:34, John MCMICHAEL 29:25, Gary MOORE 29:26, Linda MC MICHAEL 29:56, Gemma CRAIG 30:19, Nicola WHITE 30:54, Janet PATRICK 47:32
Portrush - Alan NEVIN 19:07, David O'NEILL 19:25, Jonathan MCNABB 21:38 PB, Stephen BEGGS 21:50, Jonno JOHNSON 23:40, Sylvia POLLOCK 24:37 PB, Mervyn THOMPSON 24:53, Paul MOORE 24:59, Patricia CRAIG 25:36, Alanna MILLAR 25:47, Pamela HOWE 26:14, Maria QUINN 27:37, George BRIEN 27:46, Liz DOWEY 28:22, Andrew WILSON 29:53, Gemma WRAY 30:10 PB, Jonathan HUDDLESTON 30:10, Alan PLATT 30:16, Grainne MOORE 31:19, Pauline DUKE 31:47, Aisling HYNES 32:49, Rhona LAVERTY 37:54, Caoimhe ARMSTRONG 38:04, Deborah PURDY 39:20, Caitriona MACKLE 45:56, Fergal MACKLE 49:38,Karen SMITH 57:54.
Born 2 Run - Antrim Castle Gardens 10k
Also on Saturday January 28, members travelled to Antrim to take on the Born 2 Run Antrim Castle 10k. Seven members represented the club with support on course from Club President Kenneth Bacon and Caroline Owen. A great course starting within the Antrim Castle Gardens taking runners out onto the road before a return into the grounds. A field of 534 runners took to the start line of the 10k.
Springwell members had a great race with strong performances all round. Lesley Logan had a strong run to finish 3rd female in her age category and 10th female overall. Springwell had two personal bests recorded from David Campbell and Lesley Logan.
Thanks to Born 2 Run for a very well organised event, members really enjoyed it. A great course that is suitable for those looking to step up to the 10k distance or those chasing a personal best. 59th Lesley Logan 42:28 (3rd F35), 93rd David Campbell 44:37, 359th Roisin Walker 57:13, 449th Fiona Walker 1:01:55, 452nd Amanda Scott 1:02:00, 481st Emer Thompson 1:05:32, 495th LorraineAbernethy 1:08:27.