Springwell Running Club go Greek as they take on THE marathon
On Sunday (November 12), eight Springwell Running Club members were in Athens, making final preparations for one of the world's most iconic marathons and a race through history.
Once fed, hydrated, and suitably dressed, it was off to join the other 20,000 competitors making their way to the buses and an early morning trip to the start of the race in the town of Marathon. Historically the race celebrates the Greek victory over the Persians in 490bc and the run to Athens by Pheidippides to proclaim their triumph.
Sunday's race followed the route of the first modern Olympiad marathon in 1896 to Thea finish in the Panathenaic Stadium, which hosted the first games, in Athens. By the start of the race at 9 am, it was at 20 degrees and climbing as 20,000 athletes took the marathon oath.
The marathon staff with their army of volunteers staffed water and feed stations every 2.5km, and they were needed as some runners succumbed to the temperatures and required medical assistance over the final miles.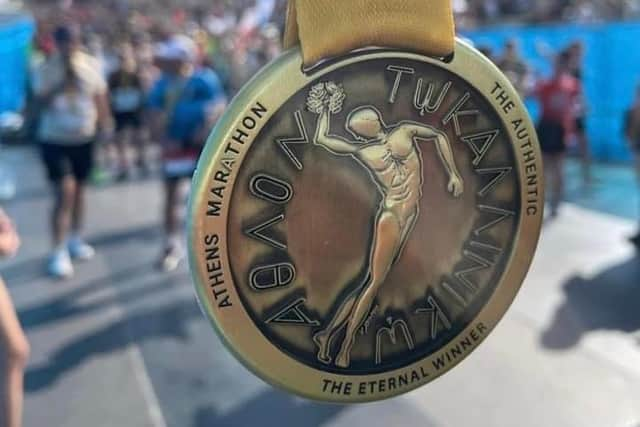 The crowds were out in force and they got bigger and noisier the closer the runners got to the finish in Athens with the traditional cry of "Bravo" ringing around the city.
Springwell Running Club spokesperson David McGaffin said: "There is no city in the world that does the marathon like Athens. To them it is not "a" marathon it is "the" marathon, they own it, all the rest are imitations. To them there are only two reasons to run the marathon, to honour the race, and to honour the fallen soldier."
Sunday was a special day for John Butcher, his 100th marathon saw him finish 352nd with a superb run that took over 10 minutes off his personal best to finish in 3:06:03. Rodney McPhee also finished well with a 3:16:37 to finish 635th. David McGaffin ran 3:49:30 for 2729th while Pauline Mullan and Michael Johnson ran together, finishing 3188th and 3190th with times of 3:54:51 and 3:54:52 respectively. Adrian Finlay worked hard for his 4:07:41 to finish 4591st, closely followed by Deborah McPhee who finished 4767th in 4:09:31. Helena Dornan completed the team as she finished 6534th in 4:25:27.