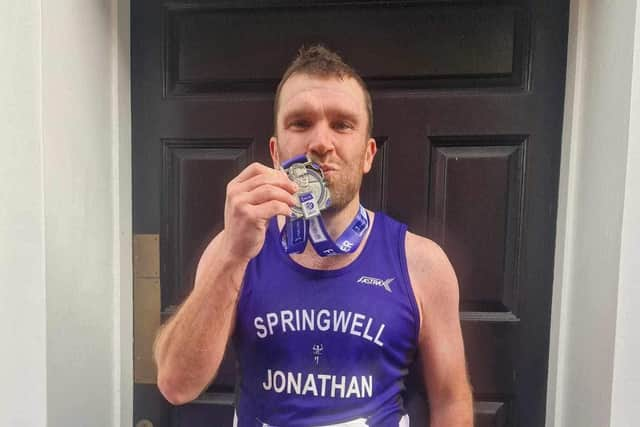 Springwell Running Club hit the streets of Dublin's fair city for marathon
This week's premier athletics event was the Irish Life Dublin Marathon on Sunday which saw a strong contingent of Springwell Running Club purple vests make the journey to the Fair City for this iconic event.
Published 30th Oct 2023, 11:02 GMT
Updated 30th Oct 2023, 11:03 GMT
The 43rd Irish Life Dublin Marathon saw over 16,000 runners taking to the streets with Springwell RC bringing 15 members. While the heavy rain may not have made for pleasant running conditions, an impressive six personal bests were recorded.
Springwell RC - 868th Maurice Walker 3:02:12, 1197th Aaron Steele 3:08:57, 1799th Jenny Chartres 3:17:51 PB, 3491st Jonathan Huddleston 3:34:21 PB, 7387th Conall Doherty 4:00:35, 8500th Michael Mulvenna 4:09:37, 10724th Shaun Carton 4:27:57, 11011th Majella McAteer 4:30:17, 11325th Karen Campbell 4:33:14 PB, 12690th Roisin Walker 4:47:40 PB, 13054th Mark Neely 4:52:07, 13384th Seamus McAteer 4:56:05, 14877th Bernie Drain 5:27:27 PB, 15679th Megan Timms 5:57:49 PB, 15937th Fergal Mackle 6:18:49
At the start of 2023 Springwell's James Hughes and Sperrin Harriers' Colm Gallagher set out with their friend and mentor, Jim Breen to run all the parkruns in Northern Ireland. Sadly, Jim passed away unexpectedly in September and James and Colm decided to finish their challenge in Jim's memory.
The final instalment of their challenge was the MUSA parkrun, Cookstown, on Saturday and Springwell members wore the cub colours in memory of Jim at all the parkruns attended that day. In total 52 members ran at 13 different venues with two personal bests recorded. Conor Shields recorded his at Ormeau parkrun while Reggie Colville ran his at Ecos parkrun.
"Thank you" to all the volunteers who give so freely of their time to make parkrun the success that it is.
Princes - Heather SPENCE 26:54; Ecos - Reggie COLVILLE 20:14 PB, Sonya COLVILLE 30:57; Portrush - Andy WHITEFORD 19:27, Fiona MARTIN 23:23, Paul LAVERTY 23:59, Cathy ADAMS 24:03, Mervyn THOMPSON 26:11, Graeme MONTGOMERY29:03, Andrew WILSON 30:04, Alanna MILLAR 30:24, Pauline DUKE 33:53, Emer THOMPSON 34:20, Lorraine ABERNETHY 1:01:15.
Citypark - David O'NEILL 19:33; MUSA - David MCGAFFIN 20:58, Adrian FINLAY 22:14, Jonno JOHNSON 23:49, James HUGHES 23:59, Reid JACK 24:00, Patricia CRAIG 25:02, Andrew WILMOT 25:35, Karen GARVIN 28:22, Anne JACK 28:27, Kenneth BACON 41:27; Ormeau - Conor SHIELDS 22:54 PB; Castlewellan - Gary KENDALL 23:42; Ardgillan - Fergal MACKLE 41:53, Caitriona MACKLE 48:22; Limavady - Chris DENTON 17:39, Rodney MC PHEE 20:04, Ryan GRAY 20:29, Fiona PRUE 20:32, John BUTCHER 21:06, Kevin MCLEAN 22:38, Pauline MULLAN 22:46, Deborah MC PHEE 23:19, Fergus THOMPSON 24:03, Gael BUTCHER 24:07, Janet PATRICK 25:06, Alan PLATT 26:29, Ryan CAMPBELL 26:43, Alan STEEN 27:11, Alison C DUNCAN 28:30, Sinead GRAHAM 28:31, Linda MCMICHAEL 31:48, Kathryn CAMPBELL 31:50.
Dundalk - Kay HACK 31:51; Castleblayney - Catherine BYERS 37:20; Garvagh Forest - Michael MCKEOWN 25:37, Laurence BLAIR 28:42; Limepark Playing Fields - Jonathan MCNABB 21:46.