Springwell Running Club members in action at home and abroad this week
This week saw the Springwell Running Club purple vests travel en masse to Ormeau Park in Belfast for the 17th Belfast City Half Marathon.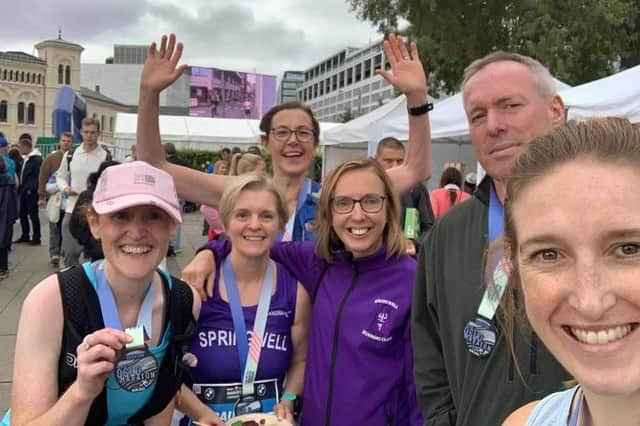 Elsewhere, the Norwegian capital of Oslo on Saturday (September 16) was the setting the first marathon for four Springwell members – Pauline Duke, Roberta McKenzie and Richard and Sylvia Pollock. Fellow Springwell members Alanna Millar and Liz Dowey were also in attendance with Alanna running and Liz providing support from the ranks of spectators having been sidelined through injury.
All the hours of training paid dividends as everyone successfully finished the race to claim their hard-earned medals. Springwell RC - 1530th Sylvia Pollock 4:06:49, 1673rd Richard Pollock 4:13:52, 2088th Roberta McKenzie 4:37:22, 2278th Pauline Duke 4:54:18, 2283rd Alanna Millar 4:54:44.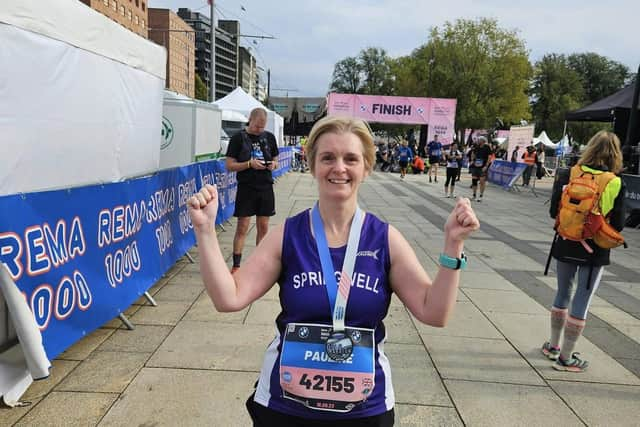 Sunday saw the crowds gather in Ormeau Park for the 17th annual Belfast City Half Marathon. Stephen McLaughlin was the first Springwell member to finish in 44th with an impressive personal best of 1:23:08. John Butcher, Catherine Pinkerton, Jonathan Huddlestone, Enda Young, Michael McKeown, Leanne Quigley, Sinead Graham, Karen Campbell, and Kathryn Campbell all ran personal bests.
Springwell RC - 44th Stephen MC LAUGHLIN 1:23:08 PB, 237th John BUTCHER 1:26:20 PB, 354th Rodney MC PHEE 1:26:54, 388th Ryan KENNEDY 1:30:22, 570th Catherine PINKERTON 1:35:52 PB, 749th Jonathan HUDDLESTON 1:37:30 PB, 783rd Ian SMYTH 1:36:58, 883rd Shaun CARTON 1:41:24, 886th Leisa MC KENNA 1:40:52, 934th Micheal JOHNSON 1:41:58, 1195 th Jim BRADLEY 1:44:01, 1244th Pauline MULLAN 1:47:07, 1245th Gael Butcher 1:46:15, 1440th Deborah MCPHEE 1:46:47, 1536th Enda YOUNG 1:50:20 PB, 1648th Michael MC KEOWN 1:51:01 PB, 1675th Reggie COLVILLE 1:49:15, 1782nd Seamus MC ATEER 1:52:42, 1849th Leanne QUIGLEY 1:54:02 PB, 2090th Conall DOHERTY 1:55:37, 2286th Sinead GRAHAM 1:55:45 PB, 2761st Amanda KERSHAW 2:01:14, 2795th James EVANS 2:00:13, 3016th Karen CAMPBELL 2:02:52 PB, 3057th Kathryn CAMPBELL 2:03:28 PB, 3316th Ashley MCPHEE 2:07:44, 3682nd Ryan CAMPBELL 2:11:17, 3380th Timothy BACON 2:08:53, 3708th Adam HENDERSON 2:29:15, 3770th Alison DUNCAN 2:15:11, 3939th Deborah ARCHIBALD 2:16:09, 3949th Ingrid HAMILTON 2:18:31, 4364th Kay HACK 2:27:15
This week's parkruns have a local, national, and international flavour as 44 'Springers' went on parkrun adventures at 14 different venues.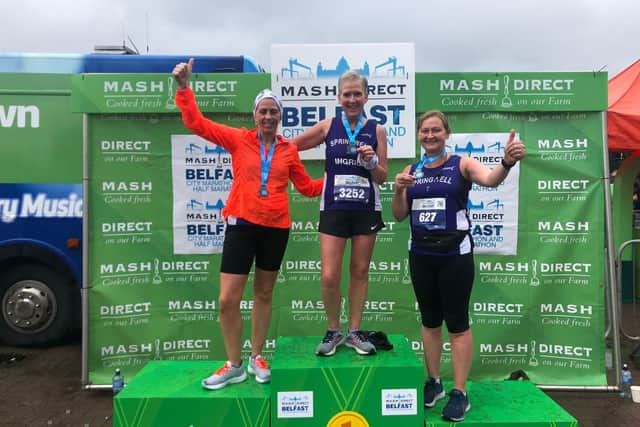 Woodbank - Rhys WALKER 19:04, Maurice WALKER 19:21; Waterworks - Kay HACK 30:01; Derry City - David SHIELS 19:54, Jonno JOHNSON 25:07; Ecos - Sonya COLVILLE 33:08.
Portrush - David O'NEILL 19:28, Fiona MARTIN 22:46, Paul LAVERTY 23:23, Cathy ADAMS 23:54, Reid JACK 25:49, Mervyn THOMPSON 26:14, Heather SPENCE 26:18, Patricia CRAIG 26:37, Andrew WILSON 29:32, Anne JACK 29:43, Fergal MACKLE 39:35, Emer THOMPSON 49:07, Caitriona MACKLE 49:08, Deborah PURDY 54:47
Ormeau - Gael BUTCHER 25:51, John BUTCHER 25:53; Antrim - Colin CONNOLLY 32:42; Castlewellan - Gary KENDALL 21:52; Limavady - Chris DENTON 17:49, Darren WALSH 19:13, Janet PATRICK :51, Alan WHITE 25:52, Ingrid HAMILTON 29:40, Nicola WHITE 29:54, Alan STEEN 31:04, Leanne QUIGLEY 31:07, John MCMICHAEL 31:52, Linda MC MICHAEL 31:52, Julie CORBETT 37:51, Sinead GRAHAM 44:09.
Milano Nord - Majella MCATEER 23:57; Sixmilewater - Lorraine ABERNETHY 29:27, Amanda SCOTT 30:44; Garvagh Forest - Shaun CARTON 23:43, Michael MCKEOWN 29:04; Derrynoid Forest - James HUGHES 21:53; Thames Path - Catherine BYERS 34:52, Elaine MONTGOMERY 34:58.