Thursday (April 13) saw the return of the Hill & Dale series hosted by Newcastle Athletic Club. The first outing was an 8k course around the very scenic Castlewellan Forest Park with 400m of elevation just for good measure.
The very experienced Barry Mullan was the first Springwell vest home in 47th place with 40:06, closely followed by Peter Tees who was 55th in 40:30. Bernadette O'Kane produced another strong run to finish 89th (3rd F35) with 42:37. On his first outing in this series David McGaffin ran 46:51 for 151st with Carolyn Crawford completing the group in 51:59 for 219th.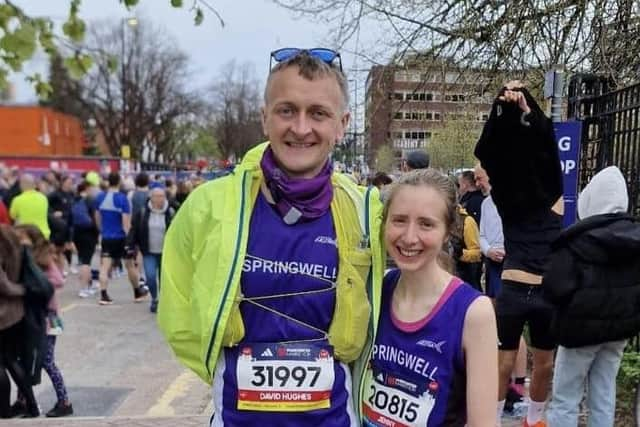 Sunday saw five Springwell RC members take to the streets of a drizzly and chilly Manchester, along with over 18,000 other runners for the challenge of 26.2 miles. Stephen McLaughlin was the first purple vest to finish, with an impressive sub three hour personal best time of 2:57:03 for 833rd. Ryan Kennedy wasn't far behind, also with a personal best time of 3:01:05 for 1293rd, with Aaron Steele 3035th in 3:22:19.
Taking part in just her third marathon Jenny Chartres also ran a personal best of 3:30:45 to finish 4142nd and David Hughes took ten minutes of his previous best time for the distance to finish 13029th in 4:34:19.
Almost 2,000 runners took to Phoenix Park in Dublin on Sunday for the Great Ireland Run. The 10k course around Europe's largest urban park provided spectacular surroundings for this championship event. Springwell RC was represented by Adam Henderson who ran 51:39 for 1342nd.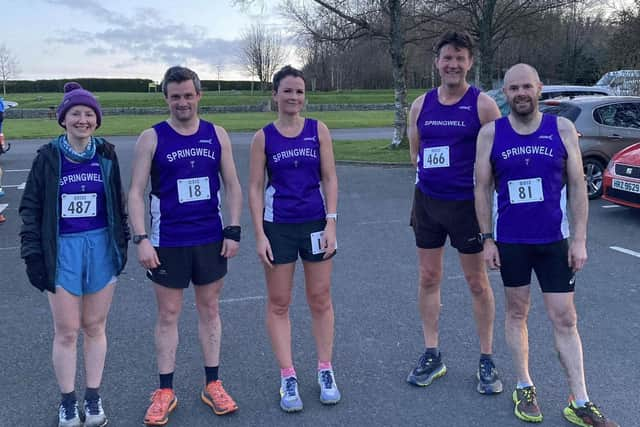 This weekend saw 59 Springers parkrunning at nine different venues with seven personal bests recorded.
Derry City - Reid JACK 23:42 PB; Ecos - Colin CONNOLLY 28:28; Portrush - David O'NEILL 18:45, Jonathan MCNABB 20:31 PB, Maurice WALKER 20:39, Stephen BEGGS 21:13, Rhys WALKER 21:31, Shaun CARTON 22:04 PB, Fiona MARTIN 23:03, George BRIEN 23:43, Mervyn ADAMS 24:02, Cathy ADAMS 24:05, Sylvia POLLOCK 24:32 PB, Mervyn THOMPSON 24:46, Pamela HOWE 25:27, Patricia CRAIG 26:10, Andrew WILMOT 26:15, Maria QUINN 26:49, Alanna MILLAR 28:10, Heather SPENCE 29:17 PB, Roisin WALKER 29:32, Andrew WILSON 30:05, Holly NEILL 30:06 PB, Aisling HYNES 30:40, Kay HACK 31:22, Rhona LAVERTY 33:32, Iris WILSON 34:43, Kenneth BACON 41:34.
Omagh - James HUGHES 24:14, Jim BREEN 30:04; Castlewellan - Gary KENDALL 27:32; Armagh - Lorraine ABERNETHY 31:42; Limavady - Chris DENTON 16:59, John BUTCHER 18:24, David SHIELS 20:31, David MCGAFFIN 20:54, Kevin MCLEAN 21:03, Adrian FINLAY 22:26, Ryan GRAY 22:30, Peter TEES 23:05, Pauline MULLAN 23:53, Leanne QUIGLEY 23:57 PB, Gary MOORE 24:19, Janet PATRICK 25:49, Heather MCLAUGHLIN 27:09, Alison C DUNCAN 27:57, Alan WHITE 27:57, Sinead GRAHAM 28:38, Ingrid HAMILTON 30:28, Linda MC MICHAEL 32:00, Katrina ADAMS 35:16, Nicola WHITE 35:16, Catherine PINKERTON 51:18.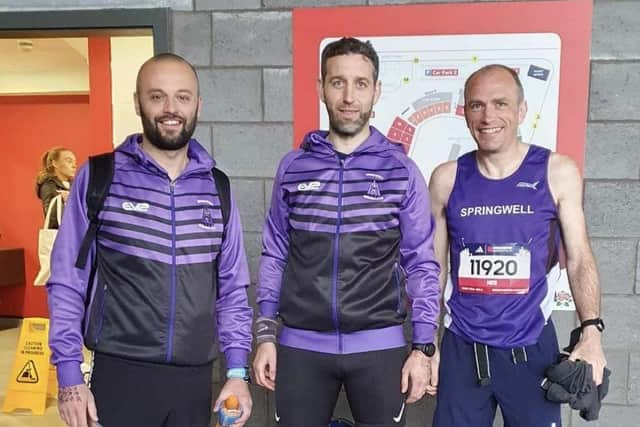 Peel - Jenny CHARTRES 27:16, David HUGHES 29:36, Patrick MAGEE 29:37; Sport Ireland Campus - Amanda SCOTT 33:19, Catherine BYERS 36:32, Elaine MONTGOMERY 36:33, Emer THOMPSON 36:34.