Springwell Running Club pays tribute to the memory of esteemed member Jim Breen
Springwell Running Club has paid tribute to long-standing member Jim Breen who died last week.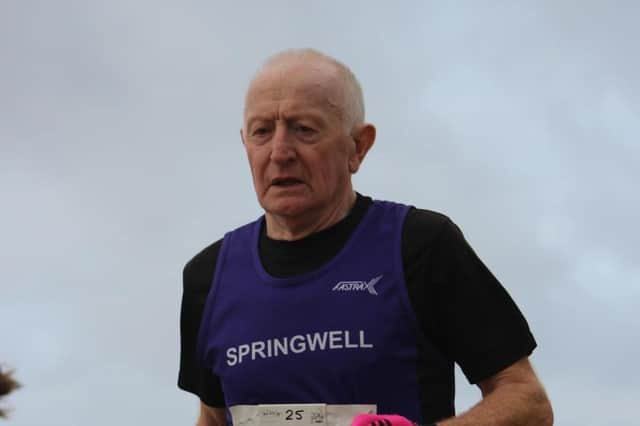 A Club spokesperson said: "As the news broke on Thursday 7th September of the sudden and untimely death of Jim Breen feelings of disbelief were replaced by shock throughout the running community, with messages of condolence and tributes quickly appearing on the various social media platforms.
"Although a long time member of Springwell RC, Jim had been a member and officer of many other local clubs and his legacy with those clubs has been remembered with messages being posted from the NI Civil Service AC, Sperrin Harriers, City of Derry Spartans, Magherafelt Harriers, Termoneeny RC and Acorns AC.
"A well-travelled and accomplished athlete in his own right, he will be fondly remembered for the advice and encouragement that he gave to other runners. Jim ran in his club vest at last Sunday's Waterside Half Marathon and many runners have commented on the conversations they had with him at the event. Jim was well known at parkruns throughout the country, both as a runner and a volunteer and it was fitting that many of the local events held a minute's silence as a mark of respect to the man," he said.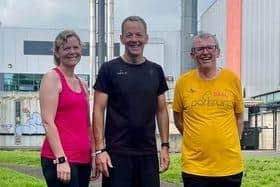 The spokesperson continued: "He often documented his running adventures for the club newsletter and his trip to the Rome Marathon in March 2004 is a mix of travel brochure and race report as he slowed his pace to take in the sights and splendour of the Italian capital, finishing in a sedate 3:20! Just over a month later he took his running a bit more seriously as he finished 29th in the Belfast Marathon with an impressive 2:54 to win the M50 age category.
"His achievements as an athlete are many and his record is one that any runner would be proud to have, but he will always be remembered as a true gentleman and a true sportsman who was always ready to encourage others. Our sincere condolences and deepest sympathies go to his wife Josephine and children Conor, Emer, Gavin and Karen."
Friday saw David Shiels celebrate another age category win, as he finished 35th in the Ards 5 Mile Road Race with a time of 33:51. The last few strides were captured by Scrabo Striders Running Club as he raced to the line with North Down Athletic Club's Jodi Smith.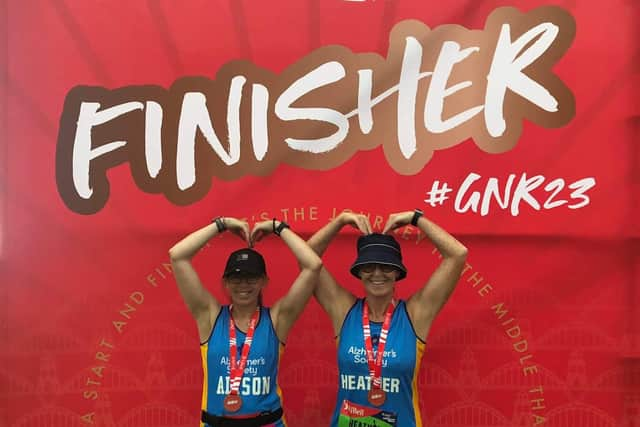 Sunday saw six intrepid Springwell runners join the masses in Newcastle Upon Tyne for a 13.1 mile run along one of the world's most iconic, and well supported half marathon routes, to a very memorable finish line in South Shields.
2023 is the first-year post-Covid that the Great North Run has been able to deliver the complete experience that has made it so famous, and it was great to see the full quota of 60,000 runners take on the challenge. Springwell Running Club Results - 12579th Mervyn Thompson 2:05:06, 27345th Mark Neely 2:30:16, 27857th Julie Corbett 2:31:20, 28181st Emer Thompson 2:32:00, 32087th Heather McLaughlin 2:40:54, 32097th Alison Duncan 2:40:55.
Mo Farah, one of the greatest British athletes of all time, finished fourth in the final race of his career at the Great North Run. The 40-year-old four-time Olympic champion slipped off the pace early in the famous 13.1-mile race from Newcastle to South Shields.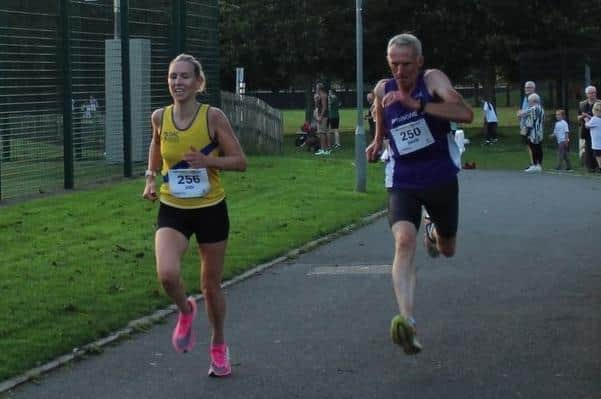 He finished three minutes 30 seconds behind Ethiopia's Tamirat Tola, who won in 59mins 58secs.
This weekend saw 59 Springers doing their parkrun thing at 13 different venues with a super six personal bests recorded.
Leanne Quigley claimed her personal best at Derry City parkrun, Catherine Pinkerton and Laurence Kegan Blair found theirs in the wilds of Garvagh Forest parkrun, and David O'Neill, Fiona Prue and Heather Spence found the sands of Portrush parkrun to their liking.
Congratulations are also offered to Paul Laverty who reached his 250th parkrun milestone when he completed the Portrush event. Thanks to all the volunteers who make the parkrun happen.
Springwell Running Club would also like to thank everyone for their kind comments and gestures on the passing of Jim Breen.
A Club spokesperson said: "Jim was a regular feature, running and volunteering, at parkruns throughout the country and was well known and respected in the parkrun community."
Derry City - Ryan GRAY 20:05, Leanne QUIGLEY 25:01PB; Ecos - Adrian FINLAY 22:49; Portrush - David O'NEILL 18:28 PB, Maurice WALKER 19:15, Andy WHITEFORD
19:23, Rhys WALKER 20:02, Fiona PRUE 21:34 PB, Shaun CARTON 22:31, Paul LAVERTY 22:37, Cathy ADAMS 23:43, George BRIEN 25:14, Reid JACK 25:21, Heather SPENCE 25:52 PB, Patricia CRAIG 26:11, Pamela HOWE 27:04, Andrew WILSON 28:26, Anne JACK 29:14, Barry MCBRIDE 30:04, Anne Marie MCKENNA 31:53, Kate MCNICHOLL 32:49, Iris WILSON 37:00, Fergal MACKLE 37:08, Caitriona MACKLE 37:08, Hannah MCCAW 42:21, Lorraine ABERNETHY 56:45.
Castlewellan - Gary KENDALL 24:30, William MCCAFFREY 26:24; Carrickfergus - Alan WHITE 27:39, Andrew WILMOT 27:44, Nicola WHITE 31:24; Limavady - Chris DENTON 17:29, Peter TEES 22:13, Kevin MCLEAN 22:32, Fergus THOMPSON 23:56, Pauline MULLAN 24:26, Janet PATRICK 25:16, Alan STEEN 25:51, Ryan CAMPBELL 26:55, Karen CAMPBELL 27:52, Sinead GRAHAM 27:53, John MCMICHAEL 32:36, Linda MC MICHAEL 32:36, Kenneth BACON 42:01, John BUTCHER 47:53.
Castlerea - Elaine MONTGOMERY 34:01, Catherine BYERS 34:01; Buncrana - Rodney MC PHEE 18:47, Deborah MC PHEE 23:14; Jesmond Dene - Mervyn THOMPSON 30:57, Emer THOMPSON 45:01 Agnew - Rhona LAVERTY 31:18; Zuiderpark - Kay HACK 34:54; Garvagh Forest - Catherine PINKERTON 23:07 PB, Laurence BLAIR 24:29 PB, Shane MCLAUGHLIN 24:50, Majella MCATEER 27:44; Limepark Playing Fields - Jonathan MCNABB 21:45.