Three out of four Coleraine Tennis Club teams were playing away from home this week
The lovely weather recently saw four Coleraine Tennis Club teams take to the court as the Evergreen and Mixed Division leagues continued.
Watch more of our videos on Shots!
and live on Freeview channel 276
Visit Shots! now
Three out of the four teams were away from home as good competitive tennis was the winner in the sunshine. Coleraine Tennis Club would like to thank all teams for their sportsmanship and hospitality before, during and after the games.
Coleraine A's faced Downshire C's away from home in a top-of-the-table clash.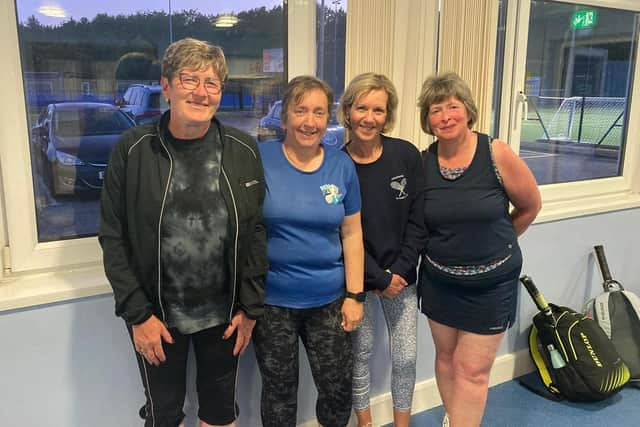 The team of Adam Cunning, Brett Eastwood, Mark Mitchell, Matthew Gilbert, Noelle Mitchell, Penny Loan, Claudia Mitchell and Charlotte Mitchell lost three championship tie breaks against their opponents.
A 6-1 defeat would be cruel on Coleraine who were close in several matches. The team are at home to Bangor C next week.
Result: Downshire C 6-1 Coleraine A
Coleraine B's were also on their travels as they faced Downshire F's in Hillsborough. The team of Norman McCracken, Paddy Cramsie, Rupert Cramsie, Roger Martin, Karen McCracken, Laura Murphy, Laura Douglas and Marcela Priestly would be beaten by the hosts 7-1 overall.
Karen and Roger won their mixed doubles contest as Downshire played some high quality tennis throughout. The team face Lisburn C's away next week.
Result: Downshire C 7-1 Coleraine B
LADIES EVERGREENS DIVISION 1
Coleraine A's faced fellow unbeaten side Boat Club at home.
The team of Penny Loan, Anne McCallum, Noelle Mitchell and Kerry Mearns-Love lost 4-0 overall against their visitors, who played some fantastic tennis. A first defeat for the A's in the division who are away to David Lloyd A next week.
Result: Coleraine A 0-4 Boat Club
LADIES EVERGREENS DIVISION 3
Coleraine B's made the long journey to Banbridge but the trip home was made a lot sweeter with a 3-1 overall victory. The team of Karen McCracken, Laura Douglas, Shirley Sterne and Marcela Priestly won three out of their four matches to secure the win. Well done to the ladies who are at home to Newcastle A's next week.
Result: Banbridge A 1-3 Coleraine B.
For all the latest news, breaking stories and features, log onto www.northernirelandworld.com and follow the Coleraine and Ballymoney Times Facebook pages.