Celebrating over 40 years in the music business, the icon will be heading celebrations at the event on Sunday, August 27 in Larne Market Yard.
Tony, who achieved international success in the 1980s with hits including True, Gold, Through the Barricades, as well as appearing at Live Aid 1985, will be joined by a host of local artists including Paul Sexton, Jackie Rainey and Mark Dobbin.
Tickets are on sale now, priced at o£20 for adults, £5 youths (12-17) and under 12s are free. The ticket only event is on sale via antrimcoasthalfmarathon.com with a shuttle service running from Belfast also available via the website.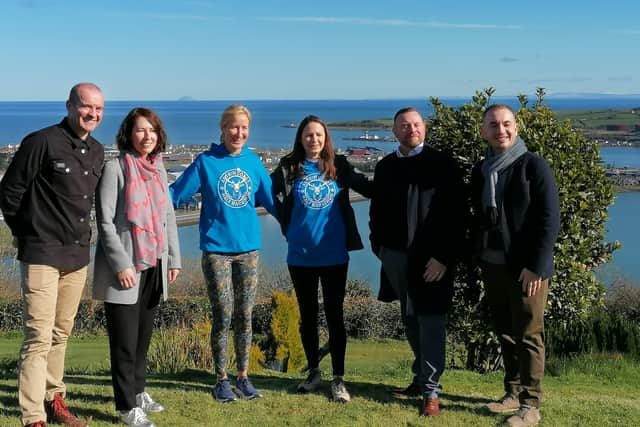 This year's mass and elite races will take place on the summer bank holiday weekend, Sunday, August 27, following on from the success of last year's event which saw around 4,000 entrants and an estimated £2m injected into the local economy.
Competitors from at least 20 countries entered in 2022 with the invite being extended to runners from around the world to register for the 2023 race.
With still over four months to go, the World Athletics Elite Label, Clearer Water Antrim Coast Half Marathon is already shaping up to be one of the global races of the year for 2023.
Race organisers have confirmed they will have the strongest and largest elite field ever assembled in Ireland, with no fewer than 10 men having broken the 60-minute barrier.
Returning to retain his title and trying to make it three wins in a row will be Ethiopian legend, UK and Ireland All Comers recordholder, Jemal Yimer. With a personal best of 58 min 33 seconds, Jemal returns to the Antrim Coast fresh off the back of winning the Los Angeles Marathon last month.
Kenyan sensation and former World Junior Champion, Rodgers Kwemoi has confirmed his entry for 2023, and will look to improve on his personal best of 58 min 30 seconds, set last year in Ras Al Khaimah, ranking him third in the world.
Running in only his second half marathon and coming to the Antrim Coast for his first time will be Nibret Melak. The 23-year-old Ethiopian will look to improve on his impressive win in 59:06 at last month's Lisbon Half Marathon and become the first man under the 59-minute barrier in the UK and Ireland
over the half marathon distance.
Ethiopian Huseydin Mohamed has also been confirmed to take to the start at this year's race. The Antrim Coast will be the 22-year-old sensation's first outing since his second place finish last month at the Tokyo Marathon in a time of 2:05, and will be another to threaten the 59-minute barrier.
Moroccan distance star, Hicham Amghar, running 59 minutes 53 seconds at February's Ras Al Khaimah Half Marathon will have plenty of local support with UK and Ireland level 4 coach Ian Wilson, who lives in Co Laois targeting the Moroccan National Record around what is now regarded as one of the fastest half marathons in the world.
Local interest will see Scotland and UK's Callum and Derek Hawkins return for a second year, with Callum looking to return to form after an injury-hit 2022 and get close to his second in the UK all time list 60-minute shape.
Fearghal Curtain and Kevin Seaward will lead the Irish men already confirmed, with the Home Nations teams being announced in July.
The race organisers have also confirmed the first visit from a West African team with Nigeria confirming a men's and women's team this year.
With further announcements to come on the elite field after the major Spring marathons, the women's race already has three women who have broken the 66-minute barrier and will all look to go close to the UK and Ireland All Comers record of 64 minutes 22 seconds set by Yalemzerf Yehualaw in 2022.
Returning for a second year is Ethiopian Tsehay Gemechu. Second in last year's race in a personal best of 65 minutes 01 seconds, the 24-year-old will return in the shape of her life having finished second in last month's Tokyo Marathon in a time of 2 hours 16 minutes.
Making her debut at the event will be 24-year-old Ethiopian, Zeineba Yimer. Fourth in last year's World Half Marathon Championships, Zeineba comes to the Antrim Coast off the back of winning last month's Barcelona Marathon and will look to better her current personal best of 65 minutes 39 seconds.
Joining her country women will be Degitu Azimeraw, returning to competitive racing after the birth of her first child. Degitu will look to build on her second place at the 2021 London Marathon.
Building up to the Sunday World Athletics Elite Label event will see the Condor Executive Street Mile take place on the Friday evening.
Elite entry is now open via the race website, with the event bidding to stage the first ever sub 4-minute street mile in Ireland, with several big names to be confirmed in the coming months.
Confirmed ambassadors for the 2023 Kids' race are former six-time World Cross – Country Silver medallist and European Champion Catherina McKiernan and five-time British Olympian and European Champion Jo Pavey.
The organisers have stated that "everyone is welcome with kids' entry only £5 and adults £10, with all participants receiving a tee shirt and medal."