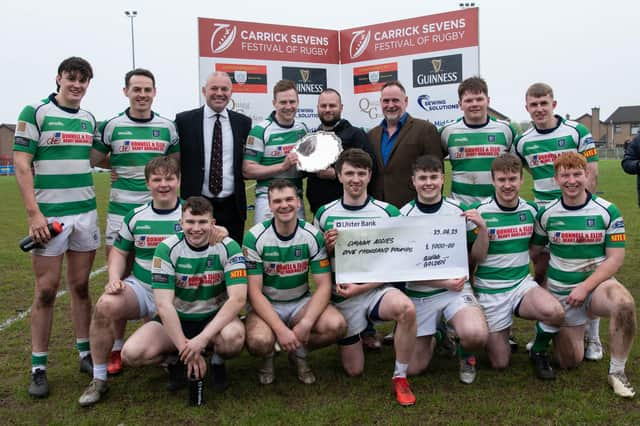 14 photos from excellent Guinness Carrick Sevens 2023
The annual Guinness Carrick Sevens produced some excellent rugby over all three competitions: Mens' Open, Under 18s and Ladies Tournament.
Published 5th May 2023, 19:14 BST
Updated 5th May 2023, 19:15 BST
Among the visitors were Novos Ladies from Newcastle-Upon-Tyne and Dundee Valkyries. Carrick RFC's Fijian friends from Co Down again entertained with their fast and open brand of rugby and Philippines Harlequins made a first appearance.
The Sevens commenced with the Under 18s competition, sponsored by Sewing Solutions and the match balls by Noraut Ltd. The Everest Cup was won by City of Armagh who produced a strong second-half fight back to beat Dungannonl. The Plate was won by Instonians (RBAI) who edged out Portadown. Carrickfergus Cowboys won the Bowl final, narrowly defeating Roughfort Raiders (BRA).
The Marina Motors Player of the Tournament award went to Josh McAuley of Carrickfergus Cowboys. The Everest Cup - named after past president of Carrickfergus RFC Johnson (Jonty) Everest, who sadly passed away several weeks before the Sevens - was presented to the Captain of City of Armagh RFC by Jonty's son and daughter. The other prizes were presented by John Stewart of Sewing Solutions.
The Quigg Golden Open Sevens - for which the ball sponsor was Glenkrag - was won by Omagh Accies who produced a great second-half comeback to defeat Instonians and lift the Holmes Salver. The Plate was won by City of Armagh who overcame BR Barbarians, while Philippines Harlequins won the Willis Bowl. The Dobbin's Inn Player of the Tournament was Andrew McGrath of Instonians. The Holmes Salver was presented to the Omagh Accies Captain by Scott Holmes, the grandson of the late Alan Holmes who along with Wallace Luney, Ian Beggs, Davy Adams and Richard Price set up the Carrick Sevens Competition in 1973. The other prizes were presented by Eddie Quigg of tournament sponsors Quigg Golden.
Eight teams competed in the Mid & East Antrim Council sponsored Ladies Tournament, for which the ball sponsor was J C Motors. The overall winners were Queen's University, Belfast who defeated Novos to take the Lynda Waring Memorial Cup. Banbridge won the Plate Final, beating Lisburn Ducks while Dundee Valkyries took the Bowl, defeating Randalstown. The Wooden Spoon went to City of Derry who beat Carrick in the play-off. Clanrye P R H Player of the Tournament was Kerry McIlwaine of Queen's. The Lynda Waring Memorial Cup and other awards were presented by the Mayoress of Mid & East Antrim, Sheila Williams.
In his concluding speech, club president Terence McCracken paid tribute to the Sevens Committee for putting together another successful tournament, thanked all the volunteers for their efforts and expressed gratitude to the sponsors.