The south Antrim pupils will travel to the Loire Valley at the end of August with students from St Michael's College in Dublin to compete in the inaugural tournament, which coincides with the Rugby World Cup.
The competition, which will be held from September 2-7, will gather over 700 girls and boys from 48 different schools, spanning five continents.
Ballyclare High's director of rugby, Mike Orchin-McKeever said: "Rugby Sevens is an exciting game. It promotes more touches of the ball as we have less teammates on the pitch, allowing for more on the ball action in regard to tackle, ruck and offload.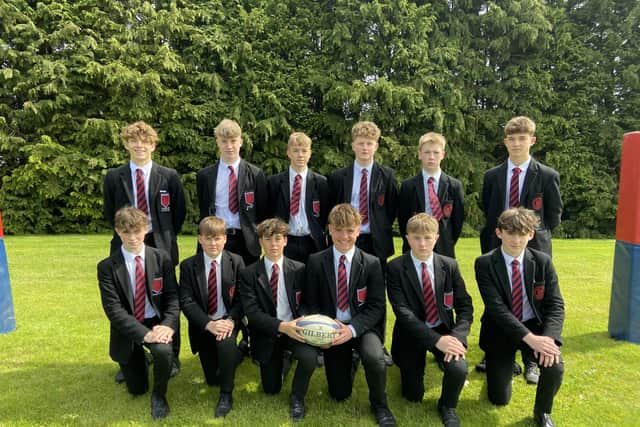 "A good level of fitness is needed and agility to attack the open space in short intense fixtures. The opportunity to enter was available to all schools in Ireland at U15 level and we are one of two to be selected by the IRFU.
"I am delighted for our school to have the opportunity to interact, compete and learn from those from so many backgrounds in a different environment.
"The impact from activities that are being provided off the rugby pitch offer real opportunity for personal growth as people too. It will stretch the comfort zones that we will support as rugby staff. A squad of 12 players has been selected under the watchful eye of school coaches and teachers, Jack Gault and Ryan Mcilwaine and I have overseen the selection as Director of Rugby."
Mr Mcilwaine explained: "We had several training sessions that were open to all players at this age level who wanted to compete to be selected and it was one of the highest challenges I have faced, as so many boys were keen to impress.
"The squad is made essentially from those who are older, due to them being that bit more experienced and physically developed. There will be 12 players with two coaches assisting them at the tournament. We have nine Year 10s and three Year 9s taking part."
The squad representing the Rashee Road school is made up of Adam Johnston, Adam White, Daniel Jenkins, Daniel Montgomery, Harry Martin, Jack Morrow, Jack Smyth, Jude Semple, Luke Connelly, Max Scullion, Tom Falls and Zach Thompson.
Mr Mcilwaine added: "It's a privilege to be associated with such an event. To have such great links with the World Cup in France, with a similar format, it's going to be a surreal experience for everyone involved.
"The advertising of the event so far has been very exciting, and it's only going to build as we get closer to the event. With the Rugby Sevens, cooking and film editing challenges, I believe it's an incredible opportunity to put Ballyclare High on the map, alongside St Michael's with us both representing Ireland. We're looking forward to unifying with other nations to experience their culture and embark on an incredible week in Pontlevoy.
"The squad travel to France on August 31. Our flight is early in the morning, so we'll get into Paris before travelling south to Pontlevoy via a special rugby train, hosted by French Railways. It's sure to be a life-long memory for all involved."