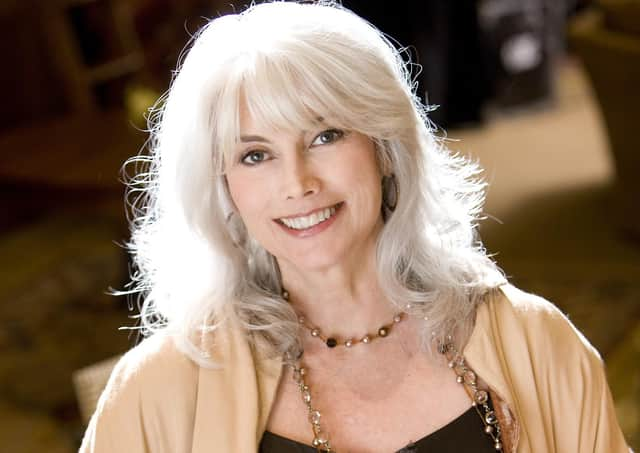 EmmyLou Harris, musician, holding Gibson Les Paul guitar with Coal River Mountain image on its face
The Emmylou collection, 11 of which Harris wrote and which then won a Grammy award for the best contemporary country/folk album, will reappear in a vinyl edition on the Nonesuch Records label on February 19, 2021.
It was the Los Angeles Times which dubbed the 71-year-old girl from Birmingham, Alabama as "the most captivating female artiste in country music" - one who trod a successful path from a middle class family background and rock/progressive folk singing style to pure mainstream country. Red Dirt Girl, said the New York Times in a review, is an album about "lonely journeys and lost companions".
The album was produced by Malcolm Burn, who had worked with Emmylou, mixing her previous solo studio album Wrecking Ball in 1995. Commenting on the recording back in 2000, Emmylou said: "Red Dirt Girl is a very meaingingful recording for me".
Emmylou has since released three additiional albums on the Nonesuch label - Stumble Into Grace (2003), All I Intended (2008), and Hard Bargain (2011).
For her full conversion to country music four decades ago, Emmylou says: "The simplicity of country music is one of the most important things about it. It's about the story, the melody, the sound, and the sincerity of it."
Texan Rodney Crowell worked closely with Emmylou in her Hot Band along with Bluegrass icon Ricky Skaggs and was a musical contemporary. In the filmed documentary 'History of Country Music', Rodney said of Emmylou's voice: "When you hear her voice, you feel you have been touched by an angel. That's the beauty and transcendal quality of Emmylou's voice. It just somehow gets past everything and winds up somewhere in your heart."
With seven gold albums in a row, three Grammy awards, country female vocalist of the year accolade and tens of millions of record sales, Emmylou Harris has influenced many in the various genres of music. Admirers, like Trisha Yearwood, wife of Garth Brooks, says: "Emmylou is the glue, for me, that bridged the gap between 1970s folk, rock 'n' roll and traditional country with Bluegrass thrown in. She's the bridge that brings that music to live side by side with the likes of George Jones. and the Louvin' Brothers. She's able to somehow encompass it all and make it work - with class and grace."
Emmylou, with her sweet clear mountain stream voice, has turned her own interpretations of the Louvin Brothers' If I Could Only Win Your Love, Buck Owens' Together Again, and Patsy Cline's Sweet Dreams into classics and No 1s for herself. She also ventured into Bluegrass with songs like Blue Kentucky Girl and Roses in the Snow. Her capacity to embrace the lyrics of any song that is presented to her is a natural gift and she has contributed to her present unique status in what is globally labelled as America's most popular music.
Emmylou has been to Belfast several times for concerts at the Waterfront Hall and, with a voice that angelically resonates, inevitably she has a huge fan base here. Over recent years, she has worked closely with Dolly Parton on shared musical,cultural and interests. They may have come from socially different family backgrounds,but musically Emmylou and Dolly bond together as 'First Ladies of Country'.