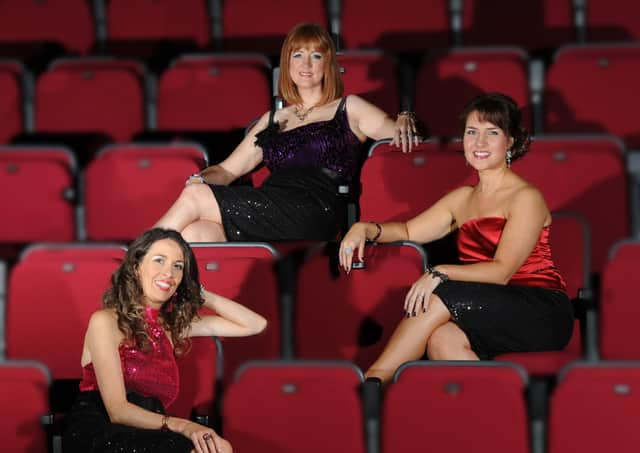 Celebrating 18 years together, Michelle Baird, Ceara Grehan and Lynne McAllister will be streaming 'Date Night with the Leading Ladies', a live concert from the Ardhowen Theatre on Friday, April 23.
Described by a critic as "undoubtedly three of the most talented female singers to emerge from the local scene", the award-winning singers bring rich voices, unique harmonies and versatility to the stage in the form of The Leading Ladies.
Each an accomplished solo performer, the ladies have all played lead roles in many major theatres and are consistently busy with their own solo work, winning the AIMS coveted award for Best Female Singer in Ireland three times between them.
The trio offers fun, glamour, inimitable vocal arrangements and close harmony style and their talent has been winning critical acclaim amongst audiences and critics, along with regular requests to perform at all kinds of events in prestigious venues including Belfast Grand Opera House, Waterfront Hall, Odyssey Arena, Dublin's National Concert Hall, Buxton National Opera House, NEC Birmingham and Royal Horseguards London.
Lynne, who is from Waringstown, said: "After a year of no singing and lots of cancelled performances, we're very excited to be invited to do some livestream concerts over the coming weeks, performing music that we really love to sing.
"The girls and I have been performing together for a very long time and have built up a highly extensive repertoire, enabling us to offer a diverse range of show styles from classical crossover and musical theatre to 40s/50s swing, country, Celtic and chart hits. We get so much enjoyment from singing together and have missed it greatly."
Lisburn-based Ceara, said: "We all have full-time jobs and are mums to young children and so feel very blessed to still have so many wonderful opportunities to perform.
"Over lockdown, Michelle and I have been working full-time from home and Lynne has been teaching online so we didn't really have the time to do any online recordings. However, we started rehearsing outside in my garden a few weeks ago and it's been so lovely to get back to doing what we love best, albeit at a distance!"
Michelle, who lives in Bangor added; "The last few years have been particularly busy with appearances at key events such as Dalriada Festival, Cathedral Quarter Arts Festival, Armed Forces Day and Festival of Flight, as well as our regular dates at St George's Market and lots of weddings.
"It was certainly strange to not be able to do anything for the last year and so now we have lots of exciting plans including recording a new album, recording a beautiful song in Dublin as well as some beautiful music written by our talented friend Darren Day.
"We're also long overdue getting new photos and a promo video done so the post-lockdown diet starts now. We feel so lucky to still have so many opportunities after all this time together and yes, we will continue to enjoy every special moment."
Date Night with The Leading Ladies is at 8pm on Friday April 23, live from the Ardhowen Theatre, Enniskillen and will be available to watch on the Ardhowen Facebook page. The Leading Ladies will also be marking Armed Forces Day on Saturday, June 26 at 8pm, live from Strule Arts Centre, Omagh. which will be available to watch on Strule's Facebook page.
For further information on The Leading Ladies, visit www,facebook.com/leadingladiestrio