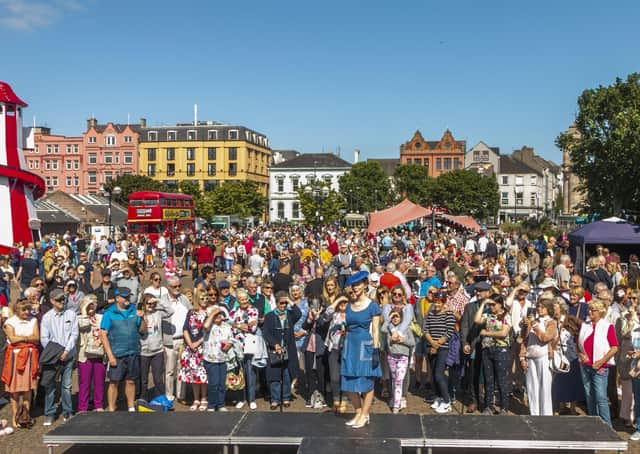 Organised by Open House Festival and funded by The National Lottery Heritage Fund's Great Place Scheme, Seaside Revival is a celebration of all things vintage, local and seaside-inspired. Last year, more than 30,000 people attended the free festival, but this year, along with a multitude of other events, it has had to be cancelled due to Covid19.
Not to be deterred, Open House has issued a call out for people to host their own mini Seaside Revival Festivals from the safety of their own homes and gardens.
"Last year's event was a very special day in Bangor-by-the-Sea," said Seaside revival co-ordinator, Caroline McCoubrey. "We had some wonderful plans in place for this year's event, but obviously, that has all changed due to Covid19. However, we decided to mark the occasion with a Seaside Revival stay-at-home festival instead – keeping within the social distancing regulations, of course."
The hope is that people will organise small outdoor gatherings at home with a vintage seaside theme, complying with all the up to date government regulations.
"We'd love people to wear some sort of vintage clothing," continued Caroline, "be that a complete outfit, a headscarf, a hat or a pair of vintage shoes. They could take inspiration from any of the vintage eras Seaside Revival celebrates – from the Dance Hall days of the 1940s and 50s, to the mod and rocker 60s, to the punk and glam rock of the 70s."
The Open House team are also encouraging people to decorate their gardens with bunting, celebrate with vintage style picnics, and enjoy a dance or two.
"Obviously, people can embrace as much or as little of the vintage spirt as they wish," added Caroline, "but for those who want to roll the boat out, we'll be uploading some tutorial videos to our Facebook page over the coming days, including how to sew some simple bunting at home and tie a vintage headscarf."
The team are encouraging people to upload photos of their home-grown festivals to social media using the hashtag #SeasideRevivalAtHome.
"We're aware that some of the local pubs and restaurants will be re-opening on July 3," said Caroline, "so we'd love it if people who are planning on heading out for a meal would dress in vintage attire. We're also working with some of the businesses who have been providing fabulous takeout and delivery services throughout lockdown, to offer delicious takeout picnics on the day."
As music is an integral part of Seaside Revival, Open House will be providing a Revival Playlist celebrating the wealth of musical genres which would normally feature at the event. Curated by Open House director, Kieran Gilmore, it will be available to download on Spotify and will be streamed on the day by BangorFM.
"We can't have the festival we'd planned this year," said Kieran Gilmore, "but we can still celebrate our seaside town, reminisce about last year's event and the heyday years of Bangor-by-the-sea, and look forward to next year's big event when we can all be together again."