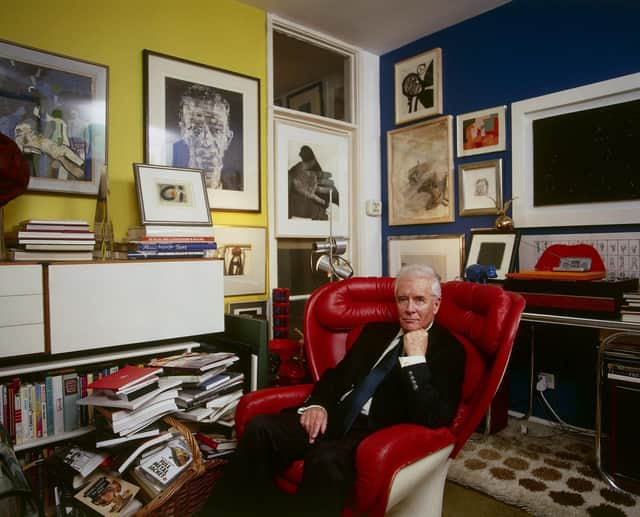 Alexander Walker pictured in his apartment
Spanning almost 100 of modern art, the free exhibition showcases highlights from the wide-ranging collection of Alexander Walker (1930–2003), longstanding film critic for London's Evening Standard newspaper and prolific collector of modern and contemporary prints and drawings.
In life Walker surrounded himself with works from his collection in all rooms of his Maida Vale flat, including his kitchen and bathroom.
Walker was born in Portadown and attributed his love of cinema to childhood trips to the town's Regal Cinema. He bought works of art for pleasure rather than financial gain and generously left his collection of over 200 works on paper to the British Museum when he died. This is the first exhibition in over 10 years to showcase the art through the lens of his collection.
The exhibition includes 30 prints and drawings by artists ranging from Pablo Picasso and Henri Matisse to Lucian Freud, Bridget Riley, David Hockney and Vija Celmins, demonstrating Walker's interest in artists' working methods and in transitional pieces that show an artist developing a new style or subject, or experimenting with a new technique.
The exhibition aims to trace the development of 20th-century art in Europe and America through key pieces in Walker's collection, which he viewed as a record of his own art-historical education. It also demonstrates Walker's own tastes from the figurative to the abstract and consider what motivates collectors like Walker to surround themselves with art.
The exhibition coincides with the publication of Living with art: The Alexander Walker Collection, the first full catalogue of Walker's gift.
Living with art will be on view at the F.E McWilliam Gallery & Studio until January 30, 2021 and will then continue to the National Gallery of Ireland, Dublin from February 13 to May 30 2021.
Admission to Living with art: Picasso to Celmins is free.
For further information, including opening times, go to femcwilliam.com, https://www.facebook.com/femcwilliamgallery or T: