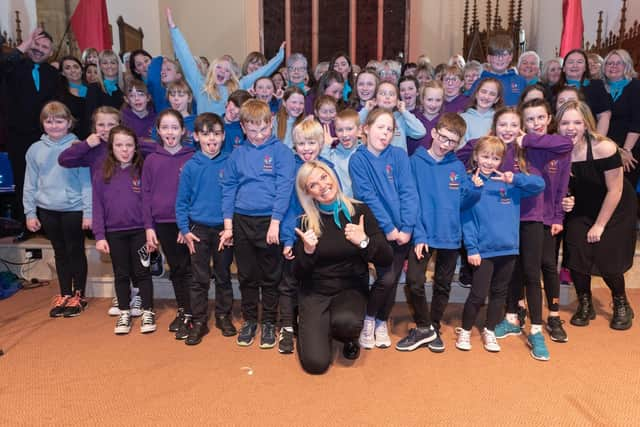 Lisburn Community Choir bids farewell to founding member Julie Harper at special Spring Concert
Saturday March 25, was a bittersweet night for members of Lisburn Community Choir as they bid farewell to founder Julie Harper at their Spring Concert in Lisburn Cathedral.
Published 29th Mar 2023, 12:21 BST
Updated 29th Mar 2023, 12:22 BST
A spokesperson for the choir said: "We had a fabulous concert in Lisburn Cathedral singing songs from famous stage and screen musicals. The venue was filled to capacity and the applause for all the acts was, to say the least, both enthusiastic and boisterous. It was however the last night our beloved Musical Director, Julie Harper would lead us.
"Julie founded the children's choir 10 years ago, followed soon after by our adult community choir.
"She has led us through many momentous singing occasions at venues such as the Ulster Hall, Stormont Buildings, Spires Conference Centre, Lisburn Civic Centre and Kingspan Rugby Stadium.
"During Covid, she stuck by us and kept us from drifting apart by organising our singing in a multi-story car park where we recorded our Christmas video.
"We were all devastated when she told us that this would be her last concert. We one and all wish Julie all the best for the future in whatever she does.
"Now it's over to our new leader Tim Reynolds and our new accompanist Sharon Hodgins who will have the headache of trying to follow Julie's legacy. We want the choir to continue to be a success and keep our singing fellowship and craic going upwards and onwards."