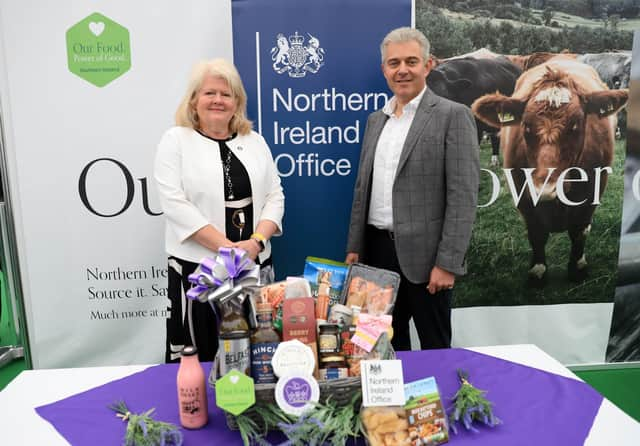 Secretary of State and Food NI Chief Executive unveil Platinum Jubilee Hamper
The exclusive hampers, created in partnership with Food NI, were unveiled at this year's Balmoral Show by Secretary of State for Northern Ireland Brandon Lewis. They are a gesture of thanks to Her Majesty for her 70 years of service to the United Kingdom.
These unique gifts showcase over 50 food and drink producers from across Northern Ireland, highlighting the best of what we have to offer. From sweet treats to deli delights and the best beverages, royal tables will be well stocked with the best of Northern Ireland this Platinum Jubilee year.
Looking forward to the Platinum Jubilee weekend, Secretary of State for Northern Ireland Brandon Lewis said: "It's an honour to send these amazing hampers to Her Majesty the Queen and other members of the royal family in thanks for her 70 years of loyal service to the people of the United Kingdom.
Minister Burns visits Downshire Primary School
"Food and drink are key industries in Northern Ireland, and constant innovation means that established producers are regularly joined by fresh new additions.
"I know that Her Majesty and the royal family will enjoy these thoughtful gifts, which represent the dedication and gratitude of the people of Northern Ireland, during her Platinum Jubilee year."
Food NI Chief Executive Michelle Shirlow said: "Food NI is delighted to be involved in delivering the Platinum Jubilee Hamper. It has been a fantastic opportunity to showcase the quality, award winning local food and drink Northern Ireland has to offer."
"This celebration hamper includes a range of food and drink, some of Northern Ireland's household favourites, and some brand-new innovative products. Our Food, Power of Good."
Hundreds of primary school children from across Northern Ireland have been sketching 'snapshots of Northern Ireland'
Co-owner of NearyNógs Stoneground Chocolate Shane Neary, who has contributed Mourne Mountain gorse flower and Irish seaweed - flavoured chocolate to the hamper, says he's hoping Her Majesty has a sweet tooth.
"We're very proud to be in the hamper," he said.
"Our products highlight sustainability, as we work directly with farmers, and to be able to bring farmers to the main stage as part of the Jubilee is amazing."
The gifts are packed with produce from more than 50 great food and drink producers across Northern Ireland
Local primary school children design Jubilee rug for Her Majesty
In addition to the Jubilee hamper gifts, hundreds of primary school children from across Northern Ireland have been sketching 'snapshots of Northern Ireland' as part of a special competition to design a Platinum Jubilee gift for Her Majesty the Queen.
Since Northern Ireland Office Minister of State Conor Burns launched the unique competition in May, schools across Northern Ireland have enthusiastically submitted entries. The lucky winner is set to have their design manufactured into a rug for Her Majesty the Queen by leading Portadown company Ulster Carpets.
The competition closed on 27 May, and the judges have been immensely impressed by the talent and creativity of local pupils, who have captured well-known local landmarks with flair.
Secretary of State Brandon Lewis and Minister of State Conor Burns
The difficult process of shortlisting the entries has begun, with the winning design set to be announced in July.
Minister of State Conor Burns said: "I'm delighted that we have received so many top quality entries from Northern Ireland's talented schoolchildren.
"I look forward to seeing the winning design, which will be transformed into a beautiful rug for Her Majesty to treasure as a Jubilee gift."
Group Managing Director of Ulster Carpets, Nick Coburn, said: "We are proud to be part of this unique opportunity to mark the Queen's Jubilee in such a special way."
The winning pupil will work with Ulster Carpets to develop their design. They and their class will then be invited to a special unveiling ceremony in the autumn ahead of the rug being sent to Her Majesty the Queen.
You can also watch our behind-the-scenes videos at Ulster Carpets and local schools on Twitter @NIOgov
Get involved in the Queen's Platinum Jubilee!
A letter from Secretary of State Brandon Lewis and Minister of State Conor Burns
It's almost time for the Platinum Jubilee Weekend - a real highlight of Her Majesty the Queen's Platinum Jubilee celebrations.
Across the UK, people are taking part in a range of fabulous events, having fun with family and friends while paying tribute to Her Majesty's amazing 70 years of service to our country.
We'll both be enjoying some of the celebrations in Northern Ireland, where we're looking forward to welcoming the Earl and Countess of Wessex. In addition, local councils and community groups will be bringing people together for street parties, services of thanksgiving, beacon lightings and other great events.
This weekend, more than 70,000 Big Jubilee Lunches will take place throughout the UK, with an expected ten million people set to sit down with their neighbours on Sunday 5 June - a real testimony to the respect and affection in which Her Majesty the Queen is held.
Already this year, Northern Ireland has seen some fantastic initiatives as part of the Jubilee celebrations.
Just last month, Bangor in County Down became one of eight cities in the UK to win prestigious city status through the Platinum Jubilee Civic Honours Competition. We hope that this great achievement will provide a boost to the local community and open up new opportunities for the people who live there.
And, as we've seen, the Northern Ireland Office has been showcasing Northern Ireland's top quality food and drink as well as its manufacturing ability through its Platinum Jubilee Hamper initiative and Platinum Jubilee design competition, working with local organisations such as Food NI and Ulster Carpets. We're delighted to offer these gifts to Her Majesty and the wider royal family, on behalf of the people of Northern Ireland, as thanks for her dedicated service over the past 70 years.
If you're wondering how to get involved in this weekend's Platinum Jubilee activities, simply visit platinumjubilee.gov.uk, where you can see the events taking place in your area.
So whether you decide to take part in a Big Jubilee Lunch or street party, or simply tune in to watch the Platinum Jubilee Pageant, we hope you have a wonderful, fun-filled Platinum Jubilee Weekend.
Secretary of State for Northern Ireland
Minister of State for Northern Ireland