Here is a list of just some of the events happening in the city if you want to join in the royal celebrations.
The Lisburn Branch of the Royal British Legion will be holding a street party on May 6 in Sackville Street Lisburn from 1pm-4pm. There will be lots of fun and entertainment for all the family with face painting , army climbing wall, balloon modelling, vintage military vehicles, pitch golf, air soft range, decommissioned weapons and a free BBQ for all the children and lots of games with prizes to be won.
Celebrate the coronation in Lisburn's Market Square as Lisburn and Castlereagh City Council show the event on the big screen. The event will begin at 9.30am and there will be fire jugglers showing off their skills from 11am-1pm. There will also be a Beauty & the Beast character walkabout in Bow Street and Market Square from 11am-1pm.

On Saturday May 6, visitors to Hillsborough Castle and Gardens are invited to enjoy the Coronation events on the big screen which will stand tall on the South Lawn, overlooked by the Castle and will stream the occasion live from London from 10am. Visitors can choose their perfect viewing spot on the lawn, plus play lawn games before the Royal Gun Salute at 12noon. The Downshire Brass Band will provide even more pomp and celebration after the official Coronation ceremony from 2.30pm.

The events continue on Sunday May 7, and on both days, visitors can bring a picnic to enjoy on the acres of gardens throughout the estate, enjoy lunch in the onsite café, or from a hot food vendor and ice cream stand on site. Traditional lawn games can also be enjoyed throughout the Sunday events, which will also see a host of live entertainment, including the Boom Strutt Brass band, Belfast Community Gospel Choir, Swingtime Starlets, the Lisburn Rock Choir. A special performance from Beechlawn School's Makaton Choir will open Sunday's line up of entertainment.

On Sunday May 7 at 10.30am, Lisburn Cathedral will hold a Coronation Celebration Service and Lunch. The following Sunday, May 14 at 7pm, the Cathedral will host an interdenominational Coronation Celebration Service with the Lisburn city centre churches on behalf of Lisburn and Castlereagh City Council. The preacher will be the Rev Canon Derek Kerr, a member of the chapter in Lisburn Cathedral, and a well-known Royal enthusiast, as well as vicar of Drummaul, Duneane and Ballyscullion.

Ballinderry War Memorial Hall Management Committee welcome everyone to the hall at 10a North Street Ballinderry to celebrate the Coronation on Saturday May 6. There will be a morning buffet tea party from 10.00am as the committee broadcast coverage of the Coronation on the hall's big screen. Further celebrations will take place from 7.30pm onwards with a casual evening buffet and dance.

Christ Church, Lisburn is holding Morning Worship at 11.30am on May 7 to mark the Coronation, when the men's and parish choirs will sing two pieces. The service will be followed by tea party and activities for all ages in the parish hall and grounds. To book a place at the tea party, contact the parish hall.
Derriaghy Parish will have a service of Holy Communion on May 7 at 11am during which parishioners will mark the King's Coronation, with the choir singing a special piece in honour of the occasion. The service will be followed by a tea party and activities in the rectory grounds.
St Paul's Parish, Lisburn, will be holding a special Service of Thanksgiving with Communion on Sunday May 7 at 11.30am to celebrate the Coronation. This will be followed by a celebratory afternoon tea in the Parish Centre.
Celebrations in St Columba's, Derryvolgie, begin on Thursday May 4, when the parish hosts a free event from 6pm-8pm, with fun, food an entertainment for everyone. The event is funded by Lisburn and Castlereagh City Council.

A new Coronation-themed exhibition has opened in Lisburn that showcases both the area's rich linen heritage and its strong Royal connections.

To mark the Coronation of King Charles III next month, the city's Irish Linen Centre & Lisburn Museum has installed a new exhibition called, 'Coronation Linens'. It draws upon Ulster's rich linen-producing heritage to showcase cloths woven to celebrate previous Royal coronations. The 'Coronation Linens' exhibition at the Linen Centre & Lisburn Museum in Market Square in Lisburn runs until June 1 and is open from 9.30am to 5.00pm Monday to Saturday. Admission is free.

Annahilt and Magheraconluce Community Association will hold a Coronation Family Fun Night at Anahilt Primary School on Friday May 5 from 5.30pm-7.30pm.

The Resurgam Trust will be celebrating at the Highway Inn on Saturday May 6 from 3pm-6pm. There will be foods from the Commonwealth, music from Lisburn Fusiliers Flute Band, petting farm, face painting and much more. There will also be live music from 6pm-9pm and everyone will be made very welcome.

Ballymacash Orange Hall will be screening the coronation from 11am. There will also be finger food, sweet treats for the kids, bouncy castle, balloon modelling, outdoor games, and arts and crafts.

Dundrod Temperance L.O.L No73 will be holding a coronation barbecue on Saturday May 6 from 4.30pm until 7.30pm at Dundrod Orange Hall

The coronation will also be screened on Hillsborough Parish Church green and will be followed by a 'picnic in the park' and community celebration.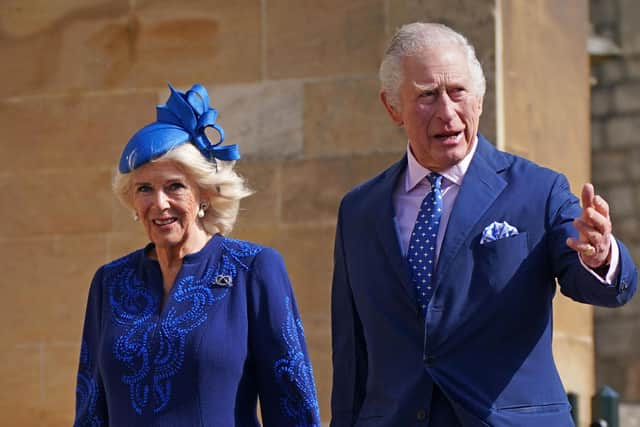 If you have any other events happening to celebrate the coronation please email [email protected] and we will share as many as we can.